Reluctant Republicans fall in line behind Donald Trump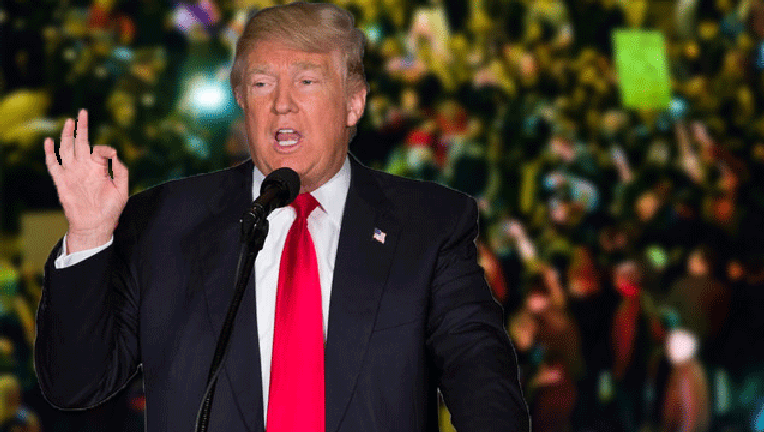 article
JANESVILLE, Wis. (AP) — He's finally got Paul Ryan's endorsement, but many officials in Donald Trump's new wave of supporters remain reluctant backers at best. Leaders who have pledged their backing still aren't wholly satisfied with his temperament, policies or readiness for the White House.
As Trump works to unify the fractured GOP behind him, these Republicans, Ryan among them, are struggling to show the same enthusiasm Trump has generated among rank-and-file conservatives across the nation.
"He's a work in progress," says Oklahoma Rep. Tom Cole, who promised to support the GOP nominee several weeks ago.
Would Trump be a good president? "To me this is a question of alternatives," Cole told The Associated Press on Friday in a classic lukewarm embrace. "I'm comfortable that he will be a better president than Hillary Clinton."
The day before, House Speaker Ryan ended an extraordinary public split by endorsing Trump in a column published in his hometown newspaper. Republican officials suggested that the endorsement marked an important step toward party unification, even while conceding that the speaker's endorsement was somewhat underwhelming.
In a subsequent interview with The Associated Press, Ryan did not express support for any of Trump's policies, would not promise to campaign on his behalf this fall, and reminded voters that he doesn't support Trump's confrontational style.
And, the day after the endorsement, Ryan lashed out at Trump's suggestion that a federal judge should recuse himself from a case involving one of Trump's companies because of his Mexican heritage.
"Look, the comment about the judge the other day just was out of left field for my mind," Ryan said told Wisconsin radio station WISN. "It's reasoning I don't relate to, I completely disagree with the thinking behind that."
Ryan continued: "So he clearly says and does things I don't agree with and I've had to speak up on time to time when that has occurred, and I'll continue to do that if that's necessary — I hope it's not."
He is not alone.
Several other Trump backers on Friday had trouble detailing which of his policies they support and expressed continued concern about his temperament as president.
And, keeping the candidate at arm's length, still others reassured nervous colleagues by citing constitutional protections that could help limit the risks.
"I still believe we have the institutions of government that would restrain someone who seeks to exceed their constitutional obligations," Arizona Sen. John McCain told The New York Times. "We have a Congress. We have the Supreme Court. We're not Romania."
"Our institutions, including the press, are still strong enough to prevent" unconstitutional acts, he said.
New York Rep. Peter King, another Trump backer, suggested his party's resistance to the New York businessman is fueled by his outsider status. While Trump has long been a political donor, he has no direct experience in governing and remains unfamiliar to many GOP leaders.
"It's not like the boardroom when you can just fire somebody. He's not going to be able to fire Nancy Pelosi," King told the AP on Friday. "It's not a question of intelligence or ability but is he ready for all the uncertainties that go with politics and government?"
Ryan's decision to endorse Trump came after several personal conversations as well as communications between their staffs. Major policy differences remain. And conservative leaders across the country continue to have deep reservations about Trump's devotion to Republican principles.
Trump has repeatedly promised not to touch expensive entitlement programs such Medicare and Social Security, a position in direct conflict with Ryan.
The two also break on immigration. Trump wants to deport more than 11 million immigrants in the country illegally in addition to imposing a temporary ban on Muslims.
Ryan opposes both policies.
The Republican speaker said he now has an increased comfort level with Trump's approach toward Ryan's priorities, including halting overreach by the president and executive branch.
"I had friends wishing I wouldn't support him. I had friends wishing I would," Ryan said from his congressional office just down the hill from where he lives in the small Wisconsin city where he grew up. "I really didn't feel any pressure, other than my goal is to make sure that we're unified so that we're at full strength in the fall so we can win the election."
Some GOP leaders have declared they won't support Trump, including 2012 Republican presidential nominee Mitt Romney, who had Ryan as his running mate. Earlier in the week, Romney signaled support for a possible third-party candidate instead.
GOP operative Tim Miller, among a shrinking group of vocal anti-Trump Republicans, offered a warning to any party leaders who believe they can influence Trump by joining his campaign.
"Donald Trump is not going to be body-snatched and turned into a constitutional-small government-welcoming-to-all Republican," Miller said. "If you sign up with Trump, you get unadulterated Donald and all the bad that comes with it."
___
Peoples reported from Washington. AP writer Erica Werner in Washington contributed.