Roundabout at 51st Street opens for commuters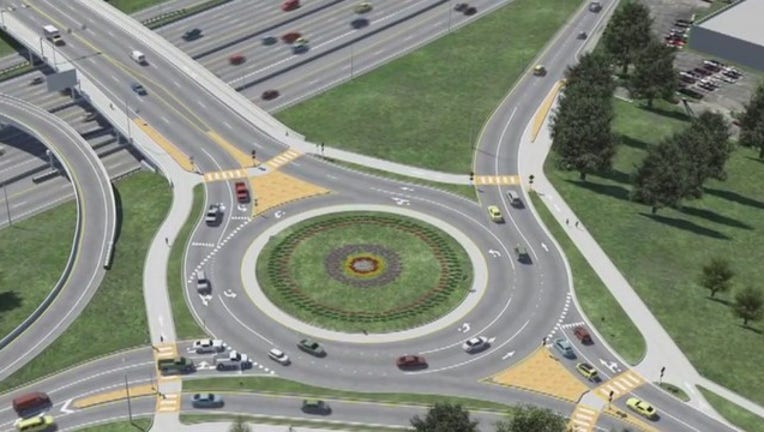 article
The commute for residents who live North of downtown is about to get a lot easier. Starting Saturday, drivers were able to access the new roundabout at the intersection of 51st Street and I-35.
The project isn't fully complete but it seems to be alleviating some traffic.
Tomas Rosales said he's familiar with the intersection of 51st and I-35. It's become a major part of his daily commute over the years.
He said it's just gotten easier for him after TxDot opened the brand new roundabout Saturday evening. "Being a subcontractor here and coming to this home depot a lot anywhere between two and seven times a day sometimes and when you are going through here you want to get in and out," said Rosales.
TxDot said it plans to open more lanes as the roundabout takes shape.
"Hopefully that will be a good idea and good start to get traffic flowing pretty quickly," said Rosales.
Diann Hodges with TxDot said the roundabout should cut commute time.
The redesign is all part of a $16, 5 million project that's anticipated to be complete by this spring.
"Instead of having to up to a light and waiting for it to turn green in order to make a left or go straight, you will now be able to freely enter the roundabout. You'll be able to exit to the right in the direction you want to go," said Diann Hodges with TXDOT.
Hodges said the project is aimed at reducing traffic congestion and cut drive times for many.
"We anticipate people will be able to travel through that intersection on an average of four minutes faster than they do now," said Hodges.
That's something Rosales said he can appreciate. "I spend most of my day driving around so yes there's a lot of people. It's good to see the city take initiative and getting roads and streets situated," said Rosales.
Hodges also said, roundabouts are safer for commuters. "They reduce fatality crashes by up to 90%. Most fatality crashes occur because perhaps somebody's making a left and somebody runs a light and they hit," said Hodges.
But not everyone is on board with the idea.
"I don't think it's going to work. They built one in Round Rock and it's kind of crazy. They just slow down try to figure out what's going on," said a Dickie Rosser who commutes from Round Rock.
Whether it works or not, commuters agree on one thing. "We need to get this city to get flowing better because the city is really growing and with my line of work it's important for me too," said Rosales.
"I've been here for 40 years and watched it grow it's just too crowded," said Rosser.