SH 71 road closure this weekend to impact airport traffic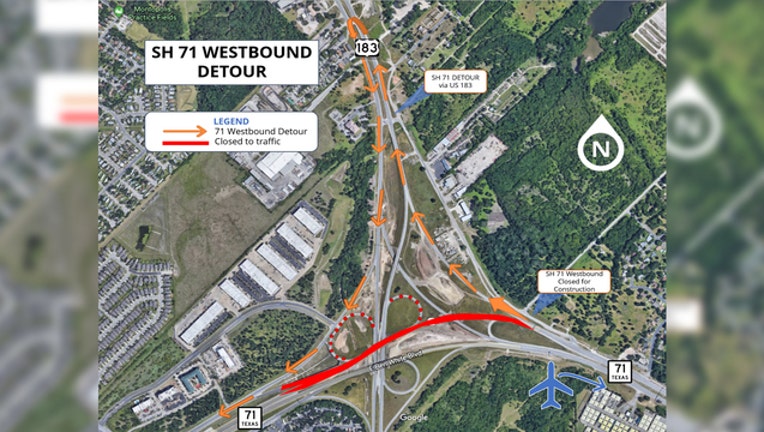 AUSTIN, Texas (FOX 7 Austin) - The Central Texas Regional Mobility Authority will be closing a portion of westbound State Highway 71 at US 183 from Saturday, April 27, at 6 p.m. until noon on Sunday, April 28, to allow for demolition of an old bridge at the US 183 interchange.
During the closure, westbound SH 71 traffic will be diverted onto northbound US 183. To regain access to SH 71, drivers will need to make a U-turn on US 183 north of Patton Avenue, and take southbound US 183 to the exit for westbound SH 71. There will also be a left lane closure on southbound US 183 between Thompson Lane and Patton Avenue to accommodate the detour.
The closure is expected to impact drivers leaving Austin-Bergstrom International Airport, as well as drivers heading west into Austin. Drivers using this stretch of westbound SH 71 may experience delays during peak travel times on Saturday evening and Sunday morning. Travel alerts have been distributed to numerous neighborhoods and businesses, such as airport hotels, about the closure.
The closure is related to the replacement of several bridges at the US 183 and SH 71 interchange as part of the 183 South Project. The bridges are being realigned to accommodate future expansion of the SH 71 corridor and will also be made taller to reduce the risk of damage from oversized vehicles.