Some evacuations lifted as crews fight California brush fire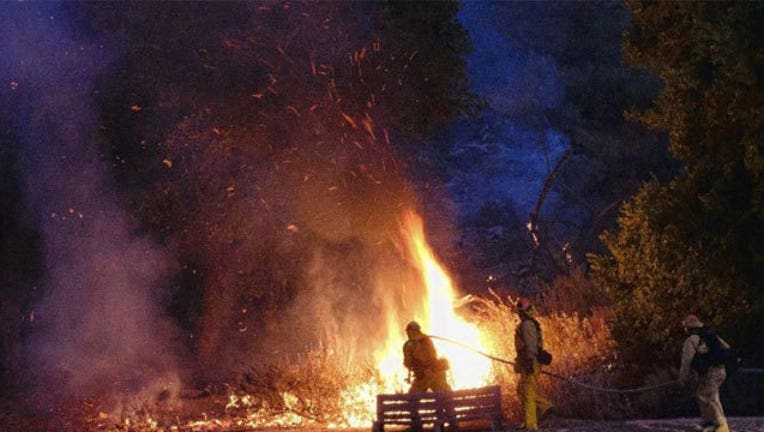 article
LOS ANGELES (AP) — Authorities cautiously lifted some evacuation orders but warned serious challenges remained Sunday as crews in jagged terrain protected homes and worked to stop the progress of a brush fire that torched the populated hills northwest of Los Angeles.
Firefighters took advantage of cooler temperatures and calmer winds as aircraft made water drops along the eastern and southern edges of the blaze, which was held to just over 500 acres, Los Angeles County Deputy Fire Chief John Tripp said.
He said it was "our number one priority to get those two flanks contained," adding that the fire was hung up on the mid-slope of steep canyons, making a direct attack difficult.
"The fire is on the side of a mountain, it's not on any road, and we are trying to get firefighters up there," Tripp said at a morning news conference.
The fire was 30 percent contained and residents of the prosperous and semi-rural area of Calabasas were being allowed back into their homes, many of which were without electricity. Evacuation orders remained in the hilly enclave of Topanga along the fire's southeast side.
Sheriff's officials said some 3,000 homes were threatened and about 5,000 residents were evacuated at the height of the fire, which was sparked by a car crash that downed power lines.
Three homes were damaged, but the extent of the damage wasn't clear, Los Angeles County fire Capt. Keith Mora said. Other buildings, including some at a city park, also were damaged.
Fifty-foot-high flames erupted on ridges and embers turned trees into torches Saturday afternoon. The fire flared as Southern California sweltered under temperatures that hit the 90s in many places.
Hot, dry conditions led to spot fires that had crews scrambling, but officials were encouraged by more favorable weather conditions Sunday, Tripp said. Sunday's high in Calabasas was expected to be in the mid-80s.
Flames raced through drought-dry brush and came within yards of million-dollar homes. The smoke could be seen across the region and a dusting of ash rained down on neighborhoods more than 30 miles away.
Some horse owners in the area put the animals in trailers and hauled them away. Authorities set up an evacuation center for people with large animals at Pierce College in Woodland Hills.
More than 500 firefighters, aided by bulldozers and water-dropping helicopters were on the scene. Three firefighters sustained minor injuries, officials said.
To the southeast, a smoky wildfire burning in Riverside County was 30 percent contained Sunday. The blaze that broke out a day earlier along Interstate 15 in Temecula charred about 130 acres of dry brush. No structures were threatened.
___
Associated Press writer Robert Jablon and photographer Richard Vogel contributed to this report.