Sophomore baseball player wounded in Texas school shooting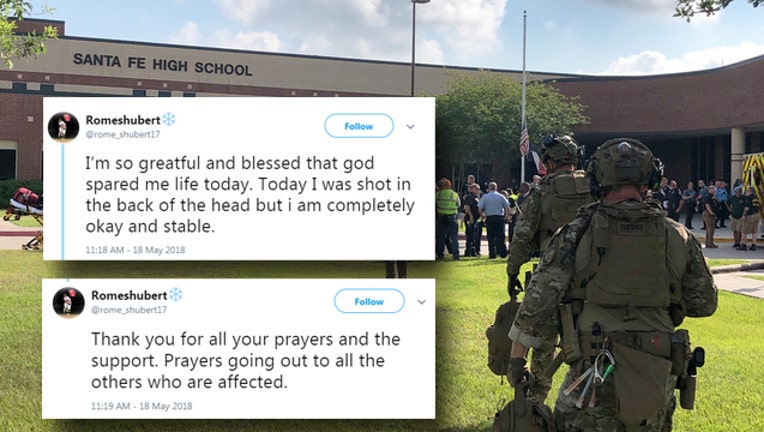 article
SANTA FE, Texas (AP) - A sophomore baseball player who was wounded in the mass shooting at a Texas high school says the gunman walked into his classroom and tossed something onto desks.
Rome Shubert tells the Houston Chronicle that he then heard "three loud pops" before the attacker fled into the hall Friday morning.
Read Santa Fe shooting suspect Dimitrios Pagourtzis charged with Capital Murder
He says he realized he'd been wounded as he was running out the back door.
Shubert says he was hit in the back of his head with what he says was a bullet, but that it "missed everything vital." He also tweeted that he was OK and stable.
Read At least 10 killed, 10 injured in Santa Fe High School shooting, suspect in custody
Authorities say 17-year-old student Dimitrios Pagourtzis fatally shot 10 people and wounded 10 others at his high school in Santa Fe, which is about 30 miles southeast of Houston.
Read Explosive devices found at Santa Fe High School and off campus after shooting
He is being held on a capital murder charge.