Temporary road closures begin on I-35 at William Cannon Drive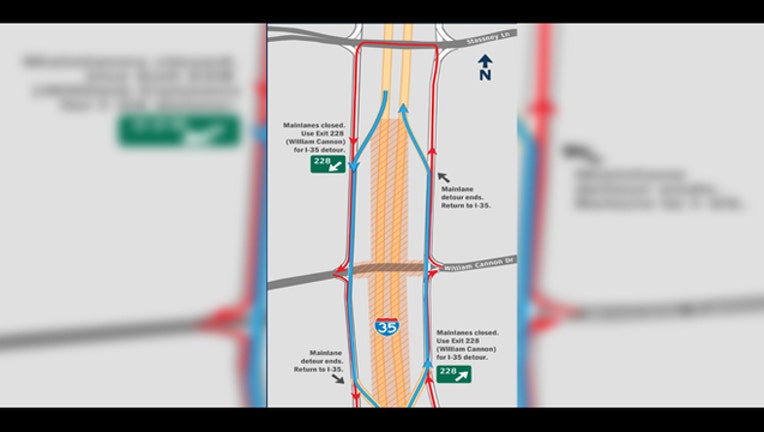 AUSTIN, Texas - Parts of I-35 at William Cannon Drive in alternating directions will be temporally closed for bridge construction said the Texas Department of Transportation.
According to TxDot the closures will occur Monday through Thursday nights, while crews use cranes to lift and place beams for a new William Cannon Drive north-to-south U-turn bridge. 
During the closures commuters will be detoured to the frontage road said TxDot. 
The closures will affect drivers on Monday and Tuesday nights, Sept. 10-11, and northbound motorists on Wednesday and Thursday nights, Sept. 12-13 between 11 p.m. and 4 a.m. said TxDot. 
According to the press release, one lane traveling the opposite direction will be closed on I-35 while the beams are being set, during this phase nightly closures will begin at 8 p.m. said TxDot. 
All I-35 main lanes and William Cannon Drive will reopen daily. 
TxDot is encouraging drivers to find alternate routes during construction. 
Road signs have been placed to alert drivers on upcoming closures said TxDot. 
TxDot is also asking for drivers to be patient and cautious when traveling through construction work zones. 
The Stassney Lane bridge is scheduled for demolition this upcoming winter. 
The $79 million project is scheduled for completion by 2020.  
For more information visit www.txdot.gov/.