The Latest: Comey: No evidence Clinton lied to the FBI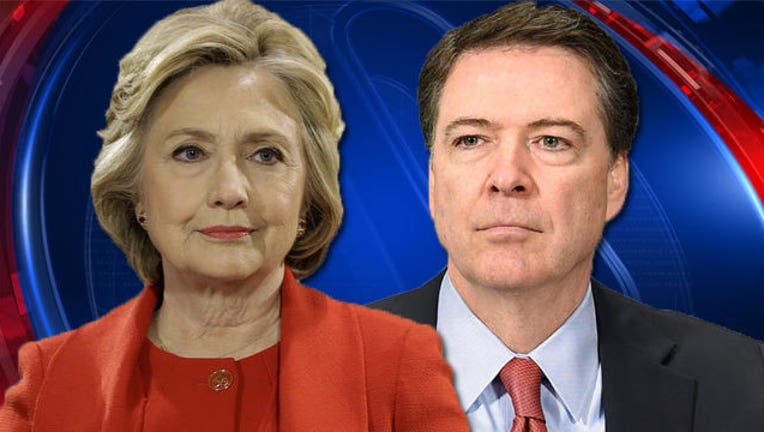 article
WASHINGTON (AP) — The Latest on the presidential campaign ahead of the Democratic and Republican nominating conventions (all times EDT):
10:35 a.m.
FBI Director James Comey says of Hillary Clinton there is, "no basis to conclude that she lied to the FBI."
Comey is being questioned by the Republican-led House oversight committee on his decision not to recommend charges against the Democratic presidential candidate for blending personal and official business on a home email server while she was secretary of state.
___
10:34 a.m.
FBI Director James Comey is telling the House Oversight and Government Reform Committee that his investigation found evidence of "great carelessness" by Hillary Clinton's handling of classified information but no evidence that she or her staff illegally discussed classified information.
Comey says there was only one precedent in the past 100 years for prosecuting on a "gross negligence" item and "no reasonable prosecutor" would bring this case.
___
10:24 a.m.
Donald Trump is blaming the media for the uproar over his comments complimenting former Iraqi dictator Saddam Hussein as a killer of terrorists.
Trump sought to explain his comments a Tuesday night speech in North Carolina when he met with House Republicans on Thursday.
According to Rep. Kevin Cramer of North Dakota, Trump said he was very critical of Saddam "saying he's a very, very bad guy, evil guy. And I wake up and I look at the media and they say I love Saddam Hussein."
Cramer said Trump used the incident as an "an example of how his words were twisted or taken out of context."
___
10:10 a.m.
The chairman of the House committee probing why Hillary Clinton was not indicted this week is telling FBI Director James Comey that the decision is a mystery.
The Utah Republican, who chairs the House Oversight and Government Reform Committee, tells Comey that the "fact pattern" he laid out in a scathing report this week about Clinton's use of a private email server does not match his conclusion not to indict her.
Chaffetz says he can't explain why there was no consequence for Clinton when an average American would likely be in handcuffs.
He adds that Clinton's blending of private and official business on an unsecured private email server "not an innocent mistake."
"There does seem to be two standards," Chaffetz said.
___
10:00 a.m.
Hillary Clinton is rolling out a plan that would crack down on companies that don't pay contractors and workers for their labor.
Clinton's plan would aim to ensure that small businesses get paid faster and have greater legal protections if they are repeatedly stiffed by large companies.
Clinton traveled to Atlantic City, New Jersey, on Wednesday to criticize Trump's business practices and point to instances in which he failed to pay contractors for their work on his hotels. Clinton said what Trump did in Atlantic City is exactly what he would do to the American economy.
___
9:57 a.m.
Donald Trump is getting mixed reviews from House Republicans.
Pennsylvania Rep. Charlie Dent said after Thursday's Capitol Hill meeting that Trump, "has a lot of work to persuade many Americans, including myself, that he is able to lead this great country."
Illinois Rep. Adam Kinzinger said there was a lack of enthusiasm in the room — "You could feel it"
Still nagging at some lawmakers is Trump's praise earlier in the week of former Iraqi leader Saddam Hussein's prowess at killing terrorists. The U.S. listed Iraq during the Saddam years not as an opponent of terrorism, but as a state sponsor of it.
"I'm not a Never Trump guy, I've said I want to get there, I'm a Republican and I want to support the nominee. But things like the Saddam Hussein comment are not helping me get there," Kinzinger said.
Another Illinois congressman, John Shimkus, said Trump "talked about how much he was able to raise in the last month, I guess. And how it's important to get united." Shimkus added that Trump issued, "no new information."
____
9:52 a.m.
Hillary Clinton plans to campaign next week with Virginia Sen. Tim Kaine, a popular lawmaker and foreign policy expert who is among the candidates under consideration to be her vice presidential pick.
Clinton's campaign said the two would appear together in northern Virginia on July 14 at a Democratic Party of Virginia event. According to a news release, they will talk about building a stronger America and stress why "Donald Trump's divisive agenda would be dangerous for America."
Virginia is a key general election battleground state.
Other potential vice presidential prospects include Massachusetts Sen. Elizabeth Warren, a favorite among party progressives and Housing and Urban Development Secretary Julian Castro of Texas, a rising star in the Democratic Party.
____
9:31 a.m.
Georgia Rep. Tom Price says Donald Trump delivered a "great unifying speech" to House Republicans and hit on key GOP themes.
Emerging from the Thursday morning meeting, Price said Trump talked about repealing the health care law, reducing regulatory burdens, tax reform and getting the Supreme Court to "be one that is more reflective of the values of the country."
Price said rank-and-file Republicans were receptive.
Trump was meeting with congressional Republicans at Republican headquarters on Capitol Hill.
___
9:19 a.m.
Protesters are targeting Donald Trump, who was meeting on Capitol Hill with Republicans, and GOP senators locked in tough re-election contests.
As Trump arrived on Thursday, protesters held signs with headshots of several Republicans, including New Hampshire Sen. Kelly Ayotte, Pennsylvania Sen. Pat Toomey and Wisconsin Sen. Ron Johnson.
"Make America Great Again" hats were photo-shopped to their heads and the bottom of the signs reads "Party of Trump."
The protesters also targeted Speaker Paul Ryan and Texas Sen. Ted Cruz.
Ayotte had indicated she had no plans to attend the meeting with Trump.
___
8:52 a.m.
Donald Trump has arrived on Capitol Hill for his meeting with congressional Republicans.
Trump's motorcade pulled into an alleyway behind the Republican National Committee building around 8:50 a.m. The presidential candidate didn't speak with reporters as he entered the building, but offered a quick wave from behind the window of his SUV.
Trump was meeting with rank-and-file House Republicans before a separate session with GOP senators.
___
7:20 a.m.
House Oversight Committee Chairman Jason Chaffetz says he has plenty of questions for James Comey Thursday, but he doesn't question Comey's integrity.
The Utah Republican congressman tells MSNBC that Comey "is a man of great integrity, that's why it's mystifying" that Comey he recommended no charges against Hillary Clinton despite the FBI's findings that classified information traveled through her homebrew email server.
Chaffetz's committee is hearing from Comey Thursday about the investigation. Attorney General Loretta Lynch has accepted Comey's recommendation, igniting an inferno of criticism that what would clearly be a criminal infraction for others went unpunished for the Democratic presidential candidate and former secretary of state.
On NBC's "Today" show, Chaffetz said he "absolutely" would have had the FBI director before his committee even if the decision had been to move toward an indictment.
___
6:50 a.m.
House Speaker Paul Ryan wants the director of national intelligence to deny Hillary Clinton the type of classified briefings given to presidential nominees before the general election.
Ryan says that in light of the FBI's findings from its investigation of Clinton's email practices while secretary of state, barring her from classified briefings "certainly constitutes appropriate sanctions."
The Wisconsin Republican says in a letter to Director of National Intelligence James Clapper that if Clapper rejects the request, Ryan wants him to provide his rationale for granting Clinton access to such information "despite the FBI's findings."
FBI Director James Comey said on Tuesday there was no evidence Clinton or her aides willfully or intentionally mishandled classified information and that "no reasonable prosecutor" would pursue such a case. But he cited them for being "extremely careless" and he contradicted many of the explanations Clinton has long put forward.
___
This story has been corrected reflect Comey's title, FBI director.