'The Masked Singer': Rubber Ducky sent 'quacking' after 1st reveal of Season 10 premiere
LOS ANGELES - "The Masked Singer" celebrated a milestone, kicking off its tenth season Wednesday evening, and unmasking its first celebrity in the process.
Emmy-nominated actor and comedian Anthony Anderson was unmasked as Rubber Ducky. 
The 53-year-old is known for acting in popular movies and television shows including "Transformers," "Kangaroo Jack" and "Black-ish."
"I would have to say it is the most bizarre thing I've ever done," Anderson said to host Nick Cannon following his reveal.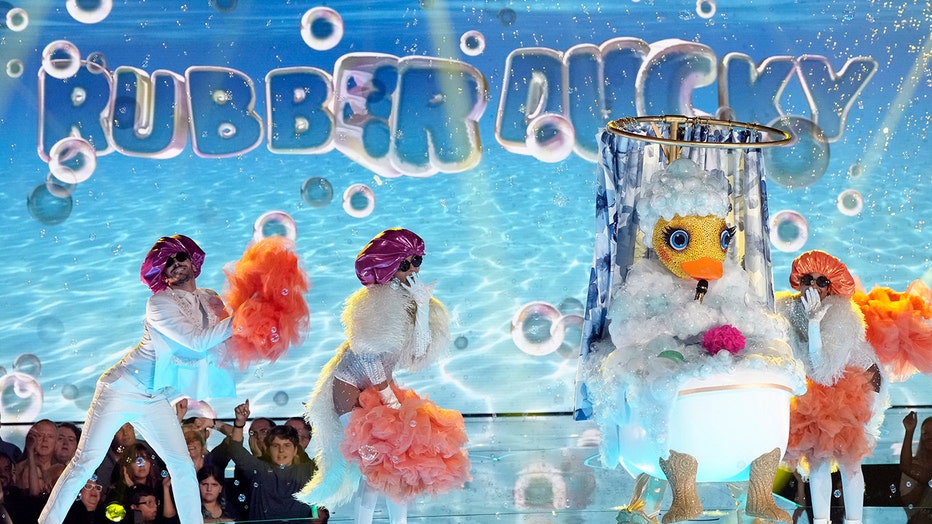 Rubber Ducky performs on "The Masked Singer." (Credit: Michael Becker / FOX. ©2023 FOX Media LLC.)
Panelist Ken Jeong was able to accurately predict that Anderson was beneath the costume. 
"It's a Season 10 miracle," Jeong told him. "You're all about fun. You make me laugh so hard, and everything about you just screams fun."
Jenny McCarthy Wahlberg added, "And you're a classy, funny, amazing guy."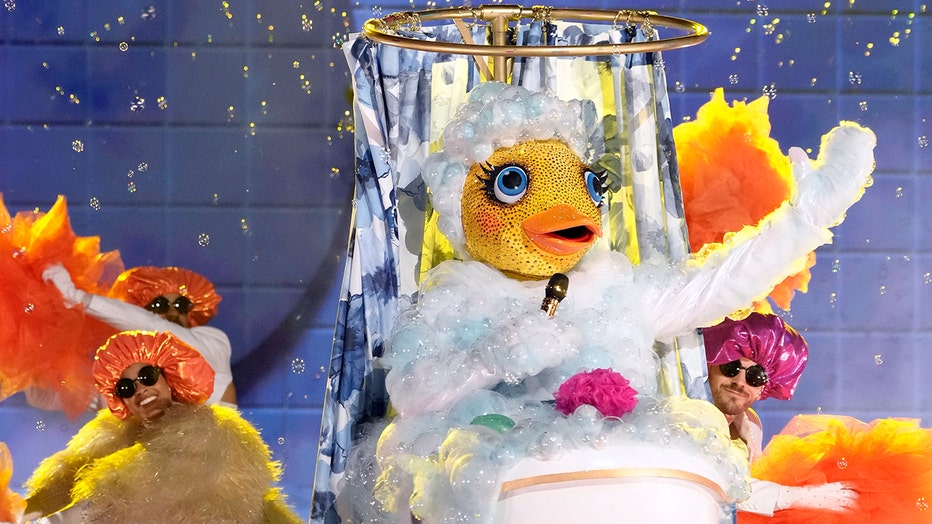 On the Season 10 premiere of "The Masked Singer," Rubber Ducky performs. (Credit: Michael Becker/FOX)
But, unfortunately, the actor did not fit the "bill," and was ultimately sent packing (or quacking). 
"I should have never lost," Anderson jokingly yelled. "Rubber Ducky here forever." 
About "The Masked Singer" Season 10
The legacy of "The Masked Singer" will continue this season with an all-new format, incredible costumes and iconic-themed episodes. 
The new anniversary season is set to return with an all-new format with three groups and a special Battle Royale semi-final. 
Like previous seasons, Wild Card contestants will return to shake up the competition with one Wild Card introduced to each group. 
RELATED: 'The Masked Singer' Season 10 premieres tonight: What to expect
The "Ding Dong Keep It On Bell" will also return, allowing judges to choose to save a contestant from elimination and move them directly into the finale.
In addition, the season will feature iconic-themed episodes including "Trolls Night," Harry Potter Night" during Halloween week, and "Elton John Night" which will celebrate the singer's music.
With 16 total singers, the new season boasts new costumes including "Donut," "Anteater," "Hawk," "Hibiscus" and "S'More."
As always, Season 10 will be hosted by Cannon, alongside panelists McCarthy Wahlberg, Jeong, Nicole Scherzinger and Robin Thicke.
The show, which premiered on FOX in 2019, features celebrities singing songs while wearing head-to-toe costumes and face masks to conceal their identities. With each performance, the host, panelists, audience, viewers and even the other contestants are left guessing who is singing behind the mask. 
The performers may attempt to throw off the crowd, but keen observers might pick up on tiny clues buried throughout the show. Each week, a singer is eliminated – and then reveals his or her true identity.
Next week is "NFL Night" as the competition heats up with a new Wild Card singer. Catch new episodes of "The Masked Singer" every Wednesday night on FOX. 
This station is owned by Fox Corporation.