These cars lose their value faster than any type of vehicle, study finds
A new analysis of more than 1 million vehicles shows which cars depreciate the fastest – and which ones hold their value the best.
According to analysis from iseecars.com, all vehicles are holding their value better today than they were before the pandemic thanks to a lower supply of new and used cars. Before the pandemic, the average car would lose about half of its value in five years. Today, that number is down to 38.8% on average, but some cars have a notably higher depreciation than others.
READ MORE: These carmakers had the most recalls in 2022: See if your car is on the list
The study looked at more than 1.1 million vehicles sold from November 2022 through October 2023. Here's what analysts found. 
Cars with the highest depreciation rate in 2023
Electric vehicles are the worst at holding their value, the analysis says, losing 49.1% in five years.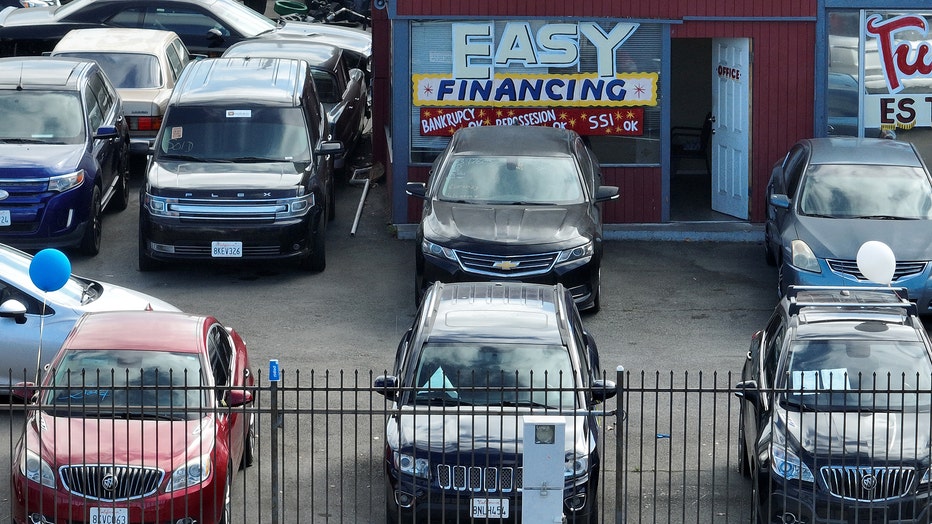 An advertisement of easy financing is posted on the front window of a used car lot on September 06, 2023 in San Pablo, California. (Photo by Justin Sullivan/Getty Images)
Luxury SUVs and sedans, including the Maserati Quattroporte, BMW 7 series and Maserati Ghibli, are among the vehicles with higher rates of depreciation.
READ MORE: 4 large pickup trucks flub latest crash test, raising safety concerns, study shows
Here are the 25 models with the highest rates of depreciation, according to iseecars.com:
Maserati Quattroporte, average five-year depreciation 64.5%
BMW 7 Series, 61.8%
Maserati Ghibli, 61.3%
BMW 5 Series (hybrid), 58.8%
Cadillac Escalade ESV, 58.5%
BMW X5, 58.2%
INFINITI QX80, 58.1%
Maserati Levante, 57.8%
Jaguar XF, 57.6%
Audi A7, 57.2%
Audi Q7, 56.8%
Cadillac Escalade, 56.5%
Audi A6, 56.3%
Volvo S90, 55.8%
Nissan Armada, 55.7%
Mercedes-Benz S-Class, 55.7%
Lincoln Navigator L, 55.5%
Mercedes-Benz GLS, 55.5%
Tesla Model S, 55.5%
BMW 5 Series, 55.3%
BMW X5, 54.7%
Lincoln Navigator, 54.7%
BMW X5 M, 54.0%
Land Rover Range Rover, 53.9%
Cadillac XT5, 53.9%
Cars with the lowest depreciation rate in 2023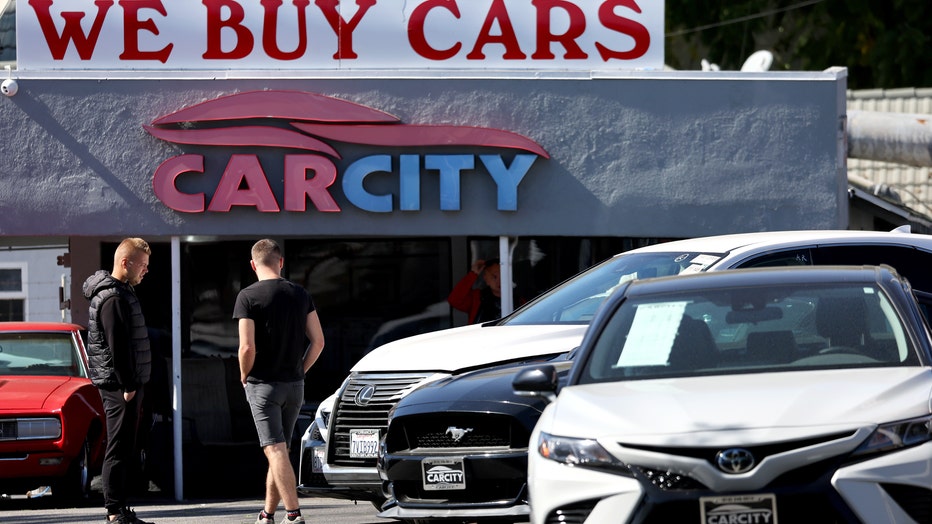 Customers browse in a used car lot on February 15, 2023 in Glendale, California. (Photo by Mario Tama/Getty Images)
Analysts found that trucks and hybrid vehicles retain the most value over five years, losing between 35 and 37%.
Several sports cars, small SUVs and economy cars held their value better than others, including the Porsche 911, Jeep Wrangler and Honda Civic.
READ MORE: Toyota recalls nearly 1.9M RAV4 SUVs over potential fire risk
"The good news for car owners is that all used cars hold their value better than they did five years ago," said Karl Brauer, iSeeCars executive analyst. "But not all used cars retain value equally … Hybrids have a nearly 12 percentage point advantage over EVs in value retention, which translates to thousands of dollars in higher market value after five years."
Here are the cars that retained the most value, according to iseecars.com:
Porsche 911 (coupe), average five-year depreciation 9.3%
Porsche 718 Cayman, 17.6%
Toyota Tacoma, 20.4%
Jeep Wrangler/Wrangler Unlimited, 20.8%
Honda Civic (sedan/hatchback), 21.5%
Subaru BRZ, 23.4%
Chevrolet Camaro, 24.2%
Toyota C-HR, 24.4%
Subaru Crosstrek, 24.5%
Toyota Corolla, 24.5%
Ford Mustang, 24.5%
Porsche 718 Boxster, 25.1%
Toyota Tundra, 25.3%
Kia Rio 5-Door, 25.8%
Porsche 911 (convertible), 26.0%
Honda HR-V, 26.2%
Subaru Impreza, 26.2%
Kia Rio, 26.3%
Chevrolet Spark, 26.6%
Toyota RAV4, 27.2%
Hyundai Accent, 27.4%
Toyota 4Runner, 27.4%
Chevrolet Corvette, 27.5%
Nissan Kicks, 27.5%
Subaru Impreza, 27.8%
Read the full analysis here.