Travis County deputy Jessica Hollis remembered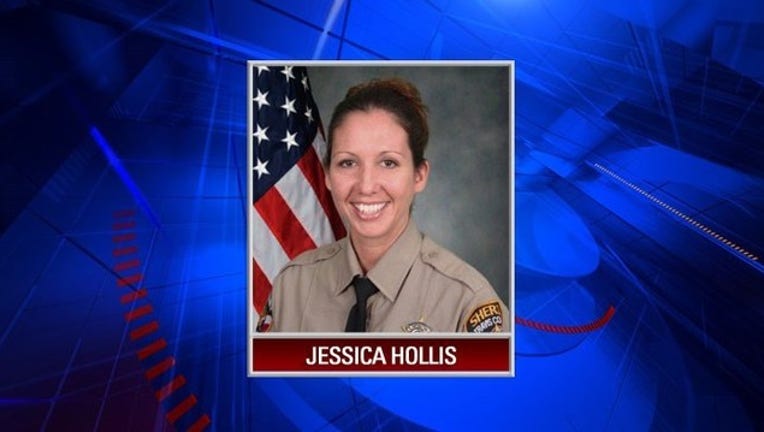 article
AUSTIN, Texas - Visitation was held tonight for the Travis County Sheriff's deputy who died last week while checking low water crossings.

Today a rehearsal was also held for Jessica Hollis' burial service. Her closest friends and law enforcement family went through the service.
Senior Deputy Hollis will be laid to rest tomorrow with full honors.
APD is closely involved because Hollis' husband is an officer with the department. Hollis' pallbearers consist of deputies who were on her shift when her patrol car was swept away by flood water last Wednesday and members of the Sheriff's Office Dive Team.
FOX 7 spoke with some of them. They described Jessica as the proudest mom. She loved talking about her 12-year-old son Mason. She loved to make people laugh and friends say she was happiest when she was in the water. She was a very skilled diver.
Sgt. Don Rios with the Travis County Sheriff's Office Dive Team says, "She was a girl that brought a lot here and laughter to the team, pushing people in the pool, always bringing the comic relief. She was the best friend you wanted to have with you all the time."
Jessica's supervisor Sgt. John Loughran says, "She loved water. If she was going to go some way this may be the way that she would want to go in the water. I was there when she went into the water at night and i was there when she was pulled out of the water."
Visitation was held at Cook Walden Capital Parks tonight from 6 p.m.to 9 p.m.
The funeral service starts at 10 tomorrow morning at Hill Country Bible Church. Following the service there will be a procession to her final resting place.
FOX 7 will be carrying the service live on air and online.
The Travis County Sheriff's Office and Austin Police Department remind the public to expect traffic delays between the hours of 8 a.m. and noon tomorrow for the funeral procession. The public is welcome to line up along the route to pay their respects.
This is a graphic of the funeral procession route for tomorrow.
The following is the exact route for the escort from the funeral home on Wednesday, Sept. 24, 2014 that's scheduled for 8 a.m. and is 12.4 miles in length:
Exit Cook Walden Funeral Home and turn right onto IH-35 N/B Frontage Rd.
Immediately merge onto IH-35 proper
Travel North on IH-35 for 2.4 miles to exit 250
Take exit 250 and merge onto IH-35 N/B Frontage Rd.
Travel North on IH-35 N/B Frontage Rd. for .7 miles to Louis Henna Blvd.
Turn left onto W. Louis Henna Blvd.
Travel West on W. Louis Henna Blvd. for 1.3 miles to S.H. 45 Toll
Merge onto S.H. 45 Toll
Travel West on S.H. 45 Toll for 6.7 miles until it ends at FM 620 North
Travel West on FM 620 North for 1 mile to Little Elm Trail
Turn right onto Little Elm Trail
Travel North on Little Elm Trail for .2 miles to church entrance
The Police Honors and funeral procession route to Cook Walden Capital Parks (14501 N. IH-35) will be as follows:
Turn right onto Little Elm Trail from Church
Travel South on Little Elm Trail for .2 miles to FM 620 North
Turn Left onto FM 620 North
Travel East on FM 620 North for 3.3 miles to W. Parmer Lane
Turn right onto W. Parmer Lane
Travel Southeast on W. Parmer Lane for 7.5 miles to IH-35
Turn left onto IH-35 N/B Frontage Rd.
Travel North on IH-35 N/B Frontage Rd. for .4 miles to IH-35
Merge onto IH-35 proper
Travel North on IH-35 for 1 mile to exit 250
Take Exit 250 and merge onto IH-35 N/B Frontage Rd.
Travel North on IH-35 N/B Frontage Rd. for .7 miles to cemetery entrance