Trump uses social media to question probe of his campaign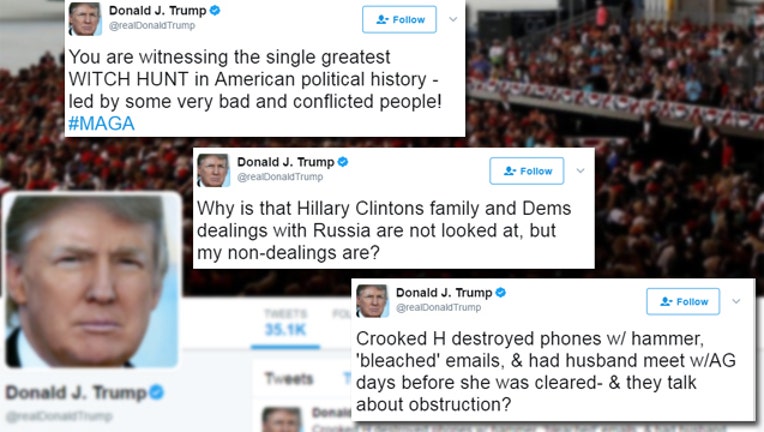 article
WASHINGTON (AP) - President Donald Trump complained on social media about the wide-ranging investigation of Russian interference in the U.S. election as Robert Mueller appeared to widen his probe to include whether Trump tried to obstruct justice.
"You are witnessing the single greatest WITCH HUNT in American political history - led by some very bad and conflicted people!" Trump wrote on Twitter, in a pair of messages that ended with a reference to his campaign slogan "Make America Great Again."
The president expressed annoyance about news reports that the probe is now believed to include an examination of whether he obstructed justice by firing FBI Director James Comey, who had earlier led the Russia investigation. Shortly after Trump fired Comey, a Justice Department official tapped Mueller to take up the investigation as a special counsel.
Trump's tweets are the latest - and most direct - attacks on the leader of an investigation that he insists is unnecessary and distracting. All week, some of Trump's most ardent defenders, including his son Donald Trump Jr., his White House counselor Kellyanne Conway and friend and occasional adviser Newt Gingrich have questioned the probe in similar ways.
Gingrich, the former House speaker whose wife is seeking Senate approval to become the U.S. ambassador to the Vatican, continued to defend Trump Thursday morning. He wrote in multiple social media posts that he views Mueller - a long-serving former FBI director respected by both parties - as leading a biased probe with the singular aim of dislodging Trump.
"Mueller is setting up a dragnet of obstruction, financial questions and every aspect of Trump's life and his associates lives," Gingrich wrote on Twitter, adding "very dangerous."
Just a few weeks ago, Gingrich was praising Mueller as a man of integrity. Gingrich told The Associated Press in an interview this week that his feelings about him began to change after Comey testified to a Senate panel that he had leaked his personal memos in order to trigger the appointment of a special counsel.
Mueller's friendship with Comey and Mueller's selection of several investigators who have made campaign donations to Democrats are among the issues Gingrich is raising as problematic.
The former speaker said Trump called him Monday night and that the two discussed Gingrich's concerns.
__
Associated Press writer Vivian Salama contributed to this report.