Update on Hurricane Patricia from NOAA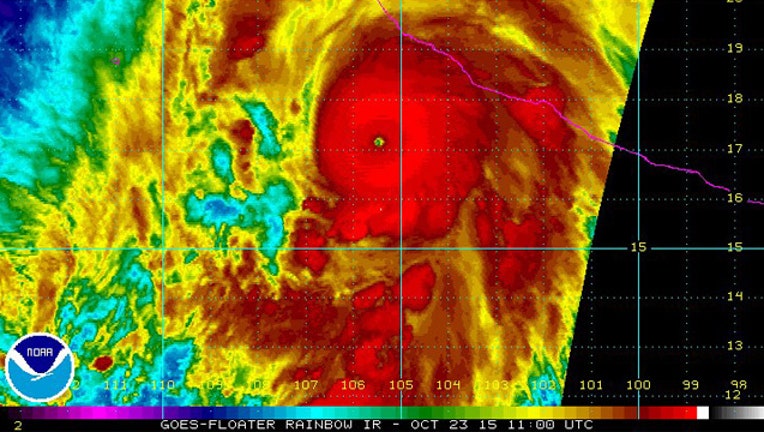 article
The following information came from the NOAA Facebook page.  Follow them for updates on Hurricane Patricia.
Hurricane Patricia is the strongest hurricane on record in the National Hurricane Center's area of responsibility (AOR) which includes the Atlantic and the eastern North Pacific basins. The minimum central pressure estimated from the aircraft data, 880 mb, is the lowest ever for our AOR. Maximum sustained winds remain near 200 mph (325 km/h) with higher gusts. Patricia is a category 5 hurricane on the Saffir-Simpson Hurricane Wind Scale. Some fluctuations in intensity are possible today, but Patricia is expected to remain an extremely dangerous category 5 hurricane through landfall.

A Hurricane Warning continues from San Blas to Punta San Telmo, and a Hurricane Watch and Tropical Storm Warning from east of Punta San Telmo to Lazaro Cardenas. Preparations to protect life and property should now be completed now.

Patricia is centered as of 7 a.m. CDT about 145 miles (235 km) southwest of Manzanillo, moving toward the north-northwest near 12 mph (19 km/h). A turn toward the north is expected later this morning, followed by a turn toward the north-northeast this afternoon. On the forecast track, the core of Patricia will make landfall in the hurricane warning area this afternoon or evening.

Preparations to protect life and property should be rushed to completion. Tropical storm conditions are now beginning to spread across portions of the warning area. Hurricane conditions are expected to first reach the hurricane warning area this afternoon.
For more information and additional graphics, go to the NHC website at www.hurricanes.gov.