Where to find 2019 Veterans Day deals, discounts, and freebies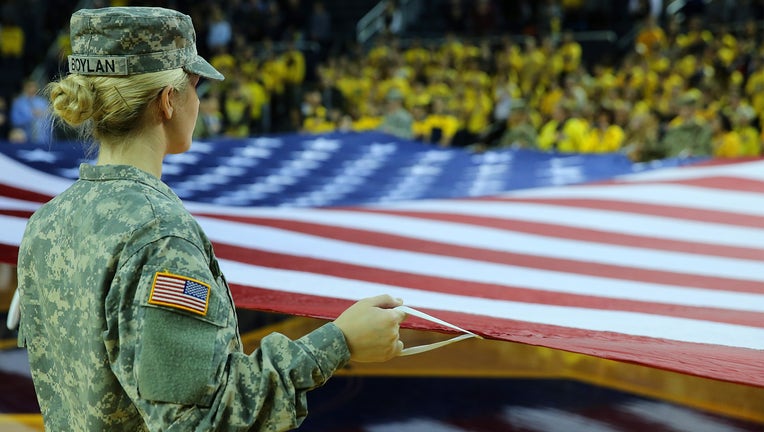 article
Businesses are offering a sweet salute to those who serve our country on Veterans Day. 
Veterans Day is observed annually on November 11 to honor military veterans and those who are actively serving our country in the United States Armed Forces. Many businesses are offering discounts and deals to honor those who have served and continue to serve, as well as their families.
Click here for FOX 7 Austin's Care Force stories on veterans
All discounts apply to both active-duty military personnel and veterans on Veterans Day unless otherwise specified.
Be sure to bring along proof of military service. Some exclusions apply.
 Here's a list of some of the deals for this year's Veterans Day:
7-Eleven: Veterans receive a free coffee or Big Gulp when they download the 7-Eleven app.
Alamo Draft Cinema – All vets and active military are invited to see a free movie at all Alamo Drafthouse theaters. Bring a valid proof of service to a box office and receive a free ticket to any movie on 11 or 12 Nov.
The Alamo - Join us Monday, November 12, for special military programming at the Alamo including firing demonstrations, living history, and giveaways for all military and veterans. All military and veterans will receive a free audio or guided tour, plus one for a guest.
Amazon: All veterans and active-duty military members can get a one year Amazon Prime membership for $79, which is $40 off the regular price, through Nov. 11. 
Applebee's: All active military members and veterans will receive a free meal from any participating locations on Veterans Day, November 11th.
BJ's Restaurant: All current and former service members receive a free entree up to $14.95 as well as a free Dr Pepper.
Bombshells Restaurant & Bar - Veterans and active service members of the U.S. Armed Forces receive a 20% discount on meals and soft drinks every day and eat for free on Veteran's Day. 
Bowl & Barrel - Veterans and active-duty military personnel get a complimentary hour of bowling on Veterans Day.
Bubba Gump Shrimp: All military personnel along with their families receive 20 percent off of their meals.
Chili's Grill & Bar: Chili's is offering veterans and active service members a complimentary meal from their select Veterans Day menu, which includes up to seven items.
Chipotle: Show your U.S. Military ID on November 11 for a Buy-One, Get-One Free Entrée. In-restaurant only.
Cicis Pizza: Just show proof of service and receive a complimentary pizza buffet.
Cracker Barrel Old Country Store: All veterans will receive a free Double Chocolate Fudge Coca-Cola Cake dessert or choice of Crafted Coffee Beverage.
The DoSeum - The DoSeum will honor the sacrifice of military families by offering free admission to active and retired military and military families on select days. Offered through support from The USAA Foundation, Inc. Valid military ID required.
Dunkin' Donuts: No purchase will be necessary for any veteran and active service member to claim a free doughnut of their choice. The first 50 former and active military members to arrive at a participating Dunkin' restaurant on Nov. 11 will also receive a "thank you" card written by members of their local community in partnership with the nonprofit A Million Thanks.
Farmer Boys: Get a free Big Cheese burger with proof of service.
Fogo de Chão: Offering a 50% Veterans Day Discount for all Veterans and active duty military. Their guests also receive 10% off. The offer is valid Friday – Monday (November 8-11) on Veterans Day Weekend. Verifying ID required. This discount is available at all locations.
The General Public - As a way of celebrating those who've served, The General Public will be giving all servicemen and women a complimentary TGP Burger Nov. 11 for Veteran's Day. Thank you for your service!
The George H.W. Bush Presidential Library and Museum - The George H.W. Bush Presidential Library and Museum will honor military members and their families again this Veterans Day by offering free admission to all active-duty, retirees, veterans, Reservists, National Guard, and Coast Guard members as well as up to five family members on Monday, November 11. The museum hours are from 9:30 a.m. to 5:00 p.m. 
Golden Corral: Military veterans will be treated to a complimentary "thank you" dinner on Veterans Day from 5 p.m. to 9 p.m.
Hula Hut – Free entrees for active military members or veterans as a show of gratitude for their service.
IHOP: The popular breakfast chain is offering free Red, White and Blue Pancakes on Nov. 11 from 7 a.m. to 7 p.m. for all former and current active duty members.
Jenna's Asian Kitchen – Free meals including the Sunday buffet to Veterans on November 11 with military ID.
Kent Black's BBQ – All veterans and active military members will be served a free meal on Monday, November 11.
Kohl's - Kohl's is offering double its military discount for Veterans Day, increasing it from 15 percent to 30 percent. The retail company has been offering 15 percent off for veterans in their "Military Monday" year-round discount, and now the store is offering 30 percent off from Nov. 7 through Nov. 11 in honor of Veterans Day.
Kolache Factory - On November 11, Kolache Factory stores nationwide are offering free breakfast to all veterans and all those who are actively serving our country in the U.S. armed forces. All veterans and servicemen and women are invited to come in and enjoy a fresh made kolache of their choice, savory or sweet, and a cup of coffee on the house.
Little Caesars Pizza: All current and former service members will receive a free $5 HOT-N-READY Lunch Combo.
Lyndon B. Johnson Presidential Library – Free admission to all visitors on Veterans Day, Monday, Nov. 11.
Macaroni Grill: Veterans and active military members receive a free Mom's Ricotta Meatballs & Spaghetti entrée on Veterans Day.
McAlister's Deli – All men and women of the military receive a complimentary entrée, drink, and dessert.
McDonald's - In appreciation of all active-duty military and veterans, participating McDonald's restaurants in South Central Texas will offer a free Breakfast Combo Meal to our active and retired armed forces servicemen and servicewomen showing proper ID on Veterans Day, November 11.
MOD Pizza - Show your valid U.S. Military, or Veteran, ID to receive a free MOD-size pizza or salad with purchase of a pizza or salad of equal or greater value. Available in-store only, at participating U.S. MOD locations, while supplies last. Limit one (1) per customer. Cannot be combined with other offers, discounts, or promotions. Taxes may apply, valid on November 11, 2019, only.
Moviehouse & Eatery – All veterans and active military are treated to a free movie. Available at all locations, only at the box office. One show per person.
Paramount Dental – During the month of November,  veterans are offered a 30% discount which applies to all treatment except for implants & Invisalign, which will have a separate special promotion.
Pluckers Wing Bar – Veterans and active-duty military enjoy a free meal on Monday, November 11th. This offer is dine-in only with military ID.
Red Lobster: The seafood chain is offering a free appetizer or dessert from their select Veterans Day menu to all former and active service members.
Red Robin: The burger chain is offering a free dine-in Red's Tavern Double Burger and Bottomless Steak Fries on Nov. 11.
The Rustic – Free Rustic burger for all who served on Veterans Day.
San Antonio Zoo – Free admission to active duty, guard and veterans visitors throughout November. Plus, up to four (4) immediate family members can receive 50% off standard admission.
Starbucks: Veterans and their families can grab a complimentary Tall Brewed Coffee.
Texas Parks & Wildlife – TPWD will waive day-use entry fees for everyone on Sunday, Nov. 10. Camping and other activity fees will still apply.
Texas Roadhouse - Any veteran, active and retired military members are invited on Monday, November 11 from 11 a.m. - 4 p.m. to receive a free meal at any location nationwide. Valid at all U.S. locations. Select times only. Early Dine menu only. Must present valid military ID to redeem. One per person.
Yard House: All former and active-duty service members will receive a free appetizer on Veterans Day.