Florida's 4 a.m. Emergency Alert test to cell phones Thursday was sent in error
ORLANDO, Fla. - If you live in Florida, you were more than likely awakened early Thursday morning by an emergency alert notification on your cell phone – only to find out that there was no emergency; instead, it was a test alert that was mistakenly sent out.
The alert was sent around 4:45 a.m., and read: "TEST - This is a TEST of the Emergency Alert System. No action is required."
Understandably, people took to social media to complain about the unexpected notification, but to also ask a few questions: who sent it? Why? And why at 4:45 a.m.?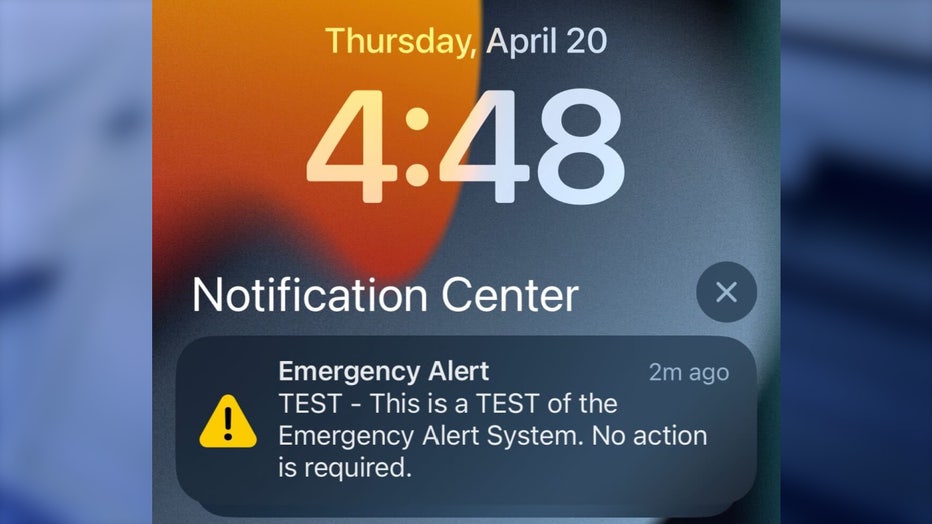 In a statement, the Florida Division of Emergency Management said: 
"Emergency alert testing directives originate from the federal government. This morning's test was supposed to be a test of televised emergency alerts, which the Florida Association of Broadcasters normally schedules for very early in the morning because that is when the fewest people are watching TV (to minimize disruption).
Florida contracts with a company called Everbridge to provide the technical coding and instructions required to push out emergency alerts. Everbridge sent the wrong technical specifications for this alert – which ultimately pushed the alert over the Wireless Emergency Alert system (cellphones).
Good government identifies errors, corrects them expediently, and holds people accountable when appropriate. The Division recognizes that this error was unacceptably disruptive and will correct it.
Nonetheless, the Division stresses the importance of being able to receive emergency alerts as disasters can happen at any time and these alerts save lives. Please do maintain emergency alert notifications on your cellular device – we will ensure they are used appropriately henceforth.
Typically, only a few agencies have the ability to request and send out emergency notifications to cell phones, and they're usually for imminent situations, such as severe weather warnings, an AMBER Alert for a missing child, public safety alerts, or a national emergency.
Hours later, the Florida Division of Emergency Management (FDEM) apologized for the incident in a tweet, and said the Emergency Alert System (EAS) notification was part of a monthly test, but that it was supposed to air on TV, not cell phones.
The state conducts a monthly test for cell phones, but those tests are not supposed to make it to the mobile devices of residents, Seminole County officials said. 
"We do a test every single month. You've never received an alert before. Why, because we always hit test. The state does a test every single month. Unfortunately, this is one circumstance were someone made an error," a county spokesperson said.
"We know a 4:45 AM wake up call isn't ideal," the tweet stated. "Each month, we test #emergencyalerts on a variety of platforms. This alert was supposed to be on TV, and not disturb anyone already sleeping."
"We are taking the appropriate action to ensure this will never happen again and that only true emergencies are sent as alerts in the middle of the night," the FDEM said. 
In a tweet, Florida Gov. Ron DeSantis referred to the timing of the alert as "a completely inappropriate use of this system," and said he'd instructed Florida's Emergency Management Director Kevin Guthrie to "bring swift accountability" regarding what happened.
Bryan Griffin, press secretary for Gov. DeSantis' Office, said in his own tweet that the alert was not issued at their direction, and that the party responsible would be held accountable.
As a result of the notification, county-level emergency managers issued statements letting people know that they did not send out the alert, and urged people not to turn off those important emergency alerts – an option that is technically available on cell phones and mobile devices (though not recommended).
'This morning, the State accidentally used the 'Live' screen instead of the 'Test' screen when sending a test alert,' Seminole County said in a statement.
Many Floridians shared their frustrations about the alert on social media:
Monthly tests of the system are not uncommon. A schedule is posted on the Florida Association of Broadcaster's website.