With bombings over, several city leaders want Brian Manley as permanent Austin Police Chief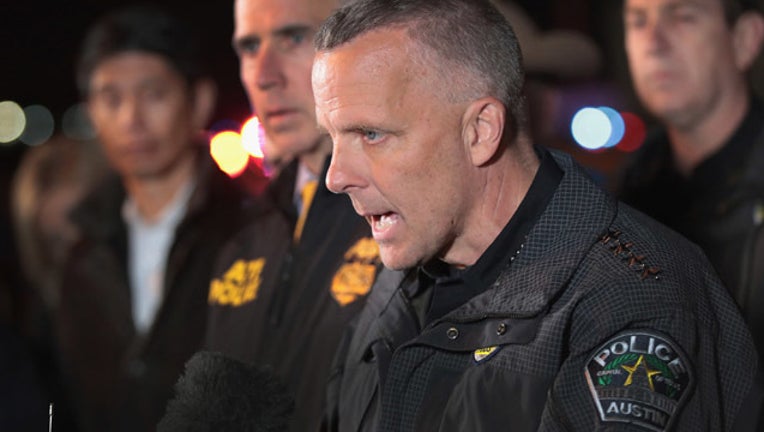 article
%INLINE%Following the death of the suspect allegedly responsible for a series of bombings in Austin, several Austin City Council members and public safety leaders voiced support on Wednesday to appoint Austin's long-time interim police chief Brian Manley to permanent police chief.
Manley, who has been interim chief since former police chief Art Acevedo left in December 2016, represented the Austin Police Department in front of the nation as local, state and federal authorities worked to find the person responsible for a series of five central Texas explosions that killed two people and injured five more over a three-week span.
On Wednesday morning, police reported that the alleged bombing suspect, 23-year old Mark Anthony Conditt of Pflugerville, died in an early morning pursuit with law enforcement. By Wednesday afternoon, several City Council members and public safety leaders applauded the job of law enforcement and went on record to voice support for Manley.
Austin City Manager Spencer Cronk would need to make the official appointment, which City Council would then confirm or veto. Cronk did not immediately return calls for comment.
Austin Mayor Steve Adler 
When asked whether he would approve an appointment of Manley to permanent chief, Adler responded with support.
"I've always been a fan of his," Adler said.
Austin Mayor Pro Tem Kathie Tovo
Tovo applauded the "around-the-clock" effort from the Austin Police Department over the last three weeks.
Tovo said she would "absolutely" support an appointment of Manley as permanent police chief, who she called an "extremely good leader."
"Manley provided great leadership to the force and they proved that they are the bests [police force] in the country," Tovo said. "There is a significant amount of support [for Manley] out there in the community and it predates the last three weeks."
District 8 Council Member Ellen Troxclair
In a written statement, Troxclair said the leadership and professionalism she has known Manley for were "invaluable" through the public safety crisis.
"I would wholly support [Interim Police Chief Brian Manley] to permanently fill the position should Manager Cronk choose to recommend him," Troxclair said.
District 7 Council Member Leslie Pool
Responding to a City Council message board post from District 2 Council Member Delia Garza, Pool said she hoped Cronk will decide to appoint Manley "very soon."
"[Manley] is eminently qualified and has done a superb job since assuming those responsibilities when Chief Acevedo left for Houston," Pool said. "Manley has my full support."
District 6 Council Member Jimmy Flannigan 
Flannigan said the length of time that Manley has been interim does not reflect his performance, but rather the difficulty the city had in hiring a permanent city manager.
Through the city manager search process, city leaders said they would not appoint a new police chief, but rather allow the new city manager to make the appointment.
Flannigan said given the opportunity, he would support an appointment of Manley to permanent police chief.
"I think Manley did a fantastic job representing our community and leading the department through this difficult time," Flannigan said.
District 2 Council Member Delia Garza
Garza was the first council member to voice her support for Manley on Wednesday. In a post to the City Council's message board, she asked Council to put their full support behind making Manley permanent chief and to approve a new contract with the police union.
"Our community has been through what is arguably the biggest public safety crisis we have experienced together as a community," Garza wrote. "While many watched the news safely from home, but on edge, the men and women of law enforcement ran to the bombs and explosions."
David Roche, president of the Greater Austin Crime Commission 
Roche said the appointment of Manley to permanent police chief is long overdue.
"Isn't our community fortunate to have the solid leadership the Manley displayed during this crisis?" Roche said. "He was calm, reassuring, well-spoken. He represented our city very well…I hope it's not much longer before he is named our permanent police chief."
Roche said by the way Manley carried himself on the national stage, the city should act fast in making him permanent chief before he his poached by another city.
Art Acevedo, former Austin Police Chief
As Acevedo's assistant chief, Manley took over as interim in December 2016 after Acevedo left for the police chief job in Houston. On Wednesday, Acevedo tweeted support for his former colleague.
-
From FOX 7's reporting partner Community Impact.