Dallas Cowboys welcome Mike McCarthy as new head coach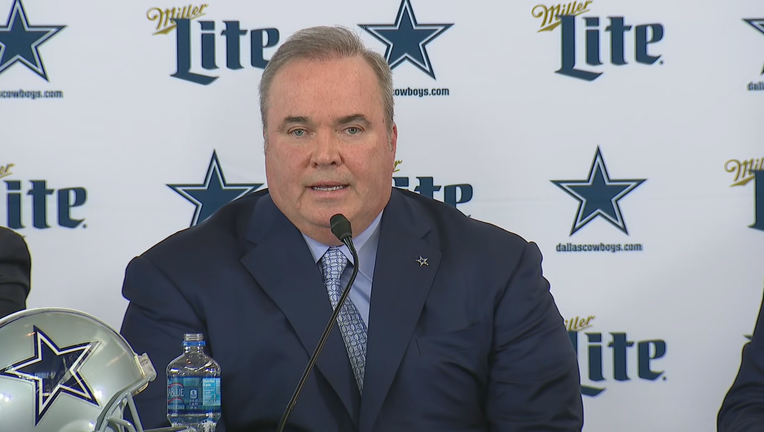 DALLAS - The Dallas Cowboys introduced their new head coach on Wednesday at a press conference that was filled with laughs, emotion and expectations of winning a Super Bowl.
Mike McCarthy previously coached the Green Bay Packers. He spent 13 years in the frozen north and took his team to the playoffs nine times, winning a Super Bowl in 2011 at AT&T Stadium. It didn't take him long to say he was ready to win another, but this time with the Cowboys.
"The commitment will be unwavering," McCarthy said. "I won my first Super Bowl here at North Texas. I am anxious and excited to get to work winning the next Super Bowl for the Dallas Cowboys."
Dallas missed the playoffs at 8-8 with high expectations in a make-or-break season for Jason Garrett, whose contract expires next week. At 9 1/2 seasons, Garrett had the second-longest tenure for a Dallas coach behind Tom Landry.
"The goal will never change here, it's about winning championships, but it's about trusting the process," McCarthy said during the Wednesday afternoon event at The Star.
McCarthy says he took advantage of his one year away from football after being fired by the Packers. He said he studied the game and analytics and also spent time with family.
"I was on a boat in August. Never done that before," he said.
McCarthy has reportedly already started filling out his roster of assistants. Mike Nolan from the New Orleans Saints will move to Dallas to be the defensive coordinator. Also, the NFL Network reports that Cowboys' offensive coordinator Kellen Moore may stay with the team.
Owner Jerry Jones said McCarthy impressed the Jones family during an interview on Saturday. He said he wanted someone who had NFL experience and had been in the "foxhole" before.
Jones said he wanted McCarthy to pick his own coaches, something that hasn't always happened, despite Jones' claims at the press conference.
McCarthy was only on the defensive once – when a reporter asked about his thoughts on the infamous Dez Bryant no-catch in a Packers-Cowboys divisional round game.
"It was a great catch, I can say that now," McCarthy said, smiling. "Back then it wasn't. Technically."
By the end of the press conference, Jones became emotional in recapping why he thought McCarthy can be the man to lead the Cowboys.
"My goodness what you've done in a career. A beautiful story," Jones said, choking up.