Data shows Salom hit brakes later than usual in fatal crash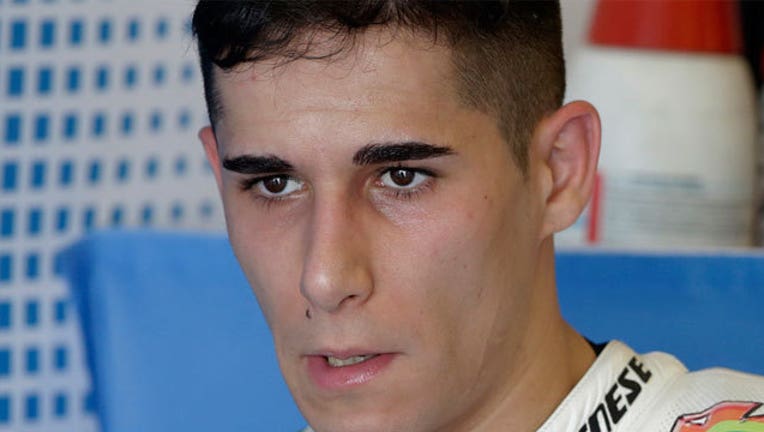 article
MADRID (AP) — Telemetry data shows Spanish motorcyclist Luis Salom hit the brakes nine meters (30 feet) later than usual in the crash that took his life at the Catalunya Grand Prix in Barcelona, his team said on Monday.
SAG Team said Salom tried to compensate for a slower exit from the previous turn and was still braking when his bike went over a bump on the track, causing him to lose control and fall.
The 24-year-old Salom died on Friday after colliding into a safety barrier in practice. The incident prompted race officials to change the track layout for the rest of the weekend, adding a chicane before the fast right-handed Turn 12 where Salom lost his life.
Riders in all three categories on Sunday dedicated their victories to Salom.
After a "comprehensive analysis" of the telemetry data from Salom's bike, the team said he was 6 kph slower than he was in his fastest lap when arriving at Turn 12, forcing him to hit the brakes later "to maintain a proper corner speed," the team said.
But by being late, he was still on the brakes when he went over the bump outside the usual braking zone, "as opposed (to) the previous laps where he already had released the brakes on that spot," the team said in a statement.
Salom was able to match the speed of his previous best lap by delaying his braking point entering the corner, but that made him lose grip on the front tire right while going over the bump, the team said.
"That grip lost produced the crash with the tragic outcome," it said.
After losing control of his bike, Salom slid hard into the protective barrier across the short escape area outside Turn 12, and appeared to collide with his bike.
He went into cardiac arrest, and received CPR for 18 minutes at trackside. His treatment continued for 40 minutes as he was transported to a hospital, and he died about another 45 minutes later under surgery.
___
Tales Azzoni on Twitter: http://twitter.com/tazzoni. His work can be found at http://bigstory.ap.org/content/tales-azzoni