Williams sisters both win; could meet in Wimbledon final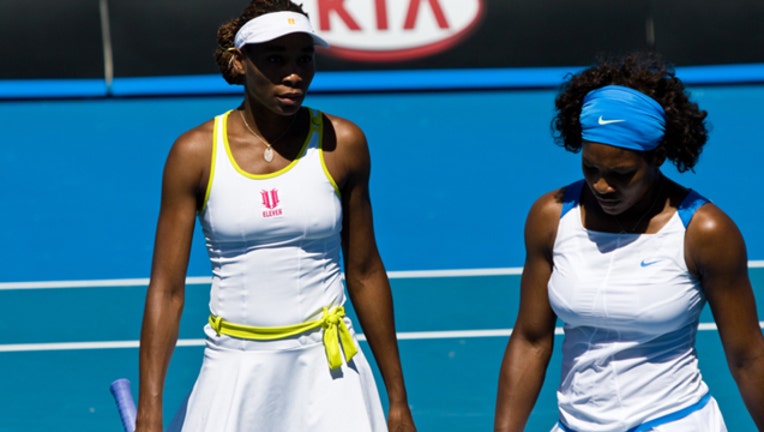 article
LONDON (AP) — The Williams sisters could be headed for another meeting in a Grand Slam final.
Venus Williams made it back to the Wimbledon semifinals for the first time in seven years on Tuesday, while defending champion Serena Williams advanced to her 10th final four at the All England Club.
Mounting another title run at the age of 36, five-time champion Venus beat Yaroslava Shvedova of Kazakhstan 7-6 (5), 6-2, advancing to the semifinals for the first time since 2009 and first time at any major since the 2010 U.S. Open.
"I love playing the game, I always have," the eighth-seeded Venus said. "When you're winning matches it makes it that much sweeter. I can't lie about that."
From 5-2 down in the tiebreaker, she ran off five straight points to take the first set, then rolled through the second set on No. 1 Court. She's one win away from returning to the Wimbledon final for the first time since 2009, where she lost to Serena.
"The wins and the losses they all lead to these big moments," Venus said. "You can't always have this big moment. If you're Serena Williams, I guess that happens a lot. As Venus Williams, this is an awesome day."
A short while later, Serena beat Anastasia Pavlyuchenkova of Russia 6-4, 6-4 on Centre Court, finishing the match with a 123 mph ace, to extend her record in Wimbledon quarterfinals to 10-2.
Venus will next face No. 4 Angelique Kerber, the Australian Open champion who held off No. 5 Simona Halep 7-5, 7-6 (2) in the first match on Centre Court, a defensive battle that featured 13 breaks of serve, including eight in a row in the first set.
Serena will play Elena Vesnina, a 50th-ranked Russian who defeated Dominika Cibulkova 6-2, 6-2, becoming the first unseeded women's semifinalist at Wimbledon since 2010.
Asked about the possibility of meeting her sister and doubles partner in Saturday's final, Serena smiled.
"It would be great," she said. "Obviously, she's such a tough opponent. But I want her to win so bad — obviously not in the final if I'm there. But, if I'm not there, I desperately want her to win."
Serena leads 16-11 overall and 4-2 at Wimbledon against her sister. Venus beat Serena in the 2000 semifinals en route to her first title and again in the 2008 final. Serena has beaten Venus in the 2002, '03 and '09 finals, and in the fourth round last year.
Venus Williams, the oldest player in the women's field, has made a remarkable resurgence in her 19th appearance at Wimbledon. She was already the oldest player to advance to a Grand Slam quarterfinal since Martina Navratilova made it this far at Wimbledon in 1994 at the age of 37.
Venus, who also won Wimbledon titles in 2001, '05 and '07, has been slowed in recent years by Sjogren's syndrome, a condition that can cause joint pain and saps energy.
On Tuesday, Shvedova — a 96th-ranked player from Kazakhstan contesting her third Grand Slam quarterfinal — saved a set point against Williams with a forehand winner while serving at 5-4 in the first set. Shvedova then went up 5-2 in the tiebreaker, but stalled as Williams rallied to take command.
"What a day it was against an opponent who was just on fire," Williams said.
Kerber has a 3-2 career edge against Venus, but they haven't faced each other since 2014. The German won in straight sets on grass at Wimbledon at the 2012 London Olympics, and captured her first major this year in Australia.
"We've had a lot of great matches, she and I. We haven't played in a while," Williams said. "Clearly, she's had a great year, another great result in the Slam. I would love to be walking toward the final, and progress made today."
Serena never faced a break point Tuesday, winning the last three games of each set to extend her record against Pavlyuchenkova to 6-0. She will go into the semifinals with a 4-0 record against Vesnina.
Cibulkova seemed to run out of energy after her long fourth-round win, which went to 9-7 in the third set against Agnieszka Radwanska. Her loss to Vesnina means Cibulkova can proceed with her wedding on Saturday — she had planned to postpone the ceremony had she won on Tuesday.
In the completion of a fourth-round men's match suspended by darkness on Monday at one set apiece, No. 10 Tomas Berdych overcame Czech countryman Jiri Vesely 4-6, 6-3, 7-6 (8), 6-7 (9), 6-3.
Berdych, the 2010 Wimbledon runner-up, will play Lucas Pouille of France in Wednesday's men's quarterfinals.