Win Clint Bowyer's $10K FOX Bet Super 6 Stage 2 Contest featuring Austin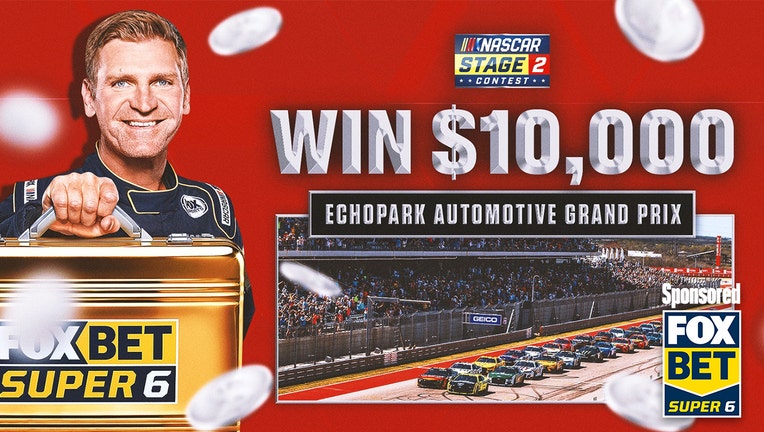 article
Joey went down to Georgia and fiddled his way to a victory at the Atlanta Motor Speedway in last weekend's NASCAR race on FOX. So with all the hype surrounding No. 22's first win at Atlanta, it's easy to feel like we're all just living La Vida Logano. 
But new week, new race, new champ — right? 
According to FOX Sports NASCAR race announcer and studio host Adam Alexander, the EchoPark Automotive Grand Prix at Austin on FOX will present drivers this weekend with challenges they didn't face last week in ATL. 
So fans might see a different car sneak its nose over the finish line first in Texas.
"Atlanta is a high-speed banked, oval mile-and-a-half that is all about the draft," our expert pointed out. "Because of that, you can get some surprises there as far as drivers that are competitive because the draft is a tremendous equalizer in NASCAR. 
"But road-course racing like what we'll do in Austin, Texas, can be an equalizer as well — especially because there will be drivers who, maybe on a week-to-week basis, aren't as good at certain types of racing, but are actually really good at road-course racing."
Over Adam's 20-plus years as a motorsports host and analyst, he has earned a trackside seat to some of NASCAR's most thrilling competitions and has called races featuring the world's most recognized drivers. However, when it comes to his personal rooting interest, Adam doesn't particularly back marquee names.
"I typically just root for storylines," the versatile broadcaster admitted. "But I would say instead of naming a particular driver, I will cheer for someone who has not won recently. 
"I love the underdog, and I love someone who is trying to bounce back from difficult times."
And when it comes to difficult times, according to our knowledgeable NASCAR go-to, Stewart-Haas Racing is one team whose year has been less than stellar.
"Outside of Kevin Harvick, they really have struggled this year," he explained. "Veteran driver Aric Almirola has had nothing but bad luck. He wrecked while leading in Atlanta last weekend. And Chase Briscoe — who surprised everyone last year by getting his first win and making the playoffs — has also had his fair share of struggles early in the year.
"They're the team that needs a turnaround if they're gonna get things where they want them to be."
If the Stewart-Haas team — or any of the squads racing in Austin, for that matter — wants to stay ahead of the pack, strategy is the name of the game.
"Put strategy in all capital letters in road-course racing!" laughed Adam. "And the No. 1 strategy drivers need to have this week is to be aggressive."
As fate would have it, you, too, can employ an aggressive strategy to win at Austin. Instead of a win on the track, though, yours could come playing FOX Bet Super 6 and to the tune of $10,000.
FOX Bet Super 6 is a free-to-play contest where you can pick six different outcomes in the NASCAR Stage 2 Contest featuring the EchoPark Automotive Grand Prix at Austin to win Clint Bowyer's $10,000. Just download the FOX Bet Super 6 app on your phone or mobile device, make your picks and submit your selections before the race gets underway this Sunday.
Playing for the $10K grand prize is free, it's easy and fun. And people really do win!
Adam Alexander's picks
Lucky for us, Adam Alexander lent us more of his invaluable insight for this week's FOX Bet Super 6 questions. So before you head to the app to make your picks, read all of his predictions below.
Which of these drivers will have the best finish at the end of the race?
Denny Hamlin, William Byron, Martin Truex Jr., Kyle Busch, Kyle Larson, Kevin Harvick
"Well, first thing is this: Kyle Busch is a really good racer. He won the Xfinity race there two years ago, so he's shown that he can get it done. And on top of that, he's driving the No. 8 car for Richard Childress racing — a team that won multiple times on road courses last year. 
"So combine his new team with his background and his success on road courses, and it all adds up to Kyle Busch being the guy."
Prediction: Kyle Busch
Which manufacturer — Chevrolet or Ford — will have the most cars in the top 20 at the end of Stage 2 and how many will they have?
1-6, 7, 8, 9, 10, 11, 12, 13, 14, 15+
"It's a little harder to predict because strategy plays such a big role in where teams are running. But when you look at the sheer number of cars that Chevy has in the game and how many of the Chevy drivers are really good at road racing, I would say Chevy will have the most.
Prediction: Chevrolet, 12
Which of these drivers — Bowman or Chastain — will have the faster lap by the end of Stage 2 and how many yellow laps will there be?
1, 2, 3, 4, 5, 6, 7, 8, 9, 10+
"Ross Chastain won this race last year and is off to a good start this year."
Prediction: Ross Chastain, 8
Which team — Stewart-Haas Racing or Joe Gibbs Racing — will have the most laps led by the end of Stage 2 and how many laps will they lead?
1-6, 7-8, 9-11, 12-13, 14-15, 16-18, 19-21, 22-26, 25-31, 32+
"I'm gonna go with Joe Gibbs racing. There will be some give and take in this race because drivers are going to play various strategies. But when you look at Joe Gibbs Racing, you see they've got some accomplished drivers, they just haven't had the overall speed. And that's why I'm going with a low number."
Prediction: Joe Gibbs Racing, 7-8
Which driver — LaJoie or Suarez — will have the better finish at the end of Stage 2 and by how many positions?
1, 2, 3, 4, 5, 6, 7, 8-10, 11-14, 15+
"Easy for me to say that it will be Daniel Suarez. He's a good road racer who won last year in Sonoma on the road course, so we know how capable he is."
Prediction: Suarez, 11-14
Which driver — Dillon or Logano — will have the better finish at the end of Stage 2 and by how many positions?
1, 2, 3, 4, 5, 6, 7, 8-10, 11-14, 15+
"Joey Logano will have the better finish between him and Austin Dillon. When you look at Joey Logano, he has plenty of momentum coming off the win in Atlanta. And another thing that he has going for him is that he's been qualifying really well. 
"When you qualify well at a road course, you really open up your opportunities for strategy. And because Logano and his team have already won a race and now know they're in the playoffs, they can be a little more aggressive with their strategy."
Prediction: Joey Logano, 8-10
In addition to his picks for Austin, Adam shared his thoughts on how he thinks the rest of the NASCAR season could play out.
"My bold prediction is that Brad Keselowski wins multiple races and is a big part of the championship equation. That's bold because he didn't win last year, and this year, he has a lot on his plate. 
"But he's a guy that we'll be talking about deep into the playoffs."
How to play
So are you ready to play to win $10K on this big NASCAR weekend in Austin? With help from our expert, your engines should be fired up and ready to go.
Download the FOX Bet Super 6 app and submit your selections for the NASCAR Stage 2 Contest now! Then be sure to share your picks with us by tagging @FOXSuper6 and @EricaReneeD and using the #EricaSuper6 hashtag across all social media platforms.
Good luck!
Download the FOX Bet Super 6 app for your chance to win thousands of dollars on the biggest sporting events each and every week! Just make your picks and you could win the grand prize. Download and play today!
No purchase necessary. Open to legal residents of the US, excluding WA. 18 and older. See terms and conditions at foxsuper6.com. Sponsored by TSG Interactive US Services Limited.