Flash Flood Watch issued as heavy rainfall expected in Central Texas
AUSTIN, Texas - The National Weather Service has issued a Flash Flood Watch for most of Central Texas as heavy rainfall is expected. The watch is in effect for counties along and west of Interstate 35.
The watch applies to the following counties: Travis, Williamson, Burnet, Llano, Blanco, Hays, Gillespie, Caldwell, Bastrop, San Saba, and Mason. The watch ends at 1 p.m. on 10/14 for San Saba and Mason and ends at 7 p.m. for all the other counties.
Good Day Austin meteorologist Zack Shields says the remnants of Hurricane Pamela in the Pacific along with an upper-level storm system, slow-moving front and Gulf moisture will bring a high chance for showers and storms in the next 24 hours.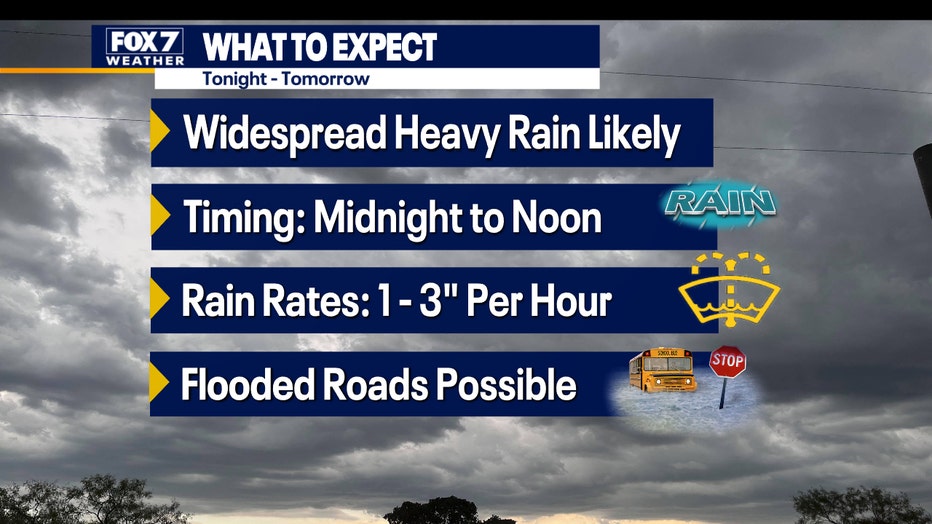 Heavy rainfall leading to flash flooding is likely Wednesday evening into Thursday. The greatest threat for this is currently forecast to be across the Hill Country but may extend east to the I-35 corridor. 
There is a moderate risk for street flooding and flooding at low-water crossings and a minor risk for river flooding.
The timing of the storm right now is that there won't be too much rain during the day today but beginning at around 9 p.m. the rain should start to fall until around noon Thursday.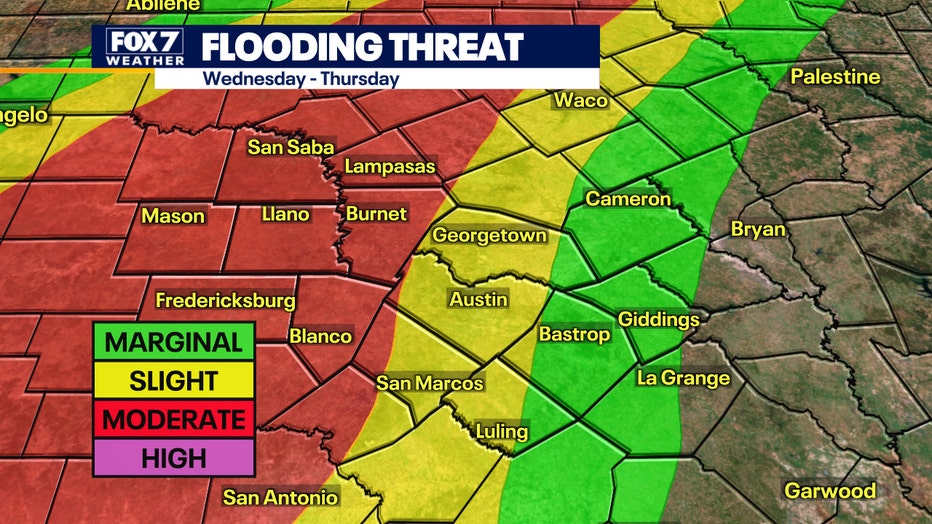 Zack says it should be stressed that this is a fluid forecast and adjustments are still possible on where the axis of higher rainfall amounts occur.
Expected rainfall totals are about 2 to 4" from Austin to the Hill Country, and 1 to 2" in the eastern counties.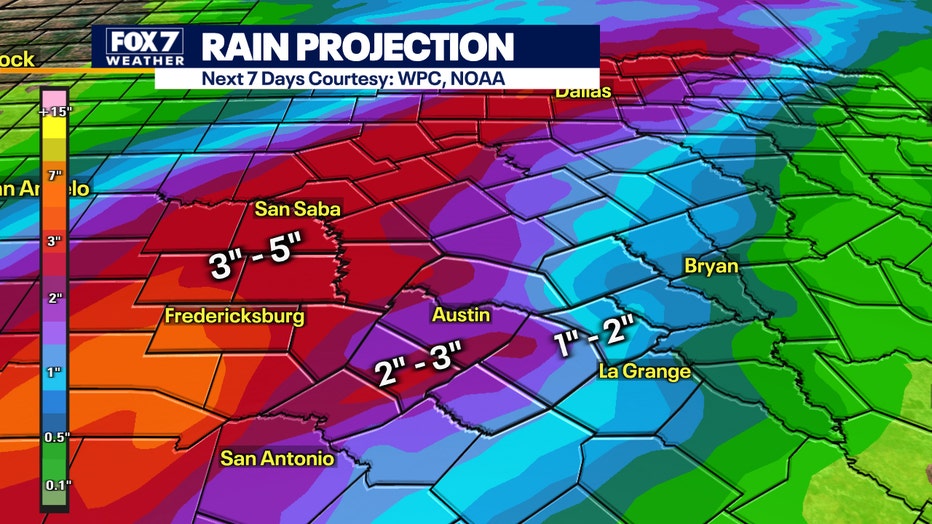 A few strong to severe storms are possible Wednesday night into Thursday with damaging winds and hail.
FLOOD PREPAREDNESS AND SAFETY TIPS
Officials offer up the following tips to help keep you and your family safe during severe weather events:
Know types of flood risk in your area. Visit FEMA's Flood Map Service Center for information here: https://msc.fema.gov/portal/home.
Sign up for your community's warning system. The Emergency Alert System (EAS) and National Oceanic and Atmospheric Administration (NOAA) Weather Radio also provide emergency alerts.
Build an emergency supply kit. For more information on how to build a kit, visit: https://www.ready.gov/kit.
Keep important documents in a waterproof container. Create password-protected digital copies.
Protect your property. Move valuables to higher levels. Declutter drains and gutters. Install check valves. Consider a sump pump with a battery.
Be extremely cautious of any water on roads or in creeks, streams, storm drains, or other areas – never attempt to cross flowing streams or drive across flooded roadways and always observe road barricades placed for your protection. Remember, Turn Around Don't Drown.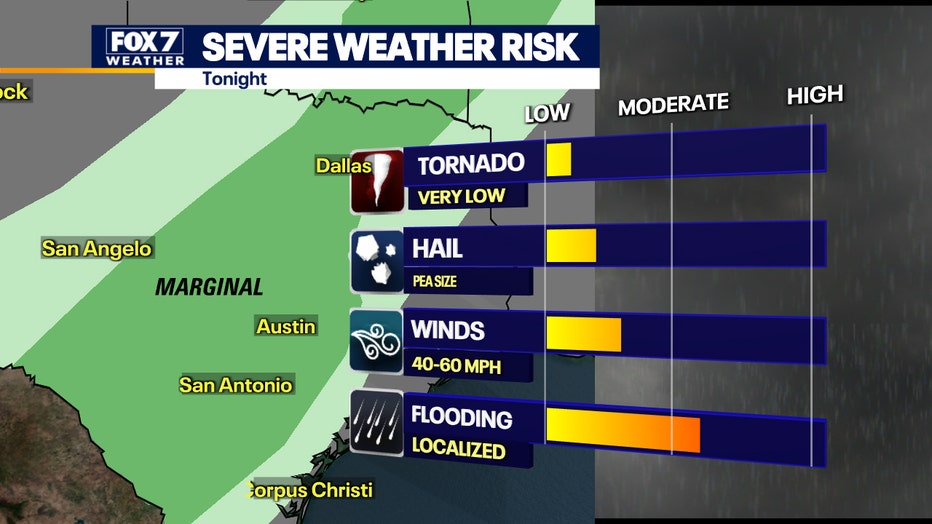 GOVERNOR ABBOTT READIES RESOURCES IN RESPONSE TO SEVERE WEATHER
In response to the severe weather threat, Governor Greg Abbott directed the Texas Department of Emergency Management (TDEM) to place state response and recovery resources on standby.
The following resources have been activated:  
Texas A&M Engineering Extension Service – Texas A&M Task Force One and Texas Task Force Two: Boat Squads to support water rescue operations.
Texas Parks and Wildlife Department: Boat Teams to support water rescue operations.
Additionally, TDEM has rostered the following resources for activation if necessary:
Texas A&M Forest Service: Saw Crews and Incident Management Teams.
Texas Department of Public Safety: Helicopters with hoist capability.
Texas Department of State Health Services: Emergency Medical Task Force (EMTF) severe weather packages.
Texas Department of Transportation: Monitoring of road conditions, and equipment to support emergency debris removal from major roads.
Public Utility Commission: Power outage monitoring and coordination with utility providers as needed.
Track your local forecast for the Austin area quickly with the free FOX 7 WAPP. The design gives you radar, hourly, and 7-day weather information just by scrolling. Our weather alerts will warn you early and help you stay safe during storms.
___
DOWNLOAD: FOX 7 AUSTIN NEWS APP
SUBSCRIBE: FOX 7 Austin Daily Newsletter | FOX 7 Austin on YouTube
FOLLOW: Facebook | Instagram | Twitter