13-year-old calls 911 to report mom driving drunk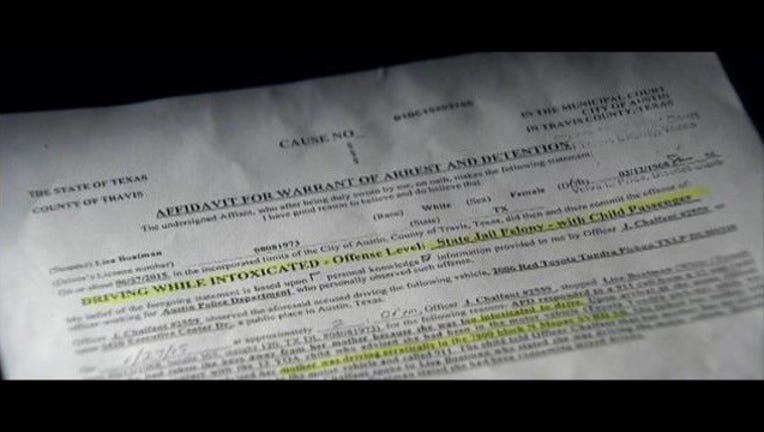 article
A 13-year-old girl convinces her mother to pull the car over.
Why? She thinks her mother is too drunk to drive.
Then she calls 9-1-1.
The Austin Police Department is commending the teen for her actions.
The mother in this case, 47-year-old Lisa Boatman, decided to get behind the wheel after having some mixed drinks.
She is now facing a felony DWI charge for having a child passenger in the truck.
It's a situation Austin Police say happens often, parents drinking and driving with a child in the car.
This time the child spoke up.
"It could be possible that the child saved their life or someone else's life as well," says Detective Michael Jennings, Austin Police Department DWI unit.
On Saturday afternoon a 13-year-old says her mother was driving erratically in the 7800 block of North Mopac.
She convinced her mother to pull over and then took the keys away.
That's when she dialed 911.
"One of the things we don't see very often, is the child actually taking the initiative upon themselves to actually have their parent stop, take the keys from them and actually call 911 as well," says Det. Jennings.
According to police paperwork, 47-year-old Lisa Boatman told police she had too much to drink.
Which isn't unusual, the child stated that her mother has an alcohol problem and should not be driving.
Mothers Against Drunk Driving agrees.
"At above .08, it's actually very dangerous. In some cases, studies have shown that .06 is when accidents can occur. So anything above that, that's when you have in-and-out of lanes, getting into accidents. Unfortunately, other people not only get injured, they get killed," says Raul Vasquez, Program Specialist with Mothers Against Drunk Driving.
In this case, police are still waiting for the blood test result.
As a condition of bail, Boatman is required to install an ignition interlock device in her car.
This would make it impossible for her to drive if alcohol is detected on her breath.
"You maybe want to have that discussion with your mother before she starts driving, of having somebody else come pick them up. Maybe them paying for a taxi or an Uber, things of that nature," says Vasquez.
Just two weeks ago, another 13-year-old was in a similar position.
Instead of being the passenger, she was the driver.
Her parents gave her the keys after having too much to drink.
She was spotted by police weaving back and forth on I35 N, going about 40 miles under the speed limit.
In a bad situation, children are reminded that they can do something.
"One, sit in the back seat, make sure they buckle up tight. Three, put everything on the floor so there is no debris flying in the air that may injure them. Four, don't bother the driver," says Vasquez.
In most DWI cases involving a child passenger, APD says Child Protective Services is notified to conduct a follow-up investigation on their end, if warranted.