23 dead in West Virginia floods; search and rescue continues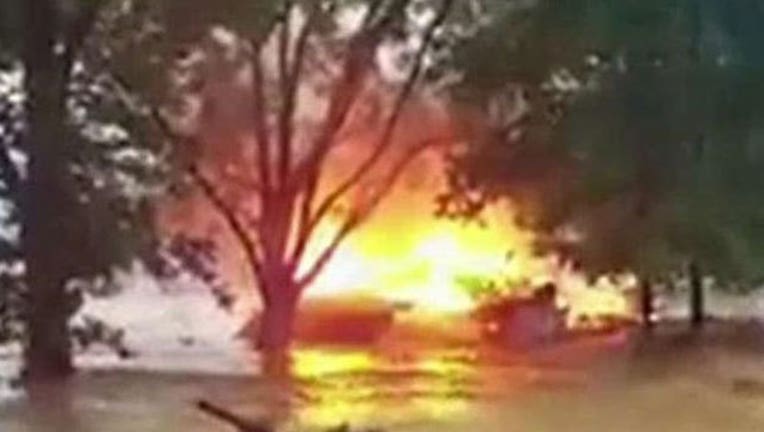 article
CHARLESTON, W.Va. (AP) — Heavy rains that pummeled West Virginia left at least 23 people dead, and authorities said Saturday that an unknown number of people in the hardest-hit county remained unaccounted for.
Most of the dead and all of the missing, officials believe, were in the county of Greenbrier — home of the renowned golf resort of the same name.
"The reports we got this morning are that Greenbrier County may still have some folks unaccounted for. It does not appear there are unaccounted for people in other counties, but it's still a somewhat fluid situation," said Chris Stadelman, Gov. Earl Ray Tomblin's chief of staff.
Stadelman said there were still "lots of folks in shelters" and that state would apply for federal disaster funds. Scores of homes were damaged.
In one bizarre twist, a woman sustained burns over two-thirds of her body after her deluged house blew up. Belinda Scott of White Sulphur Springs called her husband Ronnie and told him their house was filling up with water. She fled to the attic and waited. She smelled natural gas. Then, the house exploded.
Belinda Scott was able to break a vent and get out onto a porch, then make it onto a tree, which she clung to for hours before being rescued by state police, her husband told The Associated Press.
"My wife was out there four and a half hours hanging in a tree with a house burning right beside her, flood waters running all around her," said Scott.
The state Division of Homeland Security reported 15 people killed in Greenbrier County. Other deaths were reported in Kanawha, Jackson and Ohio counties. About 500 people were stranded overnight in a shopping center when a bridge washed out, and dozens of other people had to be plucked off rooftops or rescued from their cars.
Some of the heaviest rainfall was in Greenbrier County, where The Greenbrier luxury resort and golf course is nestled in the mountains. The course, overrun by floodwaters, is scheduled to host a PGA tour event from July 4-10. However, resort owner Jim Justice told The Weather Channel Saturday that it would be "a real mistake" to hold the event, given the deaths and damage.
"It would be disrespectful to an awful lot of people" who are suffering, he said.
Rainelle Mayor Andrea "Andy" Pendleton wept as she surveyed the devastated Greenbrier County town Saturday morning.
"I weep for my people, I weep for the businesses," she said.
About six buses full of people whose homes were either without power or too damaged to inhabit were evacuated. Some were taken initially to a fire department facility, but then it flooded so they were moved to an abandoned store. When that started to flood, buses took the evacuees to a church 40 miles away.
Search and rescue teams went house to house, marking those checked with a spray-painted 'X.' Abandoned pets were taken to a shelter. A water department filtration system, built with a $2.6 million loan, was damaged, Pendleton said.
Help came from multiple sources, including two search and rescue teams from Virginia.
An area near the West Virginia-Virginia border received at least 9 inches of rain while other parts of the state had 3 to 5 inches, National Weather Service hydrologist John Sikora said. A flood warning remains in effect for Greenbrier County until 6:30 p.m. on Saturday.
___
Schreiner reported from Louisville, Kentucky. Associated Press writers Claire Galoforo, Dylan Lovan and Rebecca Reynolds Yonker in Louisville, Kentucky, and Steve Helber in White Sulphur Springs contributed to this report.