Aaron Donald, Jaylen Brown ditching Kanye West's Donda Sports amid controversy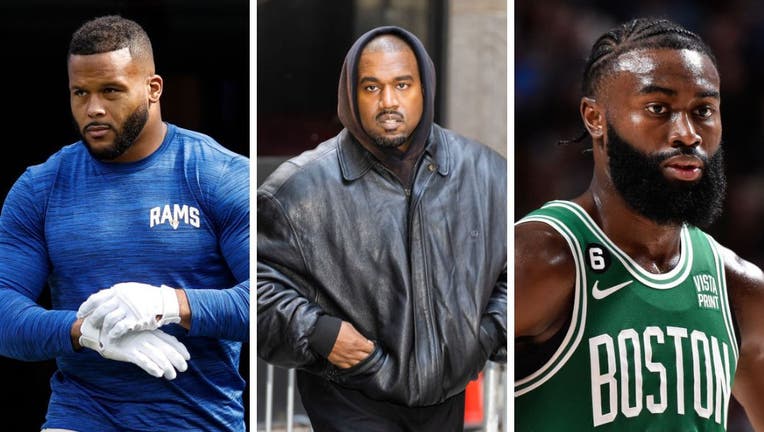 article
LOS ANGELES - Two star athletes on Tuesday announced they are terminating partnerships with Kanye West's Donda Sports agency.
Los Angeles Rams All-Pro defensive tackle Aaron Donald said the decision comes after West's recent antisemitic comments about the Jewish community that resulted in the rapper being dropped by several major companies, including Adidas and his talent agency CAA.
Donald announced in May he had joined Donda Sports, which West founded and named after his late mother. 
Donald's statement reads in part, "As parents and members of society, we felt a responsibility to send a clear message that hateful words and actions have consequences and that we must do better as human beings. We do not feel our beliefs, voices and actions belong anywhere near a space that misrepresents and oppresses people of any background, ethnicity or race."
Minutes later, Boston Celtics star Jaylen Brown clarified his stance regarding the West controversy. He tweeted in part, "I have always, and will always continue to stand strongly against any antisemitism, hate speech, mistreatment and oppressive rhetoric of any kind."
Brown had backtracked from his previously stated intention to stick with Donda as his marketing agency, an announcement he made just a day ago.
"I now recognize that there are times when my voice and my position can't coexist in spaces that don't correspond with my stance or my values, and for that reason, I am terminating my association with Donda Sports," the statement continued.
Donald and Brown were Donda Sports' only high-profile athlete partners.
RELATED:
This comes after West's controversial antisemitic remarks about the Jewish community. West tweeted that he was going to go "death con 3" on Jewish people, in reference to the defense system used by the United States to signal military defense, and argued that he isn't antisemitic because "Black people are actually Jew[s] also," leading his Twitter and Instagram accounts to be temporarily disabled.
But the rapper's derogatory comments have also led others to disseminate antisemitic remarks.
The Los Angeles and Beverly Hills police departments said they were investigating antisemitic fliers that were distributed in Beverly Hills. It's believed the flyers and antisemitic banner on the 405 freeway are linked to the same hate group.
More companies have continued to cut ties with West, including his talent agency CAA, Balenciaga, Gap, JPMorganChase, and most recently Adidas. An already finished documentary about West produced by production company MRC was shelved. 
West has since lost his "billionaire status" as more companies cut ties with the rapper over his antisemitic remarks.