AFD: Woman set fires in Walmart restroom to distract from shoplifting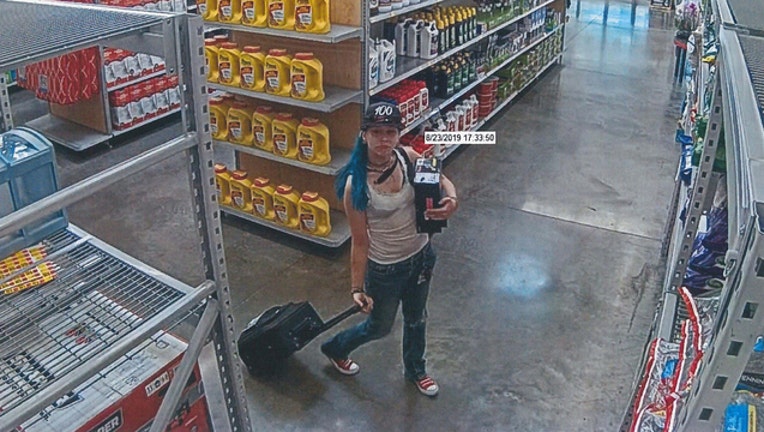 article
AUSTIN, Texas - The Austin Fire Department has identified a woman they say set fires in a North Austin Walmart restroom to distract from her shoplifting.
Kaylie Dawn Rusnak, 27, is charged with second-degree felony arson.
AFD responded to the Walmart in the 12900 block of North I-35 on Friday for two fires that had been set in the women's restroom on August 23. Fire crews found that Walmart staff had extinguished two separate fires and had evacuated the store.
Arson investigators found the fires had been intentionally set and the damage was estimated at $500.
Investigators spoke to a Walmart loss prevention associate who told them they had been watching a man and a woman inside the store they suspected of stashing items around the store. Security video showed the female suspect going in and out of the restroom shortly before the fire, then leaving the store through the garden area with a rolling suitcase and other items in her arms.
The man was seen leaving the store through the front after the evacuation. Pictures of the suspects were circulated and investigators received multiple tips.
One tipster identified the woman as Rusnak, which led investigators to her mother who positively identified her as the person in the security video photos, says an arrest affidavit. 
Investigators also received a call from a man claiming to be the one in the footage who also identified the woman as Rusnak. He told investigators that he had met up with her at the store the day of the fire and while in the store, she told him she had a car they could use later, but first she was going to "boost some stuff," says the affidavit.
He confirmed she had a rolling bag with her. He said after roaming the store for around ten minutes to buy some items, he went to check out and then the fire alarm began to sound and he was told to leave the store. He said Rusnak picked him up outside in a red/maroon four-door sedan, which was seen in security footage, and that she seemed agitated.
She reportedly told him she had set a fire in the women's restroom and he told her he wanted no part in the incident. He had her drop him off and from there, they went their separate ways.