AISD cancels all proms, postpones graduation
AUSTIN, Texas - Austin ISD has announced that, due to the COVID-19 outbreak and for the safety of the students, staff, and families, they are canceling all proms and postponing graduation ceremonies for the 2020 school year. 
A release from AISD states the district made the decision in response to the Stay Home - Stay Safe order banning all large gatherings. Canceling proms will now allow school administrators to work with vendors to refund money to students and their families, AISD says. 
DOWNLOAD THE FOX 7 AUSTIN NEWS APP FOR YOUR MOBILE DEVICE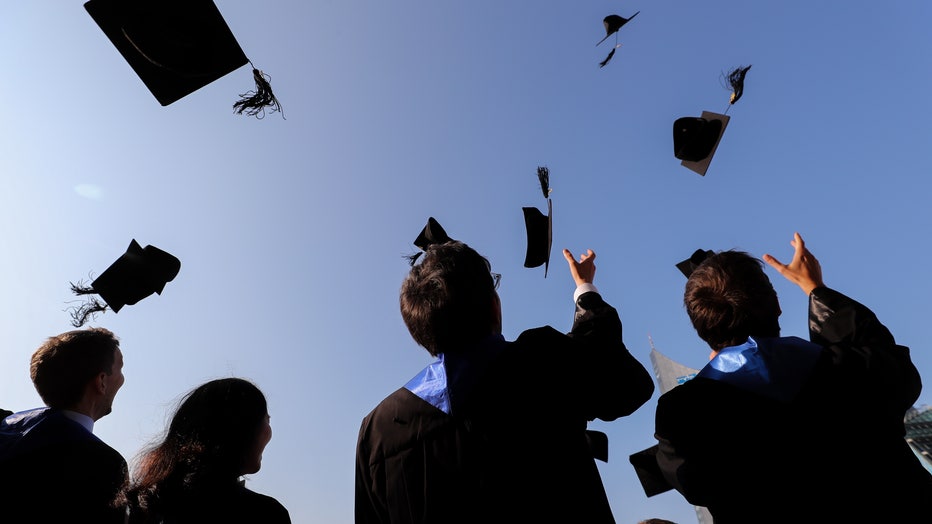 Students are shown tossing their graduation caps in a file photo. (Photo by Jan Woitas/picture alliance via Getty Images)
LIST: Central Texas schools, colleges, universities coronavirus resources
AISD graduation ceremonies will also be rescheduled. 
According to the district, all ceremonies originally scheduled for May 26 through May 28 will be postponed until August 10 through 13. These new dates are subject to change and dependent on the conditions surrounding that time frame.  
All graduations will take place at the Erwin Center except for Rosedale. 
AISD's High School Office is working alongside a committee of parents, students and principals to work a virtual graduation plan for students. These virtual graduations are expected to take place on or around June 15, 2020. 
"We are disappointed that these important milestones cannot continue as scheduled, but we are hopeful that we can come together virtually in June and in-person in August to celebrate the successes of our seniors," the district said in the press release. 
Below is the revised list of graduation ceremonies: 
 CLICK HERE FOR THE LATEST INFO ON THE CORONAVIRUS OUTBREAK
---
FOX 7 Austin is working to keep you up to date with coronavirus, with both local and national developments. Every weekday we're live at 12 p.m. with a special show reporting the latest news, prevention tips and treatment information.
You can watch live in your FOX 7 Austin app or on the FOX 7 Austin Facebook page.
You can also get the latest COVID-19 news from around the country at coronavirusnow.com.