Watch: Antony Blinken plays guitar, sings the blues to launch global music initiative
U.S. Secretary of State Antony Blinken put his guitar skills on show Wednesday night when he performed a legendary blues song to launch a global music initiative.
"If this doesn't clear the house, I don't know what will," Blinken joked as he played guitar and sang Muddy Waters' "Hoochie Coochie Man" at an event announcing the Global Music Diplomacy Initiative.
Blinken, who has served as Secretary of State since President Biden took office in 2021, is a self-described "very amateur guitarist" with three recorded songs on Spotify under the name Ablinken: "Lip Service," "Patience" and "Without Ya."
The Global Music Diplomacy Initiative launch includes three key announcements: a partnership between the State Department and the Recording Academy for the American Music Mentorship Program to bring artists to the U.S. for career development opportunities (the first kicks off in Fall 2024); music-focused efforts to promote an English-language learning curriculum abroad, and the Fulbright-Kennedy Center Visiting Scholar Award in Arts and Science.
The State Department has long instituted music-based diplomacy initiatives, from President Roosevelt founding the Office of Inter-American Affairs (OIAA) in 1940 to Bruce Springsteen performing for 300,000 fans in East Berlin in 1988, the year before the wall fell, to the 2010s "Next Level," an effort to build a global community through hip-hop.
READ MORE: Bruce Springsteen postpones all 2023 tour dates until 2024 due to peptic ulcer disease
"I've always had a deep love for music in part because it has the potential to connect cultures and tell the American story around the world," Blinken told the AP.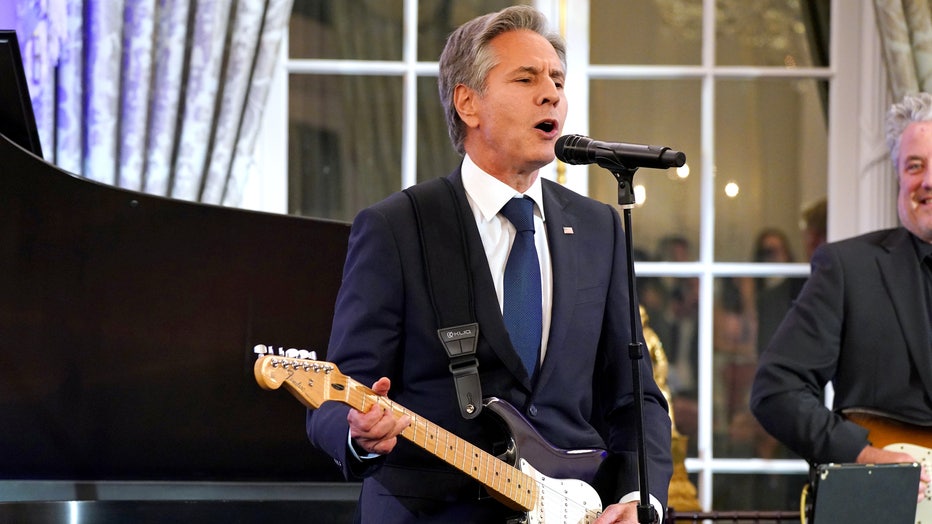 U.S. Secretary of State Antony Blinken performs onstage during the launch of the Global Music Diplomacy Initiative at the U.S. Department of State on September 27, 2023 in Washington, DC. (Photo by Leigh Vogel/Getty Images for The Recording Academy)
"By launching this effort, we hope to expose a new generation of global audiences to what previous generations have found so compelling: our people and culture. We have no more powerful tools in our diplomatic toolkit, and I look forward to seeing – and listening to – the results of this initiative."
At the event, Recording Academy CEO Harvey Mason, Jr. awarded legendary music producer Quincy Jones the first-ever Peace through Music Award, a collaboration between the State Department and the Recording Academy that recognizes and honors an American music industry professional, artist, or group that has played an invaluable role in cross-cultural exchanges and whose music work advances peace and mutual understanding globally.
The Global Music Diplomacy Initiative was developed following the 2022 Promoting Peace, Education, and Cultural Exchange (PEACE) through Music Diplomacy Act.
The Associated Press contributed to this report.