APD report on gun related crimes shows increase in stolen guns from cars
AUSTIN, Texas - Recognizing an increase in gun violence in Austin, the Austin Police Department conducted a five-year report on gun crime in the city. Police Chief Brian Manley said data drives their operational planning.
 
The study shows an overall increase in violent crime: homicides, robbery, aggravated assault and rape cases involving guns. 
 
Based on crime reports analysts were able to figure out where people steal guns from.
RELATED: Austin Police Chief Brian Manley responds to plan to decriminalize low-level marijuana cases
From 2014 to 2018 a total of 4,241 firearms were reported lost or stolen: 
 
95 guns were categorized as thefts.
200 guns were stolen from people's homes.
And the highest location was cars, 506 guns were taken directly from people's vehicles.
 
"I think that's the important finding of this study that is something the community can step in and help us with to see how many firearms are being stolen out of vehicles was a little bit surprising," Chief Manley said. "Leaving a firearm accessible in a vehicle is inviting someone to come in and steal that weapon and likely to have someone use it in a crime somewhere and I don't think there is any gun owner that wants to learn later on that their gun was the firearm used in a violent homicide or assault in our city."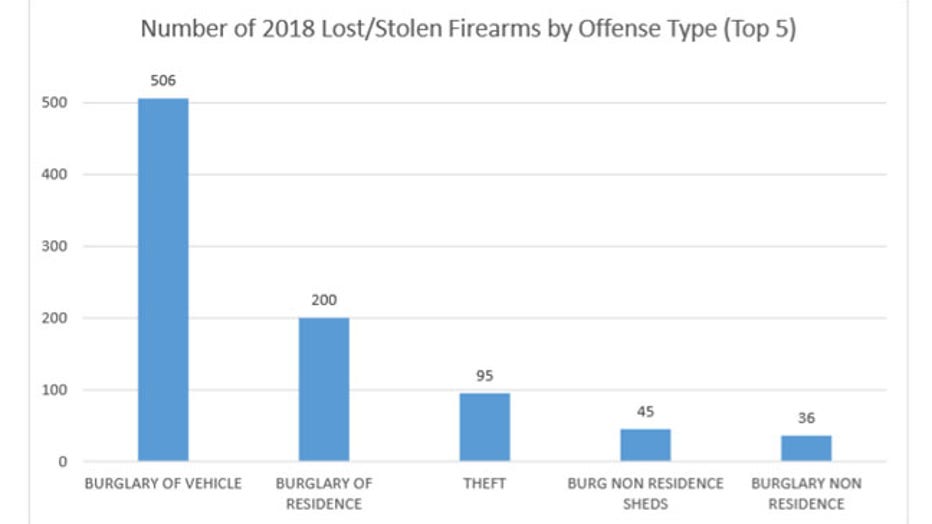 Analysts were able to break down geographical location, showing guns increasingly stolen from north-west and south-west Austin but showing gun crime occurring instead in north-east Austin.
 
Moving forward Chief Manley said his department will use the information to direct patrol officers and create safety initiatives.
 
"Those are important points for us as a police department as we again deploy our resources to the best of our abilities to reduce violent crime in the city," said Chief Manley.