Austin Light Rail recommended design and route unveiled
AUSTIN, Texas - Officials in Austin have decided on a final design and route for the Project Connect light rail system. The Austin Transit Partnership has officially unveiled its implementation plan for the $6 billion project.
The on-street, two-line railway would begin at West 38th Street - traveling south through the University of Texas at Austin campus and into downtown – then following Congress Avenue south to Oltorf Street. Another branch would head east on Riverside Drive through Southeast Austin, ending at State Highway 71.
"I would take the train everywhere if it were in more places. I think it definitely should expand," said Joshlynn Fowlkes of Cedar Park, who ride the Red Line to work in Downtown Austin.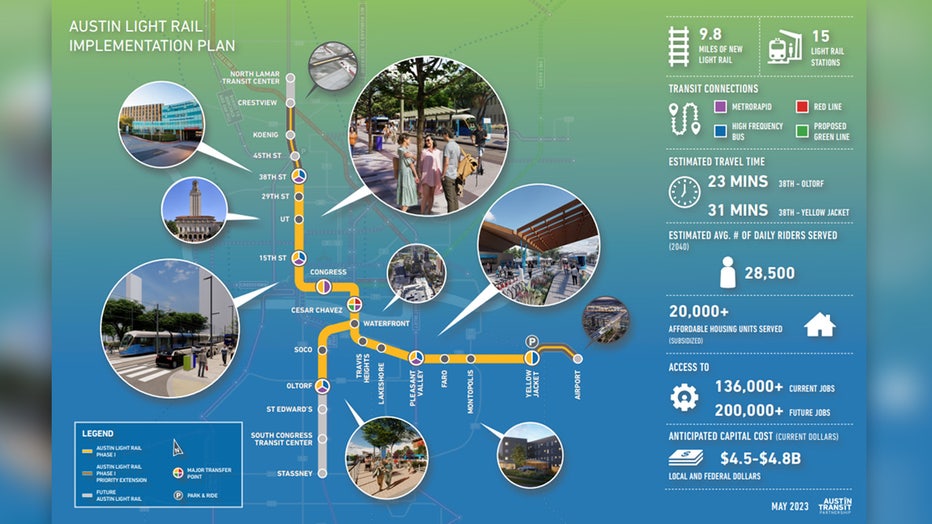 This plan was one of five final designs that the partnership chose from, based on input from the public. It's much smaller than the original Project Connect vision that included 28 miles of light rail lines going in various directions, as well as a Downtown subway.  
This recommendation now heads to the CapMetro board and City Council for approval.  
"It's a light rail system that Austin's been talking about for years, said Greg Canally, executive director of the Austin Transit Partnership, in an interview with FOX 7 Austin. "And it's a system that connects jobs, it connects destinations, it connects to affordability, and it connects Austin to each other." 
"We're really excited about, after a fantastic community engagement process over the last six weeks, that we are here to recommend a light rail plan that really reflects the community input that we've heard over these last weeks," said Cannally. 
"Would I have liked it to go a lot further? Yes," said Austin Mayor Pro Tem Paige Ellis. "And so I'm hoping that we can get to those locations in the future."
SOUND OFF! VOTE IN POLL BELOW AND WATCH FOX 7 AUSTIN NEWS AT 9 FOR THE RESULTS 
*** (CLICK HERE IF POLL IS NOT LOADING) ***