Austin Police looking into viral video that shows encounter with crowd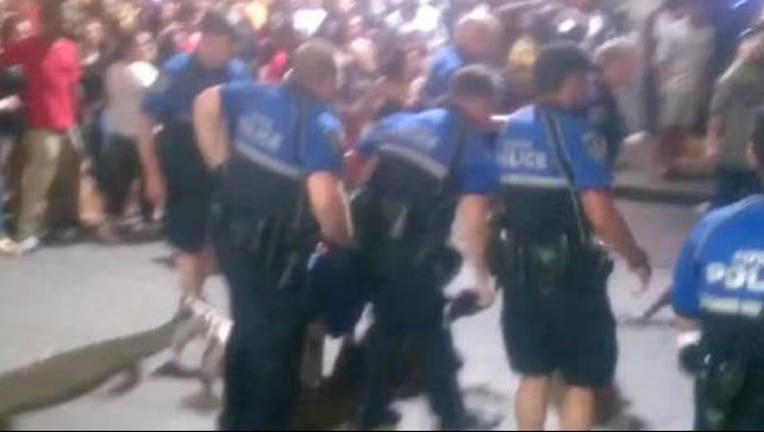 article
"When I saw the guy get tackled I figured might as well, I have a phone, if something happens I get it if it doesn't I don't," said Boner.
You can see other bystanders recording the arrest on their cell phones. Shortly after, one mounted officer grabs a cell phone from the man and throws it onto the ground. The other officer behind him sprays mace at the man.
"These things are increasingly important to record and the interactions police and onlookers have between onlookers and bystanders has become a point of conflict," said Boner.
APD released a statement saying:
"The Austin Police Department is aware of this incident and conducting a review to determine if the officers' conduct is compliant with our policy."
"There's two sides to every story and I can definitely see watching the video back how you could construe the fact that police officers felt threatened they were surrounded by a lot of people but I could also see how it was a little bit out of line," said Boner.
With the investigation now launched, Boner says he just wanted to make sure he can be a solution to the conflict between citizens and police and hopefully help bridge the gap.
"I'm from Baltimore, Maryland so we just had the whole issue with Ferguson and the Baltimore riots and it's a very important topic to talk about. I think the discussion needs to be made both for the protection of police officers and the protection of those who were there filming," said Boner.
Boner was here in Austin working for the X-Games.