Trump co-defendant Scott Hall takes plea deal in Georgia election interference case
ATLANTA - Bail bondsman Scott Hall became the first co-defendant in the Fulton County election interference case involving former President Donald Trump to take a plea deal with Fulton County prosecutors Friday.
Hall pleaded guilty to five counts of conspiracy to commit intentional interference with the performance of election duties.
Hall, who was also one of the first of the 19 indicted in the RICO case to turn himself in, entered the plea before Fulton County Superior Court Judge Scott McAfee Friday afternoon. 
As part of the sweeping indictment, Fulton County District Attorney Fani Wilis initially charged Hall with two counts of felony conspiracy to commit election fraud, three counts of conspiracy to commit a felony, a violation of the Georgia Racketeering Influenced and Corrupt Organization Act, and conspiracy to defraud the state or political subdivision. 
Hall has agreed to 5-years probation, one for each count. He is to refrain from polling activities while on probation. Hall also must pay a $5,000 fine.
In addition, Hall must write a letter of apology to the citizens of the state of Georgia, perform 200 hours of community service, and fully cooperate with the Fulton County DA's Office.
He further cannot communicate with the victims, witnesses, or codefendant.
Hall is also under a gag order preventing him from speaking to the press.
Hall's attorney Jeff Weiner, who was in court with him Friday, said under the deal, his client's record will be wiped clean after he completes probation. The agreement allows Hall to avoid the stress of "living under a serious felony indictment" without knowing when he might go to trial, the attorney said.
"This way, it's over," Weiner said. "He can sleep well and get on with his life."
Weiner said Hall does not know much about the alleged conspiracy, and he would be surprised if prosecutors called him to testify.
The DA's office has not offered comment on the plea deal.
What does Scott Hall's guilty plea mean for the Georgia election interference case?
Georgia State University associate law professor Caren Morrison said Hall's agreement to testify against other defendants in the case could spell bad news for them.
"It's always very helpful from a prosecutor's point of view to have a cooperating defendant, which is what it looks like they've got here," Morrison said. 
Professor Morrison said in the alleged Coffee County scheme, his testimony could add a human element to the paper trail DA Willis said she discovered. 
"They have all kinds of like documentary evidence, but they don't have someone who is literally there potentially who can say we discussed this, we discussed that. This was the plan," Morrison said. 
The law professor said especially because Hall was a relatively small player in the scheme, his guilty plea does not say much about the other 19 defendants' culpability, but it does help the entire case. 
"I think this is good news for Fani Willis," Morrison said. "It's a small brick in the wall she has to build in terms of proving her case."
Scott Hall was indicted over Coffee County voting machine breach allegations
The charges against Hall stem from allegations that he and others breached voter equipment in Georgia's Coffee County.
According to a recording filed in court in 2022, Hall said he'd chartered a jet and was with a computer forensics team at the Coffee County elections office when they "imaged every hard drive of every piece of equipment."
That happened on Jan. 7, 2021, a day after the violent insurrection at the U.S. Capitol and two days after a runoff election in which Democrats swept both of Georgia's U.S. Senate seats.
TRUMP, ALLIES RICO CHARGES IN GEORGIA EXPLAINED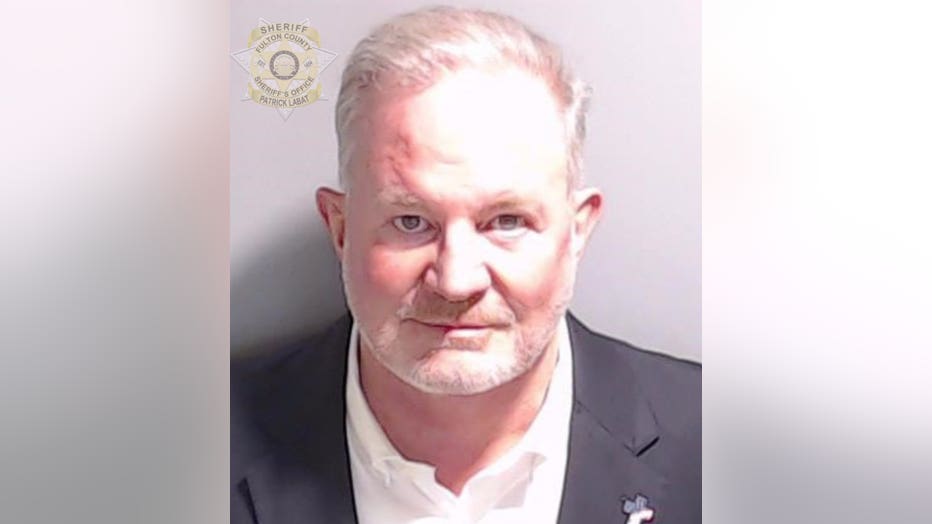 Scott Hall (Fulton County Sheriff's Office)
The trip to Coffee County, about 200 miles south of Atlanta, to copy data and software from elections equipment was directed by attorney Sidney Powell and other Trump allies, according to deposition testimony and documents produced in response to subpoenas.
Later that month, security camera footage shows, two men who have participated in efforts to question the results of the 2020 election in several states spent days going in and out of the Coffee County elections office.
BONDSMAN WHO FAILED TO GET GWINNETT SHERIFF ARRESTED NOW FACING GBI INVESTIGATION HIMSELF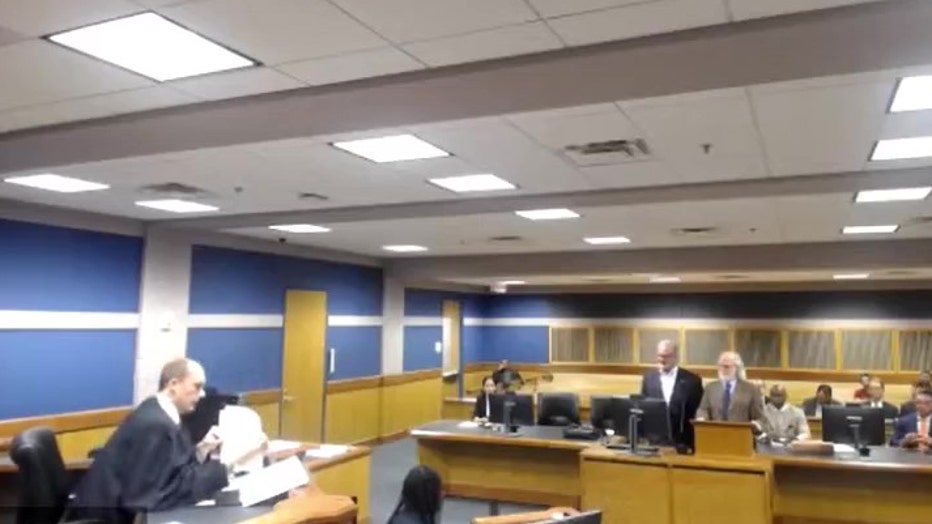 Bail bondsman Scott Hall takes a plea deal in the Fulton County election interference RICO case on Sept. 29, 2023. (Supplied)
Security cameras also recorded Hall warmly interacting with Cathy Latham, the former county GOP chair and one of the so-called false electors for Trump. Latham was also indicted in the Fulton County grand jury's investigation.
Secretary of State Brad Raffensperger said the effort was unauthorized. The state had to spend $400,000 to replace the tampered voting equipment. No flaws were ever confirmed.
Plea deals offered to Sidney Powell, Kenneth Chesebro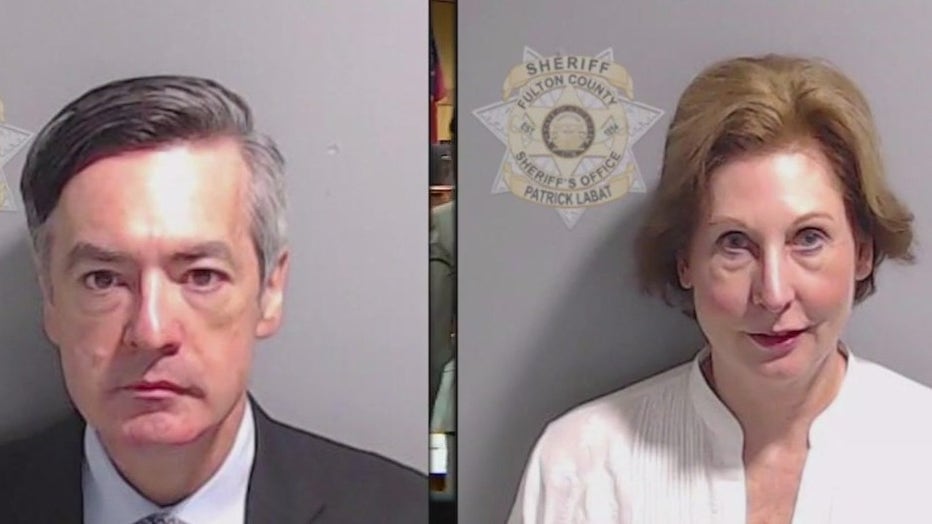 Earlier Friday, prosecutor Nathan Wade revealed at a separate hearing that the district attorney's office planned to offer plea deals to lawyers Sidney Powell and Kenneth Chesebro. Attorneys for the pair were present at the hearing and didn't indicate whether their clients would accept the offers. 
Powell and Chesebro have requested speedy trials and are set to be tried together on Oct. 23, despite their lawyers arguing that they don't know each other and are not accused of having participated in the same acts.
Powell is accused of participating in a breach of election equipment in rural Coffee County. She's alleged to have hired and paid a computer forensics team that copied data and software from the election equipment without authorization.
Chesebro is accused of working on the coordination and execution of a plan to have 16 Georgia Republicans sign a certificate declaring falsely that Trump won and declaring themselves the state's "duly elected and qualified" electors. 
Judge rejects request by Clark, 3 others to move case to federal court
Also on Friday, U.S. District Judge Steve Jones rejected requests by four other defendants - former Justice Department official Jeffrey Clark and three fake electors - to move the charges against them from state court to federal court. He had previously rejected a similar request from Trump White House chief of staff Mark Meadows. 
The practical effects of moving to federal court would have been a jury pool that includes a broader area and is potentially more conservative than Fulton County alone and a trial that would not be photographed or televised, as cameras are not allowed inside federal courtrooms. But it would not have opened the door for Trump, if he's reelected in 2024, or another president to issue pardons because any conviction would still happen under state law.
GEORGIA REPUBLICANS SUSPEND SENATOR WHO WANTS TO IMPEACH DA OVER TRUMP INDICTMENT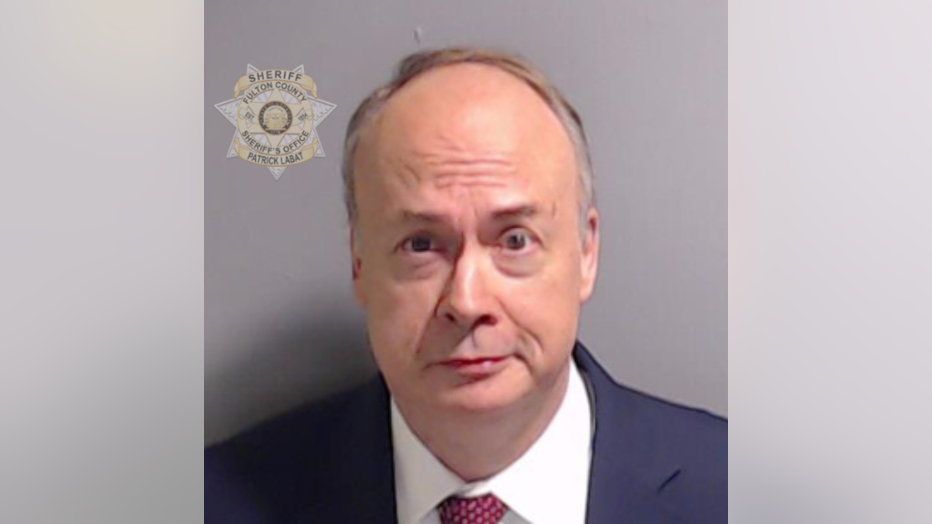 Jeffrey Clark (Fulton County Sheriff's Office)
The indictment says Clark wrote a letter after the election that said the Justice Department had "identified significant concerns that may have impacted the outcome of the election in multiple States, including the State of Georgia" and asked top department officials to sign it and send it to Georgia Gov. Brian Kemp and state legislative leaders. Clark knew at the time that that statement was false, the indictment alleges.
Clark's attorneys had argued that the actions described in the indictment related directly to his work as a federal official at the Justice Department. Clark at the time was the assistant attorney general overseeing the environment and natural resources division and was the acting assistant attorney general over the civil division.
But the judge said Clark provided no evidence to show that he was acting within the scope of his role in the Justice Department when he wrote a letter in December 2020 claiming the department was investigating voter irregularities. "To the contrary, the evidence before the Court indicates the opposite: Clark's role in the Civil Division did not include any role in the investigation or oversight of State elections," Jones wrote.
Defendants say they were not 'fake electors'
David Shafer, Shawn Still and Cathy Latham were among the 16 Republicans who falsely certified they were the state's "duly elected and qualified" electors.
Their lawyers argued in court that they were not fake electors but were instead a "contingent" slate in case the original election results were tossed out by a court. As such, the lawyers said, their status as electors means they were acting as federal officials and were performing the duties required by federal law. 
Jones said Friday that all three had failed to establish they were federal officers or acted under the direction of a federal officer.
As for the claim that they were contingent electors, Jones wrote that even if that were true, "contingent presidential electors are a creation of Georgia state law, not federal law."
The Associated Press contributed to this report.