Baskin-Robbins launches chicken and waffles flavored ice cream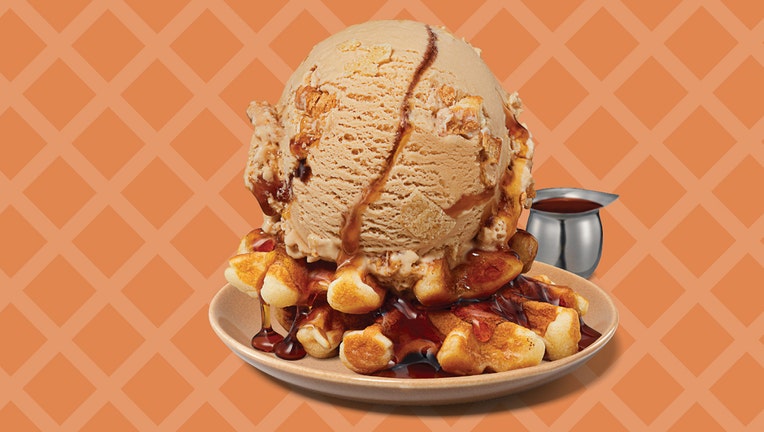 article
CANTON, Mass. - An iconic brunch classic is coming to Baskin-Robbins: Chick'n & Waffles flavored ice cream.
The national ice cream chain announced the release of its new flavor of the month, which features buttermilk waffle-flavored ice cream with imitation chicken and waffle flavored bites, drizzled in a bourbon maple syrup sauce. 
"Inspired by the iconic brunch duo, Chicken and Waffles, this latest scoop from Baskin-Robbins is a must-try for adventurous eaters and traditional ice cream fans alike," the company wrote in a press release Wednesday. "Sweet, savory, creamy and crunchy – this scoop delivers breakfast, lunch, dinner and dessert, all in one bite." 
The frozen treat is now available for purchase in stores and online. Baskin-Robbins will also be debuting a new Get Egg-cited Cake on March 26 to celebrate Easter and the spring season. 
"At Baskin-Robbins, we pride ourselves on bringing innovative flavors to market, which is why when we saw the growing popularity of Chicken & Waffles on menus, we knew we had to create a bold flavor that would change the way our guests enjoy Chick'n & Waffles," said Hannah Suits, the director of brand marketing for Baskin-Robbins.
Baskin-Robbins has a history of pushing the boundaries when it comes to ice cream flavors. The company has previously released unique flavors such as Garlic, jalapeno, and Avocado, which have garnered both praise and criticism.
RELATED: Reese's announces new line of frozen desserts
This story was reported from Los Angeles.