Suspect who shot Bastrop deputy multiple times arrested
BASTROP COUNTY, Texas - Micheal Stark, 33, was arrested Monday after the Bastrop County Sheriff's Office said he shot a deputy multiple times and lead law enforcement on a massive manhunt for about 13 hours.
"You never know what's going to happen when you were out there. You can stop somebody on the most innocent thing, but the suspect doesn't know what you're stopping them for a lot of the time. I think Stark knew that if somebody was checking on him, they would know he was a parole violator," said Bastrop County Sheriff Maurice Cook.
According to Sheriff Cook, Deputy Sawyer Wilson was shot three times. His bulletproof vest is credited for saving his life. He was hit once in the chest, on his side, and in the forearm.
The incident happened late Sunday evening. 
The sheriff's office was originally looking for a different suspect near the LBA Market off of Highway 95 and LBA Drive. Deputy Wilson just happened to come across Stark, who had a warrant out for violating parole. 
"What are the odds you have two vehicles that are dark color that would be in the same area with a mattress in the back," said Sheriff Cook in response to the original call.
The sheriff said Stark opened fire, hitting Deputy Wilson. 
Wilson continued to chase Stark down despite the injuries. 
Stark was eventually found Monday afternoon following a manhunt with multiple agencies across Central Texas. A look at his record shows extensive criminal history. He's been arrested 25 times and has wracked up numerous charges. 
"Felon with a firearm, burglary, narcotics violations, so he is well-known to the lawn enforcement community here in the county," said Sheriff Cook.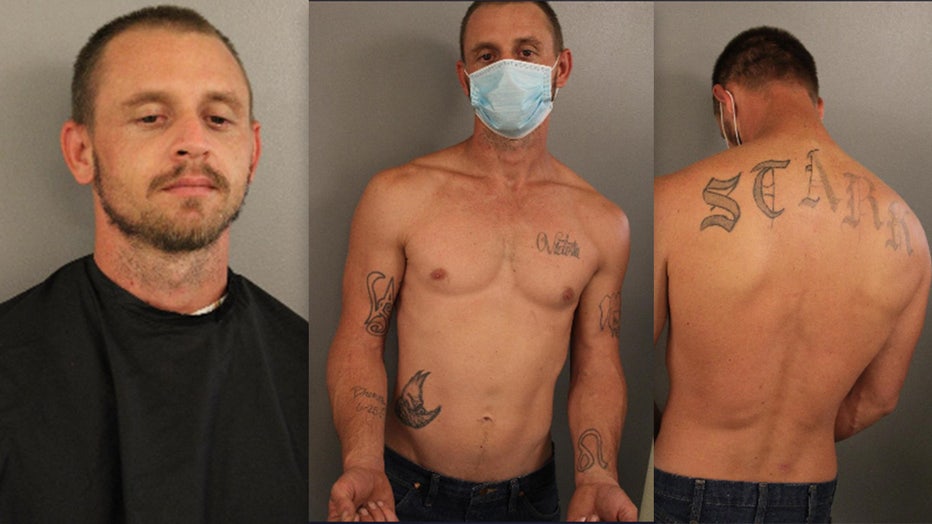 The suspect, who shot a Bastrop deputy multiple times, was found following a manhunt with multiple agencies across Central Texas. 
Deputy Wilson has been with the sheriff's office for more than 2 and a half years. Sheriff Cooks said he was in good spirits and still wanted to help even while in the hospital. 
"Somebody was checking the description of the suspect, they wanted to know what it was, and he got on the radio from the hospital and told him what the description was. He didn't even give up when he went to the hospital, he's a class-a officer."
Governor Greg Abbott released a statement on the shooting saying: "Our hearts are with Deputy Sawyer Wilson as he recovers from injuries sustained while protecting his fellow Texans in Bastrop County."
___
MORE HEADLINES:
100 Club of Central Texas activates funds for Bastrop County Sheriff's Office deputy
___
DOWNLOAD: FOX 7 AUSTIN NEWS APP
SUBSCRIBE: Daily Newsletter | YouTube
FOLLOW: Facebook | Instagram | Twitter