Behind the scenes with Deep Eddy Vodka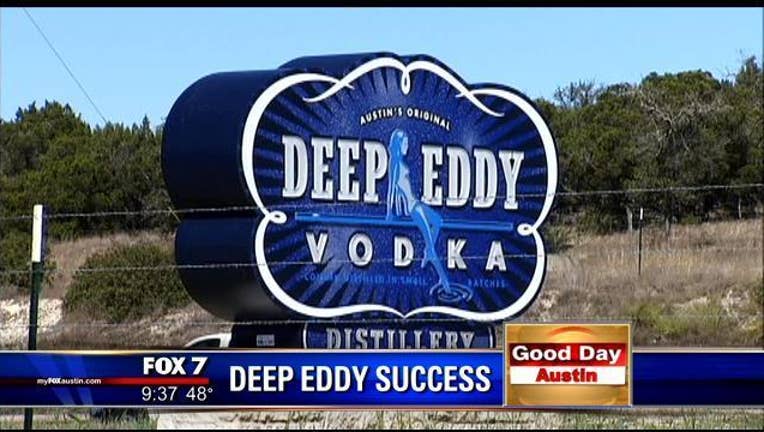 article
DRIPPING SPRINGS, Texas - You've probably seen bottles of Deep Eddy Vodka at many local restaurants and bars. From ruby red grapefruit to their new lemon flavor, Deep Eddy Vodka continues to delight fans all across the country.
When you walk in to their distillery, it kind of looks like Willy Wonka's factory. Except for the 21 and up crowd. The machines make sure every single bottle of is filled, labeled, and shipped on its merry way.
"We've been blessed with great success," says Chad Auler, President and co-founder of Deep Eddy Vodka. Austin was the launch pad for the company back in 2010. "From the word go, God, the support for Deep Eddy has been fantastic here. They want to support local and so building a base with local support has been paramount to our success," says Auler.
It's been 5 successful years for the company, with their reach expanding across the country. Auler says after a lot of experience in the wine industry, he wanted to have a business that spoke to him. "I wanted to start a company from scratch and vodka was my cocktail of choice and one thing led to another and 5 years later here we are and Deep Eddy is Deep Eddy."
The company uses a column distillation process. Spirits are continuously distilled 10 times and their flavors are made with real ingredients. It takes about a week to make a batch of vodka since it's not aged. "We don't want people to have the assumption that just because it doesn't take a long time to make vodka that all vodka is the same. Deep Eddy is very different, we work very hard and have a very good recipe," says Auler.
Their flavors include cranberry, ruby red graperfruit and their most recent one, lemon. Because of their diverse products, people like to give them their take on the next flavor, but some are just not their style. "no confections, no cake, no gummy bears, no glazed donut, nothing like that."
The company recently opened up their tasting room, which gives visitors a look at their distillery. They hope people who enjoy their vodka will come out and enjoy the view. "I think we nailed it because people come in and they say this has the Deep Eddy feel, and that's exactly what we were hoping for," says Auler.
The distillery is open Friday through Sunday in Dripping Springs. For more info you can head to www.deepeddyvodka.com.