Beyoncé Renaissance and Taylor Swift Eras concert films: Everything we know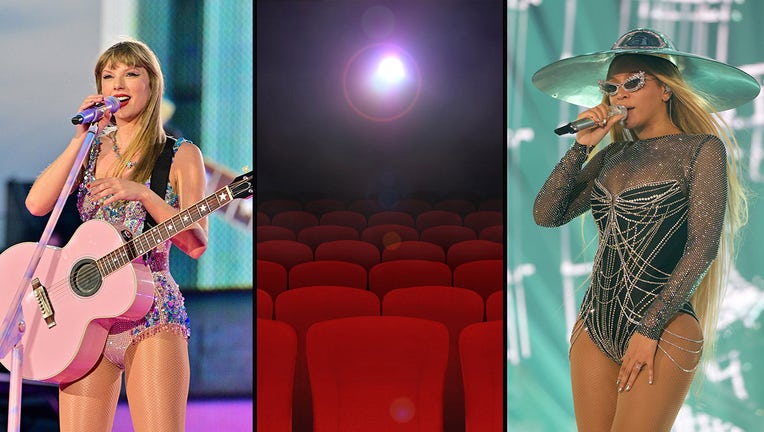 article
The hottest tours of the summer, and arguably even the decade, will live on this fall. 
AMC has announced concert films from both Taylor Swift's The Eras Tour and Beyoncé's Renaissance World Tour will show in theaters.
Here's everything we know about both of the films so far: 
Renaissance: A Film by Beyoncé
Details of Beyoncé's concert film were just announced this week, minutes after she ended her last scheduled show on the Renaissance World Tour in Kansas City, Missouri.  
The film chronicles Beyoncé's "intention, hard work as creative and producer, and her process in mastering her craft to execute the 56-performance, 39-city, record-breaking Renaissance World Tour," according to a press release. 
The trailer shows Beyoncé behind-the-scenes, with visuals of her husband and kids, as well as stadium visuals from the shows.
"I feel liberated. I have transitioned into a new animal," Beyoncé says in the trailer when asked how she feels about the tour. 
The film has a run time of 2 hours and 40 minutes, which is on par with the length of her concert. 
Beyoncé has teased Renaissance visuals for months now, and the hype was growing following the success with her Lemonade and Black is King visuals. Keyed-in fans were expecting new visuals as far back as last summer when the album was released. 
Renaissance is Beyoncé's seventh studio album and is listed as a dance/house/disco genre. She released the album as Act 1 of a three-part act, though it's still unclear what's next in the trifecta. Fans were speculating this film to be Act 2, but it wasn't teased as such in the trailer. (And, it's possible the film isn't even the official visuals for the album.) 
Beyoncé Renaissance film tickets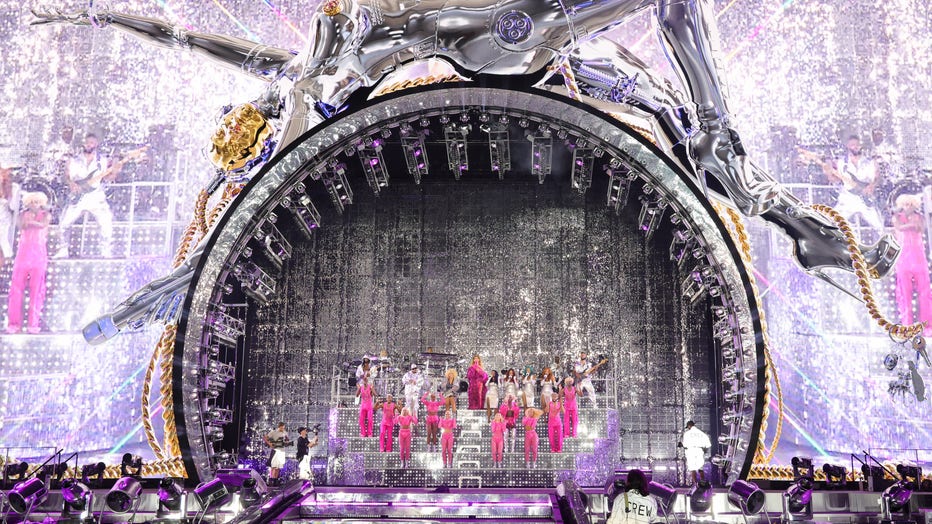 Beyoncé performs onstage during the "RENAISSANCE WORLD TOUR" at PGE Narodowy on June 28, 2023 in Warsaw, Poland. (Photo by Kevin Mazur/WireImage for Parkwood)
The film is set to hit theaters in the United States, Canada and Mexico on Friday, December 1, 2023. Additional global cities will be announced. 
AMC will have screenings on Thursdays, Fridays, Saturdays, and Sundays, for a minimum of four weeks, with multiple showtimes programmed throughout the day. 
Tickets in the US for all standard showtimes will start at $22 plus tax.é 
Advance tickets are available for purchase now with AMC. 
RELATED: This newspaper is hiring Taylor Swift and Beyoncé reporters
Taylor Swift The Eras Tour concert film
While Renaissance is Beyoncé's latest project, Taylor Swift's Eras Tour encapsulates and celebrates the totality of the pop star's 17-year career. 
Her heavyweight show lasted over three hours, with a set list divided into 10 distinct acts to portray her 10 studio albums. 
For the thousands, if not millions, of fans who couldn't get tickets, this concert film is a chance to experience the show. 
Her tour "broke" Ticketmaster several times, and AMC says its U.S. record for the highest ticket-sales revenue during a single day was shattered in less than 24 hours after her concert film was announced. The concert film's announcement even prompted a horror film's release date to be changed to avoid the competition. 
RELATED: Taylor Swift scared 'Exorcist' sequel producer into moving horror film release date
In the film's trailer, Taylor calls the tour the most extraordinary experience of her entire life. 
Run time for the film is 2 hours and 48 minutes, which is slightly under the run time of her concerts. 
And, you heard it first from Taylor herself: Eras attire, friendship bracelets, singing and dancing are encouraged. 
Taylor Swift Eras film tickets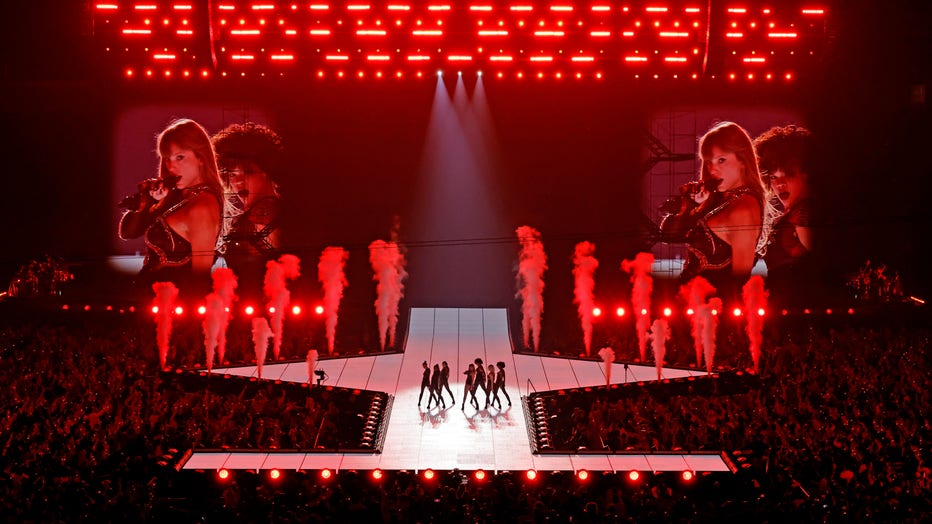 Taylor Swift performs onstage during "Taylor Swift | The Eras Tour" at State Farm Stadium on March 18, 2023 in Swift City, ERAzona (Glendale, Arizona). The city of Glendale, Arizona was ceremonially renamed to Swift City for March 17-18 in honor of T
The film is set to hit theaters in more than 100 countries around the world on Friday, October 13, 2023, including all AMC locations in the United States. 
Adult tickets for the "Eras Tour" concert film at AMC Theatres in the U.S. will be priced at $19.89 plus tax, in one of her famous Easter egg references to her "1989" album. 
Some screenings, such as IMAX, may have higher prices. 
Advance tickets are available for purchase now with AMC. 
This story was reported from Detroit.