Taylor Swift says Beyoncé attending 'Eras Tour' film premiere was an 'actual fairytale'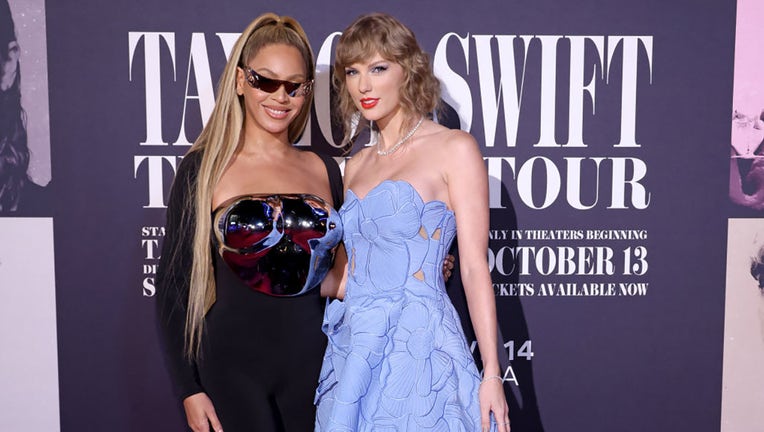 article
LOS ANGELES - The two reigning queens of pop music sent a powerful message on Wednesday night when Beyoncé attended Taylor Swift's film premiere of "The Eras Tour" in Los Angeles. 
The two superstars have made headlines this year – and often been pitted against one another – for their equally-giant stadium tours and subsequent concert films hitting movie theaters.
"Taylor Swift: The Eras Tour," which features a compilation from several Swift shows, premiered on Wednesday night at The Grove in Los Angeles. Beyoncé's attendance sent the internet into a frenzy as the pair posed together for photographs.
(L-R) Beyoncé Knowles-Carter and Taylor Swift attend the "Taylor Swift: The Eras Tour" Concert Movie World Premiere at AMC The Grove 14 on October 11, 2023 in Los Angeles, California. (Photo by John Shearer/Getty Images for TAS)
But Swift, herself, seemed to be the most appreciative. 
"I'm so glad I'll never know what my life would've been like without @beyonce's influence," Swift wrote in an Instagram post, alongside a video showing the pair posing with popcorn. "The way she's taught me and every artist out here to break rules and defy industry norms. Her generosity of spirit. Her resilience and versatility. She's been a guiding light throughout my career and the fact that she showed up tonight was like an actual fairytale."
Swift's concert film was expected to launch with $100 million, or possibly more. Advance ticket sales worldwide surpassed $100 million. Meanwhile, a documentary chronicling Beyoncé's just-concluded 39-city Renaissance World Tour will premiere in North American theaters on Dec. 1.
Both concert films are being shown in first-of-their-kind deals made directly with AMC Theaters that circumvent Hollywood studios and which, for now, leave streamers waiting on the sidelines.
Both of their fandoms, commonly referred to as "Swifties" and the "BeyHive," had much to say about the crossover on social media. 
"This is literally so iconic. Beyoncé usually doesn't do this so the fact that she did shows the respect it exists between the two of them. I hope people stop comparing them now," one person wrote in a post on Reddit.
"I can't believe they invented world peace with this. Both are absolutely amazing. Please collaborate at some point," another added.
"As SwiftHive this makes me so happy," a third person wrote.
Beyoncé's previous films include the acclaimed 2019 Netflix film "Homecoming," which captured her Coachella performance in 2018. In the deals with AMC, Beyoncé and Swift are both reported to be receiving at least 50% of ticket sales.
This story was reported from Cincinnati. The Associated Press contributed.