'Black Austin Matters' painted onto Congress Avenue in downtown Austin
AUSTIN, Texas - You couldn't miss the sentence that says "Black Austin Matters" on Congress Avenue Tuesday.
"This is an idea we talked about, kind of copying seriously, what we saw happen in Washington, but we decided to do it with a difference," said Clifford Gillard with Capitol View Arts.
Capitol View Arts, a nonprofit aimed at supporting black artists, as well as the Austin Justice Coalition, saw a vision, and after getting the okay from the city, they created the street mural. It's a sentiment many around the country share, after the death of George Floyd sparked massive protests
"That was a push from the community and it took some hard conversation to get there. The city staff has been really supportive of us getting this job done," said Gillard.
Gillard said there were at least 50 volunteers, and at least 70 artists who contributed. Lakeem Wilson was one who helped paint. "As an artist, this is the way I give back to the community and play my part," he said.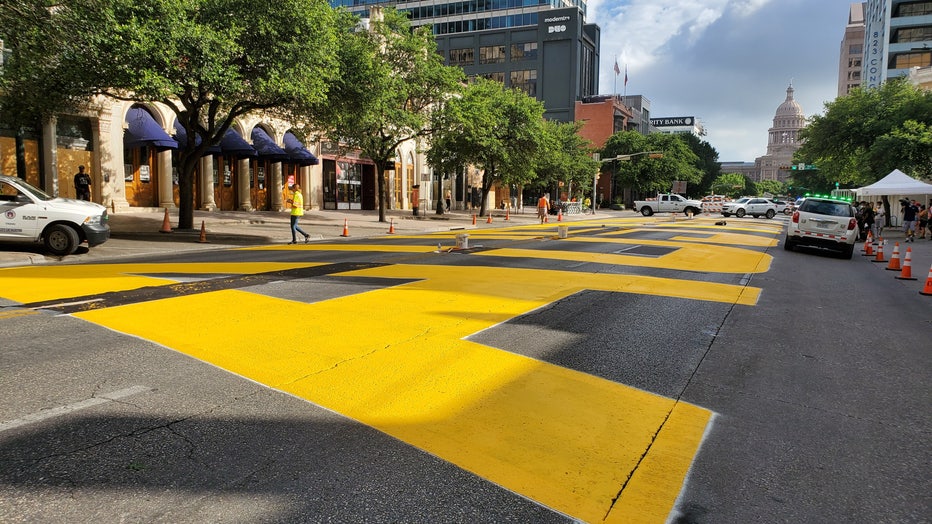 He feels the movement around the country has a lot of momentum, and he believes Austin needs to start having tough conversations.
"Let's state what's going on, what's the problem, and how we can bring solutions and talk and have discussions that can really change what's happening," he said.
---------
Get breaking news alerts in the FOX 7 Austin News app. It is FREE!
---------
"Public art is a way for folks to express their opinion, express their voice, and right now I think for many people in our community that's important," said Veronica Briseno, chief economic recovery officer with the city.
Several came out to support and see the artwork. Will Johnson was happy to see the artwork, but he thinks actions speak much louder than words
"It sends out a really powerful message and it's unifying us with the rest of the world and a little piece of Austin here, but at the same time I'm a little conflicted about the messages," he said.
SIGN UP FOR FOX 7 AUSTIN EMAIL ALERTS
He hopes Austin leaders can truly make tangible changes. "I don't want this to just be marginalized as strictly messages and hashtags or something trendy," said Johnson.
The Austin Justice Coalition said another mural unveiling will happen in East Austin on Thursday. Congress Avenue will remain closed through Monday June 22.