Capital Metro to extend MetroRail hours, offer free rides to students this summer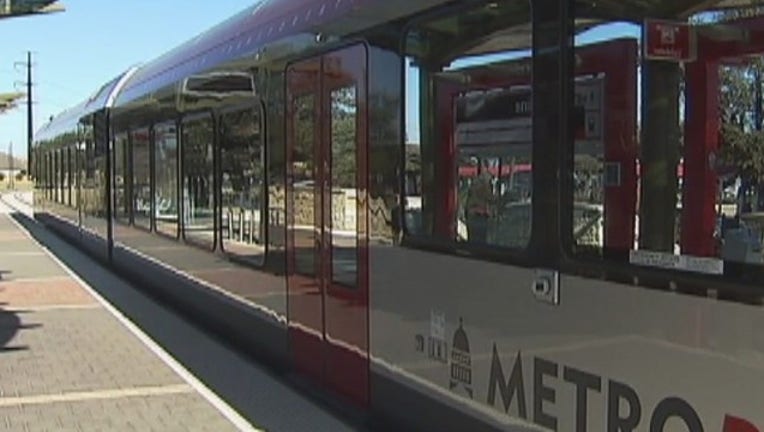 article
%INLINE%Capital Metro is testing the waters this summer with expanded MetroRail service hours on weekends and free rides for students on all services.
The three pilot programs, launching June 8-Sept. 1, will help inform the agency's decisions on implementing long-term plans, Capital Metro President and CEO Randy Clarke said at a Wednesday morning news conference.
"These summer pilots are designed to make the best use of our assets, increase ridership on Capital Metro, provide equitable mobility solutions for the community and really strengthen the bond with many of our partners in the community that we serve," Clarke said.
One of the pilot programs is offering free rides on all Capital Metro's services to students in grades kindergarten through 12th who live in the transit agency's service area, which include the cities of Austin, Leander and Manor.
"We want our kids and our families to explore Austin so [that]in summertime, it's continued learning time," Austin ISD Superintendent Paul Cruz said.
Students may need to show their school ID or may also obtain a special pass if they do not have an ID from the transit store, 209 W. Ninth St., Austin.
"The idea is we're facilitating trips, so we're not going to question if someone is homeschooled," Clarke said.
Two other pilot programs will explore late-night rail service on Friday and Saturday nights and earlier Saturday rail service.
"We are the Live Music Capital of the World, and sometimes those concerts don't necessarily end at midnight, so it's important that we provide safe ways for people to get home, for both the people that are going to the concerts but for many of the workers in our great industry and hospitality sectors in downtown," Austin City Manager Spencer Cronk said.
Extended rail hours will not be available to the Leander station, except for late-night Friday service. This is because the agency is implementing Positive Train Control, a federally-mandated signaling system, and the first segment that is under construction is in Leander, Clarke said.
"We wouldn't be able to run service there because it would impact our construction activities," he said.
Clarke said Capital Metro is working to have more rail service available in Leander, hopefully by next summer.
"I've met with the mayor and others out there," he said. "I want Leander to know that we consider them a valuable part of our service area as well."
The three pilot programs are estimated to cost the agency about $100,000, and funding will come from the fiscal year 2017-18 budget, available due to other budgeting efficiencies, Clarke said.
Capital Metro staffers will bring back data and analysis of the three pilot programs to the agency's board this fall.
Summer pilot programs
Students in grades kindergarten through 12th ride free on all Capital Metro services
Late-night MetroRail service with last train at 1:45 a.m. to Leander on Fridays and the last train at 2:30 a.m. to Lakeline on Saturdays.
Three Saturdays with MetroRail service starting at 10 a.m. on June 9, July 7 and Aug. 4. Between Lakeline and downtown. A shuttle will be available between Leander and Lakeline.
-
From FOX 7's reporting partner Community Impact.