Charge for 'adults unable to parent' by North Georgia restaurant goes viral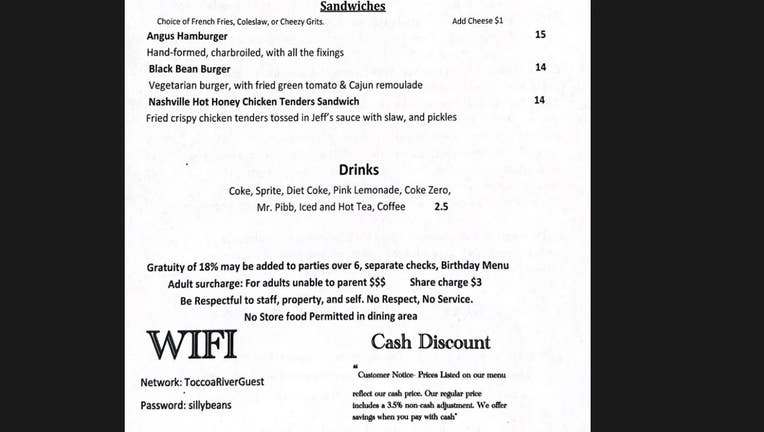 article
BLUE RIDGE, Ga. - A riverside restaurant in the Blue Ridge Mountains in north Georgia has gone viral for charging customers a hefty fee for bad parenting.
According to the fine print at the bottom of the menu for the Toccoa Riverside Restaurant, there is a surcharge of "$$$" for "adults unable to parent."
The menu also advises customers to be respectful to staff, property, and self. If not -- "No Respect, No Service."
Reaction to the charge on YELP is divided. While some people are saying they will never eat at the restaurant because of the potential charge, there are others who are praising the owner for being "willing to do something when adults can't control their children." 
A YELP review from Sept. 2 claims that the owner was "so rude to my grandkids" that he made a 3-year-old cry.
Another review from July 2 by a father of two children claims they were given a "bad look" as soon as his family entered the restaurant and the "manager" later told his wife that she couldn't rock their baby, who was not crying, in a "fancy restaurant."
Apparently, the charge is not anything new, but only recently became known to those outside of North Georgia because of a Reddit post.