Chick-fil-A releases its first-ever cookbook
ATLANTA - Chick-fil-A this week released its first-ever cookbook, featuring a few classic recipes from the popular fast food restaurant, as well as others that incorporate items you likely already have in your kitchen at home. 
The free digital cookbook was created in an effort to raise awareness of food insecurity and the importance of reducing food waste, according to Chick-fil-A. The company said it was inspired by its food donation program Chick-fil-A Shared Table, featuring recipes from local nonprofit partners that often repurpose its restaurant food donations to help feed their communities.
The cookbook, titled "Extra Helpings: Inspiring Stories and Imaginative Recipes from Chick-fil-A Shared Table," comes with 26 recipes for breakfasts, side dishes, dinners and desserts – such as breakfast casseroles, chicken enchiladas and apple cobbler.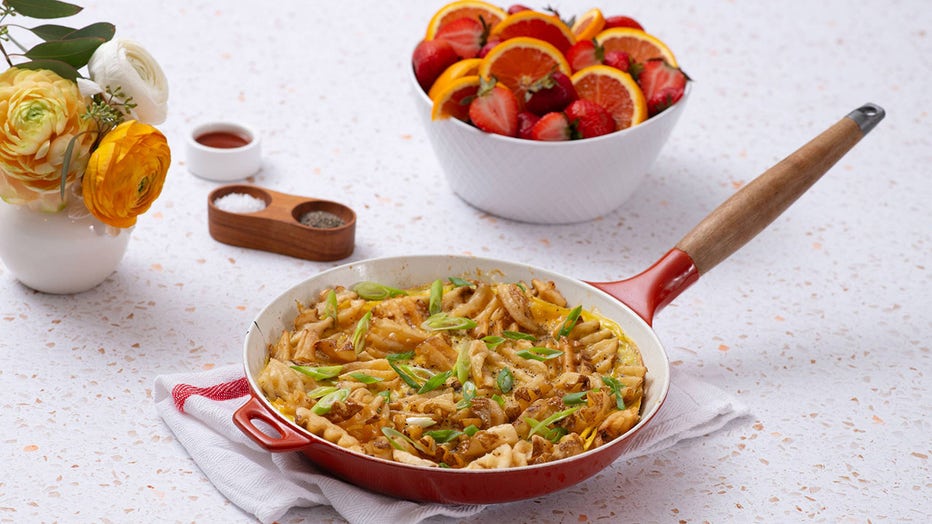 The Waffle Potato Fry Frittata recipe is pictured, using Chick-fil-A Waffle Potato Fries from Chick-fil-A Shared Table partner Second Helpings in Atlanta, Ga. (Credit: Provided image/Chick-fil-A)
It also features "a few classic Chick-fil-A recipes," such as former menu items like Coleslaw and Chicken Salad, the company said.
"Our goal for 'Extra Helpings' is not only to inspire individuals to reimagine their extra food into new, delicious recipes, but also spark conversations about the important issues of food insecurity and food waste," Brent Fielder, senior director of corporate social responsibility for Chick-fil-A, said in a statement.
Chick-fil-A said it would also donate a total of $1 million this month to Feeding America, Second Harvest in Canada, and seven Chick-fil-A Shared Table nonprofit partners in celebration of the cookbook's launch.
The company, founded in 1967 and closed every Sunday, operates more than 2,600 restaurants across the U.S., Canada, and Puerto Rico. Most recently, Chick-fil-A announced an upcoming expansion to the U.K. in early 2025.
Chick-fil-A enjoys a loyal customer base, frequently rating it among the top fast food chains in the country. A study of fast food drive-thrus, measuring categories like speed of service, food quality, and more, also found it to be No. 1 for accuracy and customer satisfaction. 
RELATED: Pepper X marks the spot as South Carolina pepper guru beats his own Guinness Book heat record
This story was reported from Cincinnati.