Children's Minnesota doctors save sister and brother with heart defects
MINNEAPOLIS (FOX 9) - Delilah Laue climbs up onto Dr. Marko Vezmar's examination table with the greatest of ease. She has had lots of practice in the past three years.
"Shall we listen to your heart?" asks Dr. Vezmar. Delilah gives the stethoscope a high-five as if the simple exam is a celebration. In many respects it is.
"They're always happy to come in and see us," said Dr. Vezmar.
These exams are now a happy celebration after fetal cardiologists discovered both Delilah and her younger brother William had a very rare heart defect called a coarctation of the aorta. The condition was first spotted by Pediatric Cardiologist Lisa Howley during Delilah's routine ultrasound when she was still in the womb.
"We got a phone call like the following day that they thought something looked weird with her heart," said Delilah's mother, Rebecca Laue.
"So our technology is so good that we're able to see the tiny little vessels and to detect narrowing even before a baby is born," said Dr. Howley, who is the director of field cardiology for Midwest Fetal Care Center, a collaboration between Allina Health and Children's Minnesota.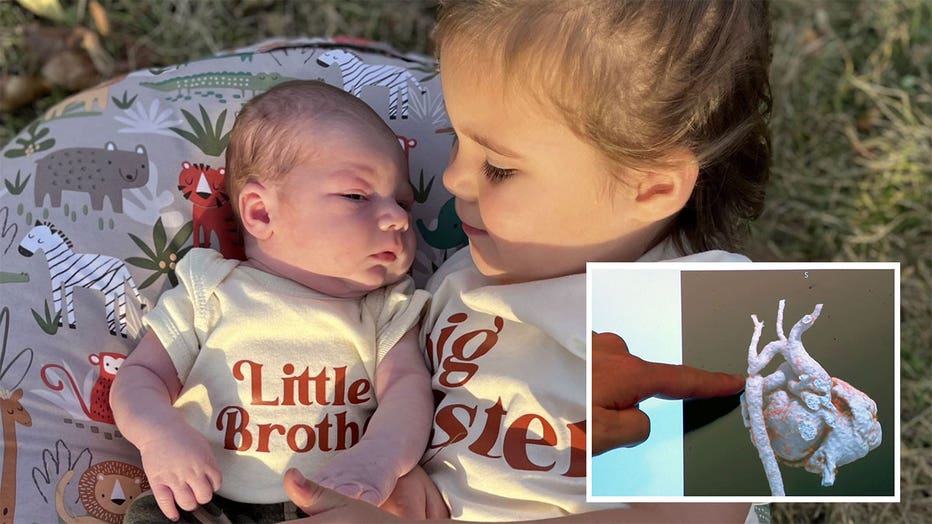 Fetal cardiologists discovered both Delilah and her younger brother William had a very rare heart defect called a coarctation of the aorta.
"And so we know the normal size and caliber of an aortic arch before birth. And in the case of coarctation, we can see areas that are narrow," explained Dr. Howley. "They clearly come down and pinch and then move back out. And that can tell us that that that baby's going to be at risk for a structural heart problem."
Dr. Vezmar says it's a very serious condition that requires corrective surgery soon after they are born. "Children who are born with that defect are very sick, and they need immediate attention by our surgical team or by the interventional team."
That's where the coordination begins between fetal cardiologists at Midwest Fetal Care Center. "We work collaboratively with the high-risk OB doctors all in one location," explained Dr. Howley. "And then we're able to plan and implement a very safe delivery for families with cardiac teams waiting next door, all under one roof to be ready to take care of the baby after birth."
If the presence of a coarctation of the aorta is rare enough, it's even rarer to have it occur in siblings—but not unheard of. For Rebecca and her husband Joe, they had to endure the stress of not only having it discovered in Delilah, but also in their son William who is now four months old. The surgeries on both Delilah and William at the Children's Minnesota Cardiac Unit were a success.
"I think we've gotten to know them so well, they almost feel like family at this point, you know. Especially going through it twice," said Joe Laue.
Even their mother is relieved by their progress. "You'd never know they had congenital heart disease if it wasn't for their scars," said Rebecca.
"So, the children are great," remarked Dr. Vezmar. "The three-year-old is running around. You know, she's going to school. Her little brother is doing great as well. He's growing and thriving."
Children's Minnesota treats about 15 to 20 newborns with this condition each year. The Laue's are just the latest success story in a program that is saving families.
"We feel very privileged to be able to help and watch them grow," said Dr. Vezmar.