Chiropractor gives back to veterans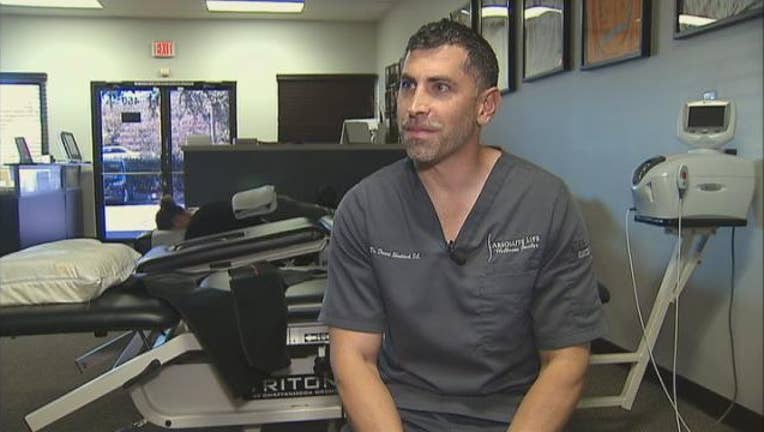 article
AUSTIN, Texas - A former Marine turned chiropractor is giving back one adjustment at a time. With Veterans Day next month he's really giving back with his pocketbook.
Over the three years Dr. Daniel Shaddock has been treating patients he's worked with Olympic Athletes and Professional Sports Stars. But perhaps his real VIP's are his brothers and sisters in arms.
Shaddock was a marine, part of the initial invasion into Iraq. He knows the punishment combat situations put on the body.
"It's hard on you...100 pounds on your back and you're hunched over, knee problems, lower back problems for sure," Shaddock said.
Every vet Shaddock sees gets a discount on every visit or exam. It's not a huge amount of money, but what is significant is the relationship that goes beyond the typical doctor-patient scenario.
"There is a connection there...when any type of military personnel comes in...There's definitely a connection," Shaddock said.
With clients like Jim Barnhouse who's been coming to Shaddock for about eight months it's about the trust of a fellow marine, he could care less about the discount.
"This is something he truly cares about his patients and we're looking for someone we can trust...it's not easy to find," Barnhouse said.
Daniel sees lots of former Infantry, Marines, Seals and Rangers. Eric Gates was Marine Recon. He comes about once a month for his neck and the camaraderie.
"The veterans community is one where you can always find support and help each other, that's something I learned in the Marines and it's something Daniel continues to carry out with regards to his business practices," Gates said.
"I do get gratification from it, being able to help them here but at the end of the day it's about developing friendships with not just vets but the community," Shaddock said.
Because Veterans' Day is next month dr. Shaddock says he will treat any vet or active duty military free of charge during November in honor of Veterans Day.
For more information visit http://www.absolutelifewellnesscenter.com/.