'Thanks for the great ride!' CEO, co-founder of Cruise steps down from position
SAN FRANCISCO - Cruise's co-founder Kyle Vogt resigned as chief executive officer, according to a series of tweets made Sunday evening.
Vogt founded the company with Daniel Kan, the company's chief product officer. Vogt started the driverless car business in his garage 10 years ago.
According to Cruise, he also served as president and chief technology officer. Kan has also resigned from the company, one day after Vogt's resignation, according to Reuters. 
Vogt tweeted that what's next for him is spending some time with his family and "explore some new ideas."
Before establishing Cruise, Vogt also co-founded Twitch, a livestreaming service that's popular with gamers that was purchased from Amazon for around $1 billion in 2014.
2023 has been a bumpy ride for Cruise; less than a month ago, the California Department of Motor Vehicles suspended the company's driverless permits in San Francisco due to the cars causing an "unreasonable risk to public safety."
The state's DMV alleged the company misrepresented information regarding the technology's safety, an allegation Cruise disputed.
Earlier in November, General Motors recalled all 950 of its cars to update software after a woman was dragged to the side of a San Francisco street in early October.
This incident played a part in a federal probe into Cruise by auto safety regulators. Cruise denied it was at fault for that crash.
Emergency responders have also complained about the driverless cars, claiming they block intersections, hindering their work. 
Notably, on Aug. 14, Cruise cars blocked an ambulance leaving the scene of a crash on Seventh and Harrison Streets in San Francisco after a person was struck by a car.
The San Francisco Fire Department blamed Cruise for the delay of "life-saving" care for the person who later died from their injuries. Cruise responded to the accusation saying in part: "As soon as the victim was loaded into the ambulance, the ambulance left the scene immediately and was never impeded from doing so by the AV."
SFFD Chief Jeanine Nicholson has been a vocal critic of the company, saying there have been dozens of cases of the self-driving cars impeding first responders.
Days after this incident, Cruise cars collided with a San Francisco fire truck on Turk and Polk Streets while responding to an emergency call. One person was injured with non-life-threatening injuries from the crash. California's DMV requested that the autonomous vehicles' fleet be cut in half, an order the company had complied with.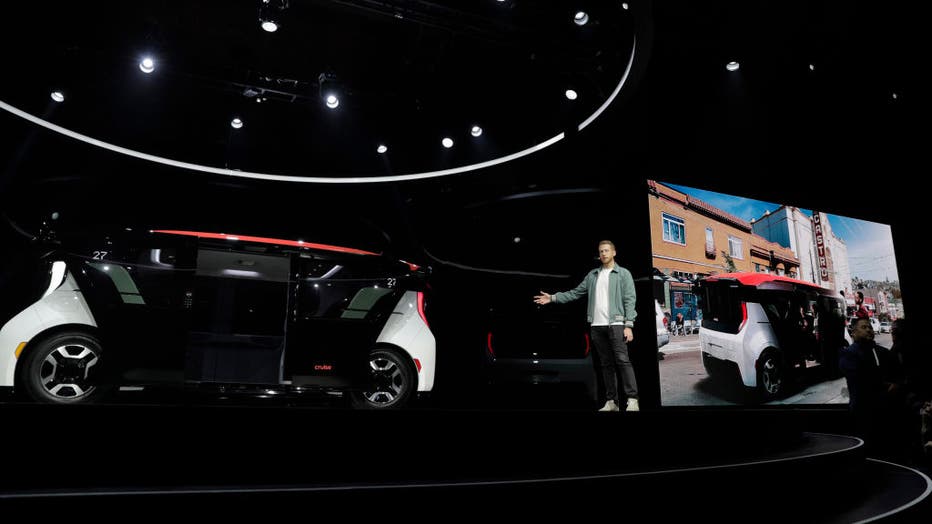 Kyle Vogt shows off the new Cruise vehicle at the unveiling of the Cruise Origin, a fully autonomous passenger vehicle in San Francisco, Calif., on Tuesday, January 21, 2020. (Photo By Carlos Avila Gonzalez/The San Francisco Chronicle via Getty Image
Also in August, at least 10 cars were immobilized in San Francisco's North Beach neighborhood, causing a gridlock. Cruise says the gridlock was started by a pedestrian intentionally interfering. The gridlock was caused just days after the City of San Francisco approved a mass expansion effort for Cruise and rival Waymo.
Back in June, a San Francisco police officer claimed a Cruise car blocked him from getting to a scene of a mass shooting.
His resignation comes days after OpenAI's CEO and co-founder Sam Altman's ouster over his alleged "dishonesty."
Cruise responded to KTVU's request for comment on Monday, saying, "The Cruise Board has accepted Kyle Vogt's resignation as CEO of the company. Starting Monday, Mo Elshenawy, current Executive Vice President of Engineering at Cruise, will serve as President and CTO for Cruise."