Cockpit voice recorder & flight data recorder reveal details in cargo jet crash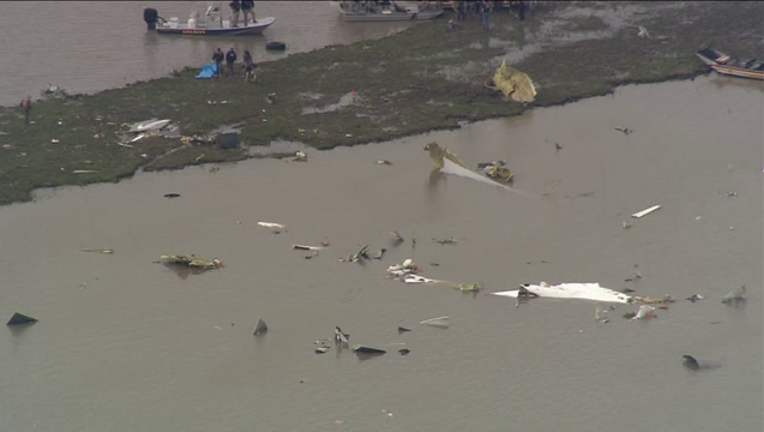 article
ANAHUAC, Texas (FOX 26) - The National Transportation Safety Board released findings from the initial review of the cockpit voice recorder and the flight data recorder from that cargo jet that crashed in the Trinity Bay on February 23.
Engineers at the National Transportation Safety Board's Office of Research and Engineering Vehicle Recorder Division completed an initial review of the cockpit voice recorder and flight data recorder.
The NTSB released the following information from the audition of the CVR, which they say is preliminary and subject to change as the investigation continues: 
The length of the recording is approximately two hours and was obtained from a download of a solid-state type cockpit voice recorder.
The recording included the final portion of the flight; however, the quality of the audio is poor.
There are times during the recording when the content of crew discussion is difficult to determine, at other times the content can be determined using advanced audio filtering.
The crew was in communication with air traffic control and were being provided radar vectors for the runway 26L approach into George Bush Intercontinental Airport.
Crew communications consistent with a loss control of the aircraft began approximately 18 seconds prior to the end of the recording.
The NTSB says the initial review of the data downloaded from the flight data recorder revealed the following:
The accident flight was captured, and the FDR contained a total of about 54 hours of data from 17 flights.
There were approximately 350 parameters recorded by the FDR detailing the motion of the aircraft and operation of its engines, flight controls and other systems.
NTSB recorder investigators are verifying and validating the data from the flight data recorder.
Technical experts will convene in the coming week to review the entire recording from the CVR and produce a transcript of the accident recording. The NTSB says completing the transcript will be a time-consuming process.
Three people, including two pilots for the flight and a non-revenue jump-seat pilot, died when Atlas Air Flight 3591 crashed. The Boeing 767-300 cargo jet was carrying cargo for Amazon.com Inc., and the US Postal Service from Miami to Houston.