Colin Kaepernick asks to join Jets in 'risk-free contingency plan'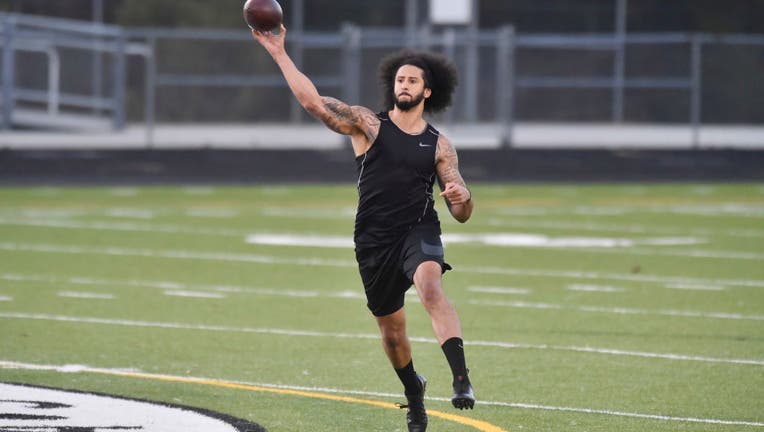 article
NEW YORK - The New York Jets are back to square one after Aaron Rodgers' injury, trying to win football games with Zach Wilson, and it's not going well.
The fans are upset, and the team does not seem interested in challenging Wilson with a quality veteran quarterback. Although they added Trevor Siemian to their practice squad Tuesday.
However, one quarterback is actively pursuing a job with the Jets: Colin Kaepernick.
An Instagram post by rapper J. Cole showed a Sept. 21 letter Kaepernick wrote to Jets general manager Joe Douglas.
CLICK HERE FOR MORE SPORTS COVERAGE ON FOXNEWS.COM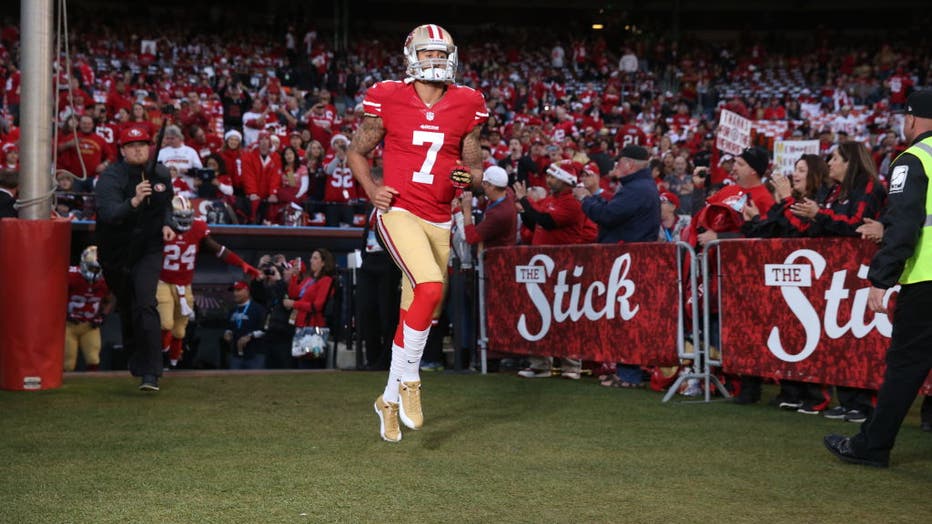 San Francisco 49ers quarterback Colin Kaepernick (7) runs on the field during an NFL Monday Night Football game between the San Francisco 49ers and the Atlanta Falcons in San Francisco, California December 23, 2013. (Photo by Tom Hauck/Getty Images)
Kaepernick wrote that he wishes the best for Wilson and isn't writing to take his spot as the starter. Although, he wrote he "would love the opportunity to fill that spot." But he wants to lead the Jets' scout team.
The former San Francisco 49ers quarterback says he would be "honored and extremely grateful" if he were given the option to "[get] your defense ready each week." 
Kaepernick listed two benefits to having him with the team.
"1. It gives your Defense, the advantage of getting a truer read on the more mobile/athletic/versatile quarterbacks it will face when in weeks 4, 5 and 6 ([Patrick] Mahomes, [Russell] Wilson, and [Jalen] Hurts). I would consider it a privilege to be able to do this and would take on this responsibility with the dedication and passion as if it were the QB1 position," Kaepernick wrote.
"2. This would also allow you guys as an organization to take a real look at where I'm at football wise, in game-like situations against an elite defense, while also not putting any competitive pressure on Zach. I understand the importance of keeping him confident and focused as QB1, and I would only look to boost that confidence in any interactions that we may have if I was given this role within the team."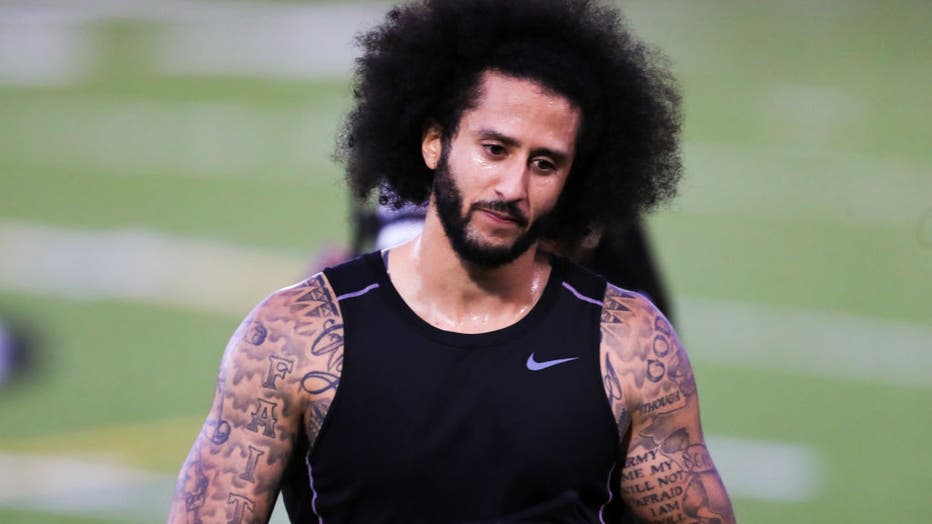 RIVERDALE, GA - NOVEMBER 16: Colin Kaepernick looks on during the Colin Kaepernick NFL workout held at Charles R. Drew High School on November 16, 2019 in Riverdale, Georgia. (Photo by Carmen Mandato/Getty Images)
Kaepernick said a "confident" Wilson "has the tools" to lead the Jets to the Super Bowl. But if he is unable to do that, Kaepernick also provided the Jets with both "worst case" and "best case" scenarios with his "risk-free contingency plan."
"I am sure of my ability to provide you with an elite QB option if, God forbid, QB1 goes down. However, I know that there may naturally be uncertainties from you, and possibly from others about my playing abilities. This plan, I believe, allows me to be a great service to the team as a practice squad QB, while also giving you a low-commitment chance to assess my capabilities to help in any other capacity you may see fit," he wrote.
"Worst case scenario, you see what I have to offer and you're not that impressed. Best case scenario, you realize you have a real weapon at your disposal in the event you ever need to use it. In either of these scenarios, I would be committed to getting your defense ready week in and week out, all season long, and I would wear that responsibility like a badge of honor."
TYREEK HILL SAYS HE 'REALLY' WANTS TO BE A 'PORN STAR' WHEN HE RETIRES, LEAVES FELLOW WIDE RECEIVER SPEECHLESS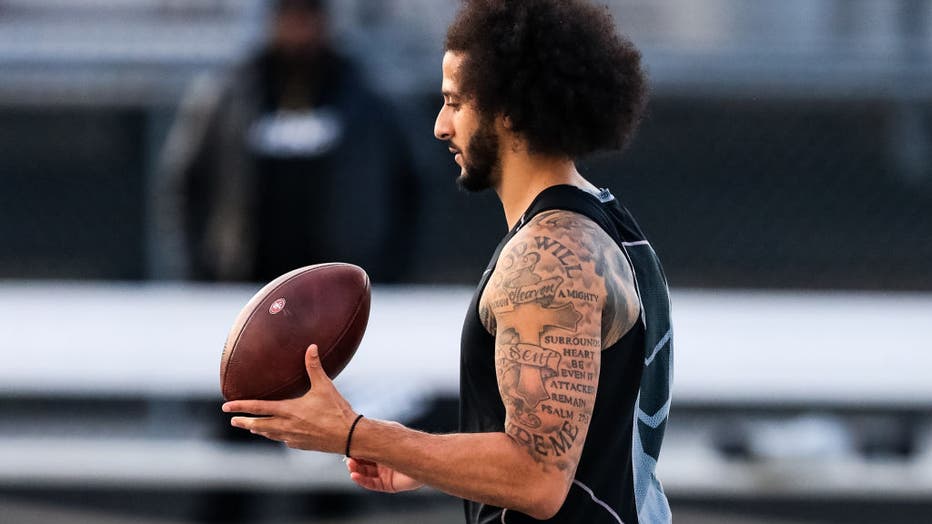 RIVERDALE, GA - NOVEMBER 16: Colin Kaepernick looks on during his NFL workout held at Charles R Drew high school on November 16, 2019 in Riverdale, Georgia. (Photo by Carmen Mandato/Getty Images)
Kaeperick added that despite not playing since 2016, he has kept up his training every day for six years.
"I've never retired or stopped training. My training schedule has remained the same for 6 years; Monday through Friday, 5am-8am training on the field and in the weight room. I've kept this training schedule without failure for the past 6 years, in hopes that an opportunity will present itself. I say this to give you some perspective on where I'm at physically," he said.
He also listed Jim Harbaugh, Chip Kelly, John Harbaugh and Mark Davis as "references within the league that will vouch for my character, work ethic, and stability."
Cole, the rapper, wrote that Kaepernick was hesitant to allow the letter to be posted on social media, but after the two friends spoke, Kaepernick allowed it.
"My argument was that I believe the people and all organizations should know the truth about how hard he works and how much he still wants to play. And always has. In the end, he agreed to let me," the "Work Out" artist said in his post.
CLICK HERE TO GET THE FOX NEWS APP
Kaepernick last played seven years ago, shortly after he became a household name following his protests during the national anthem, which drew both heavy support and criticism.
Rodgers ruptured his Achilles in just his fourth snap with the team. The Jets still won their first game without Rodgers but have lost each of the last two. As Kaepernick mentioned, their schedule doesn't get much easier in the next three weeks.