Council hears from Austin Firefighters Association on hiring policies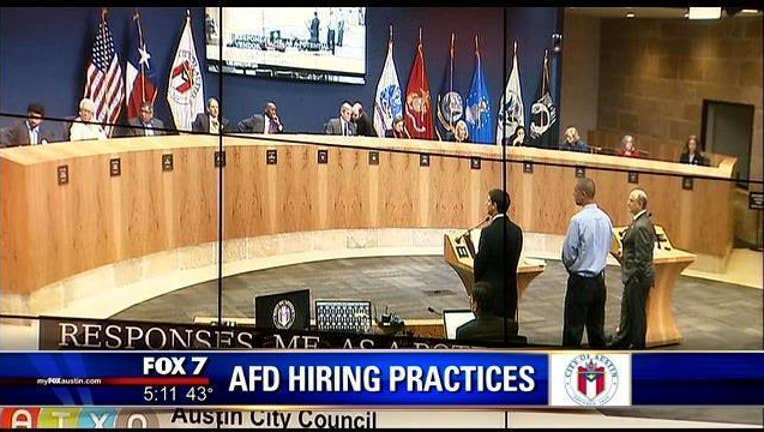 article
AUSTIN, Texas - The new Austin City Council listened to concerns from the Austin Firefighters Association during a specially called meeting Thursday. AFA President Bob Nicks voiced concerns about the lack of input Austin firefighters have in the process for hiring new cadets per the consent decree. In November the city settled a lawsuit with the U.S. Department of Justice over alleged hiring discrimination within AFD against African Americans and Hispanics.
"I want to be involved with the hiring process. The firefighters have proven that they are great stakeholders and good stewards of the process and the consent decree has separated us from that. The policy makers can put us back to where we have involvement and I think it's important for our citizens and our firefighters that we do that," said Nicks.
Nicks spent more than an hour answering and asking questions before the new council. He expressed concerns about city management and is optimistic about the way the new council has chosen to have open dialogues.
One issue before city leaders is whether to move forward with hiring a company to oversee AFD's hiring process. Nicks says he doesn't want to rush anything and instead wants to make sure the process is done right.
"I'd like to see the hiring RFP (request for proposal) stopped so we can be involved in the hiring and develop the best process and make sure the vendor has that before the bid goes out and hire a great class of diverse cadets," said Nicks.
Most every council member weighed in on the discussion which is what Mayor Steve Adler wanted.
"These sessions are designed for the council to learn more and hear perspectives and then ask other people to challenge what we heard. It wouldn't surprise me if there's a resolution that comes out of this process. When that happens we will make those kinds of decisions," said Adler.
The city says AFD is short 105 firefighters and filling the vacancies is a priority.