Couple in US illegally killed speeding away from agents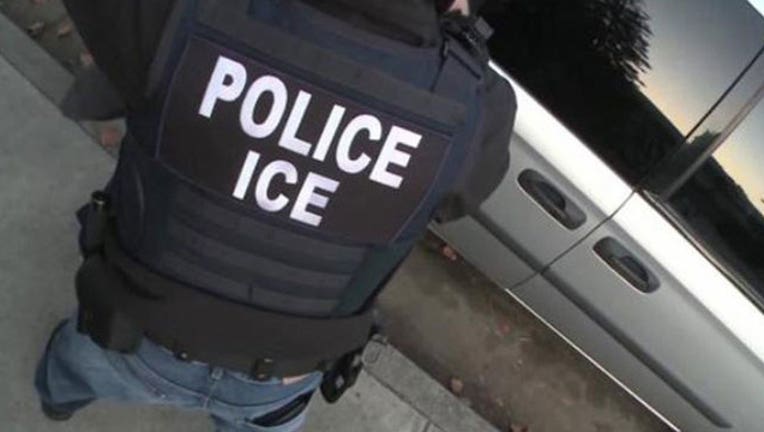 article
SAN FRANCISCO (AP) - A husband and wife in the country illegally were fleeing U.S. immigration officials in a rural California farm town when they lost control of their vehicle and crashed into a power pole, killing the couple with six children, police said.
The deaths Tuesday come as immigrant advocates say federal agents are using unmarked cars to pull over farmworkers in the state's agricultural heartland as part of a Trump administration crackdown in California. State laws limiting cooperation with federal immigration authorities have led to an increasing clash between California and the federal government.
Agents with U.S. Immigration and Customs Enforcement put on their car's emergency lights to pull over the couple's SUV, according to a statement from the Delano Police Department and the federal agency. Neither the police department nor ICE would address whether the agents were in an unmarked car.
The SUV sped away when the agents got out of their vehicle and then veered onto a dirt shoulder, overturned and crashed into a power pole, killing Santos Garcia, 35, and Marcelina Garcia, 33, the statement said.
They were farmworkers living in Delano, about 140 miles (225 kilometers) north of Los Angeles, and were looking for work when immigration agents tried to stop them, said Diana Tellefson, executive director of the United Farm Workers Foundation.
The Garcias were originally from the southern Mexican state of Guerrero and mainly spoke Mixtec, an indigenous language.
"The fact that they could not speak English or Spanish likely added to the fear they felt when they realized it was ICE stopping them," Tellefson said.
The couple left behind six children, ages 8 to 18, and a 1-year-old granddaughter. Tellefson would not say whether the children are in the country illegally or if they plan to stay in California.
Jennie Pasquarella, director of immigrants' rights at the American Civil Liberties Union of Southern California, said her office in recent weeks has received multiple reports from California's farm-rich Central Valley about immigration agents staking out the roads that farmworkers travel to get to work and pulling them over early in the morning.
Pasquarella said immigration agents are reportedly pulling over farmworkers while in unmarked vehicles.
"As in this case, drivers and passengers stop, after being signaled to pull over, believing the officers to be police, but only come to learn after being approached, questioned, and arrested that the officers are actually ICE," she said in a statement.
ICE spokeswoman Lori K. Haley said the agents first went to the Garcias' home looking for another man wanted for deportation and followed the couple as they drove away. Santos Garcia matched the description of the targeted man but wasn't him, the agency said.
Santos Garcia, who had a 2014 DUI conviction, had voluntarily returned to Mexico three times between 2008 and 2017 and was removed once more in 2017, Haley said.
Marcelina Garcia had no prior encounters with immigration authorities, she added.
"As the officers departed the location of the attempted engagement, they came across the overturned vehicle and immediately dialed 911 for assistance," Haley said.
Immigrants in the country illegally and their families have been on edge as deportation arrests have spiked more than 40 percent under President Donald Trump. His administration has said it targets people with criminal records, but many others are getting picked up.
Immigration and Customs Enforcement has said 65 percent of arrests from October to December involved criminals, compared with 82 percent during the final full three months of the Obama administration.
San Joaquin Valley farmer Joe Del Bosque said farmworkers are already afraid of driving to work and that if more apprehensions are done on roads leading to farms, it could prompt workers to stay home out of fear.
"I'm fearful that this tragedy is going to make our workers even more afraid," he said.
California produces nearly half the country's fruits, vegetables and nuts, valued at $47 billion annually and employs roughly 325,000 workers. Nisei Farmers League, a growers organization, estimates 85 percent of California farmworkers live in the United States illegally.
Del Bosque said that while he found enough workers to harvest his asparagus this March, he worries there will be a labor shortage in the summer, when there is a huge demand for workers to pick grapes, tomatoes, bell peppers and other produce in the Central Valley.
"This certainly has the likelihood of reverberating through the farm-working community," he added.