Crews begin removing vehicles from parking garage at Dallas apartments where crane collapsed
DALLAS - Crews on Monday started to remove vehicles from the Elan City Lights parking garage that partially collapsed when a crane crashed onto it four months ago.
One woman died and hundreds of people were displaced when the crane was blown onto the structure in June during severe storms.
Mikos Smith's white Dodge Challenger was one of the first vehicles hoisted out by crane Monday morning from the garage.
"That's my car. Oh! That's it. It's been four months, it's been four months stuck on the top of a roof. I'm glad to see it dow," Smith said.
FOX4 was there as each vehicle was carefully lifted, then lowered down and driven onto an awaiting flatbed for transport to a secured lot in Northwest Dallas.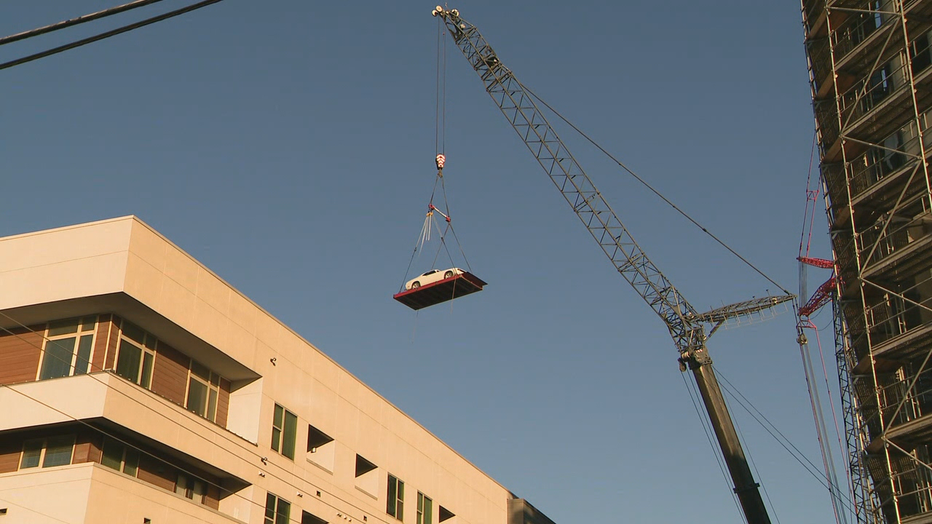 For Smith, a health and fitness professor at SMU, the last four months have been a trying time.
"I was just able to borrow cars, go home, get rental cars and things sort of like that," Smith said.
He realizes he's more fortunate than most because his car was paid off, but he could only wait so long.
"I had to get some transportation so I went out and bought a new car," Smith said. "For me to finally see it down, I'm like I just got a new car note but I feel good that I'm able to get my car back."
Smith says he still has yet to be contacted by Greystar, the management company, alerting him his car is ready to be claimed.
"I was thinking another month to be honest. This has been a very slow process," Smith said.
But he's still grateful to see his car in one piece, and he'll soon have an extra set of wheels -- just in case.
"It was a life-changing experience, but it makes me a little more grateful for the things that I do have, so I feel good about everything," Smith said.
The workers plan to move about 10 to 12 vehicles a day. They'll start on the top level and work their way down through the garage.