Austin Police Department Firearm Unit works to reduce reoffending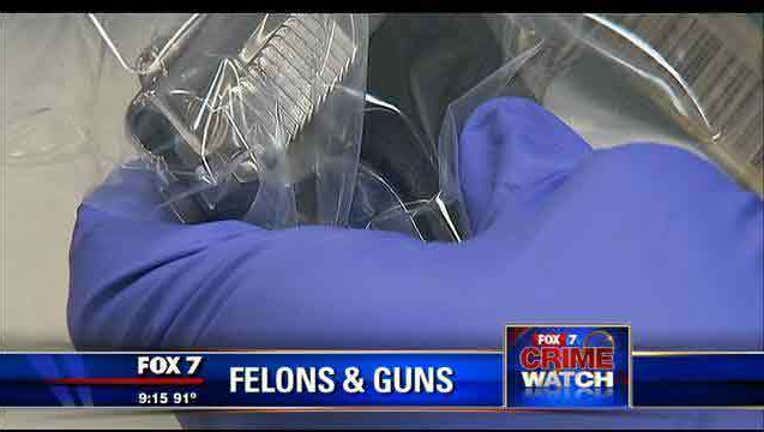 article
AUSTIN, Texas - State law prohibits certain convicted criminals from having firearms, but they're finding ways to get them anyway.
Austin police aren't waiting for the next crime. They are increasing their efforts to intervene before the criminals have a chance to reoffend.
Austin police have 17,000 guns in a secret storage facility. The weapons are held until each case is settled in the court system.
On this particular day, a firearms detective added four more guns to the vault. He will submit the serial numbers to the ATF to determine if the person they got the gun from was in lawful possession. Many times they aren't.
"It's concerning as a public safety issue," said APD Lt. Pat Connor.
Lt. Connor oversees the Firearms Unit at APD. One of his recent cases involves 22-year-old Joel Terrazas. Connor says a tipster alerted officers to Terrazas' activity on a Facebook page called ATX Guns. The site assists members in buying, selling and trading guns.
According to court documents, Terrazas posted multiple pictures of guns for sale including an AK-47, pump action shotgun, handguns and a pistol. One of the photos had stacks of cash in it. Terrazas also allegedly mentioned "runs to Mexico."
As it turns out, Terrazas was not allowed to have any guns in his possession. In December of 2012, he was convicted of burglary and sentenced to six months in jail.
He was charged and arrested for unlawful possession of a firearm.
"Nobody wants somebody that's a convicted felon that's prohibited by state law and by federal law to be in possession of a firearm that potentially could follow up with committing a violence offense or a robbery or something along those lines," Lt. Connor said.
Connor says more arrests like Terrazas are to come. The Firearms Unit has just been increased from five officers to 16. The extra manpower allows officers to intercept the weapon before a criminal has the chance to use it to commit other crimes.
"If you take those firearms away from those people and file the appropriate charges that you know, the family violence victim, the suspect doesn't have a gun at home anymore or the protective order, that person doesn't have a gun at home anymore that could potentially contribute to additional violence, or a family violence related homicide. Which we definitely don't want to see happen," Lt. Connor said.
Connor says he is already noticing a difference.
"I think the number of arrests have gone up and the quality of the investigation that they've been able to do to insure that they've done everything to insure up and make sure they have the best case possible for prosecution purposes," Lt. Connor said.
He is thankful to the tipster that led them onto Terrazas.
"I think it's great. We want the public to call in..." he said.
There's plenty of shelf space.
Austin police investigated 508 firearms offenses in 2012. Of those 110 involved a felon in possession. In 2013, 634 cases were investigated. Of those 145 involved felon in possession. So far this year officers have investigated 74 cases involving felon in possession.