Increase in domestic violence prompts APD to launch pilot program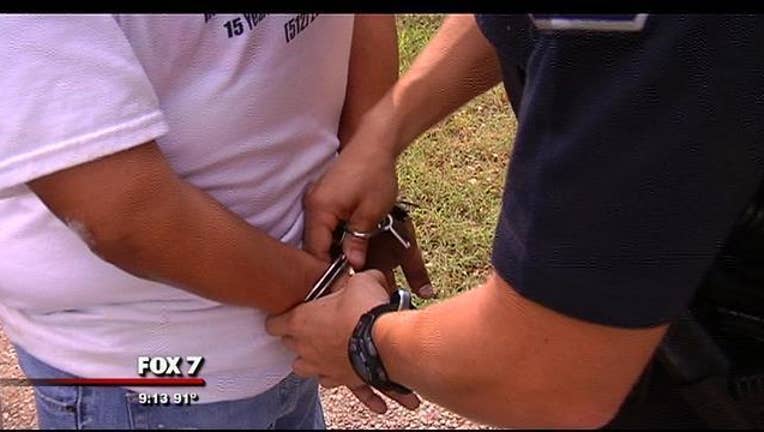 article
AUSTIN, Texas - An increase in domestic-violence prompts Austin police to launch a pilot program to better protect victims.
Four officers do nothing but monitor offenders and execute warrants for new crimes.
APD patrol officers make the trip to Georgetown to pick up 38-year-old Michelle Rivera. She is a repeat domestic violence offender.
According to crime records, Rivera was initially arrested in 2010 for assaulting the father of her children. She violated a protective order in 2012. Officers say she recently left the victim a threatening voicemail, which is considered another violation.
"It's pretty much saying she hopes he dies," APD Officer Brian Spain.
Rivera will head to jail.
"Usually it starts with a threat. Starts with them calling and threatening and sometimes that escalates into them actually going to confront the victim and sometimes it leads to family violence. So, if we can get them here when they're just calling and threatening then hopefully that prevented some kind of family violence in the future," Spain said.
The four patrol officers who tracked her down are a part of a pilot program under the domestic violence unit. They are making arrests at a rapid pace.
"The detectives are able to walk in our office, give us a subject that they just got a warrant signed and we're able to go start looking for him before its even in the system, before anybody can see it," Spain said.
After a quick stop at the office, they are off to south Austin. They've located another domestic violence offender.
Eloy Garcia, 51, is put in handcuffs.
"So, you have a family violence warrant," officers said.
Another responsibility of these officers is watching over the people they arrest once they are released from jail. The officers work closely with the company that tracks ankle monitors. Should an offender get too close to a victim or attempt to cut their monitor off, the officers will respond.
"We're able to immediately go out there, check on the victim, make sure the victim is okay then we go into finding the suspect," Spain said. "That was something that was never done before. Their protocol was that anytime he came into the exclusion zone, they would call patrol. Patrol would put it in their cue or sometimes they didn't have officers available and so it wasn't, not that it wasn't a priority, they just didn't have the manpower to do it. Now they do."
Protecting the victim is the absolute goal of this program. In 2013, 17 murders were attributed to family violence. That was 1 in 3. Sixty percent of those murders occurred at the victim's residence and most suspects had multiple family violence involvements.
The officers are free from answering calls, so should a victim feel threatened, they can go undercover and watch a home to keep the person safe. That's something that simply couldn't be done without them.
"We can be handed a piece of paper that says this guy keeps coming around every day after work and we can actually go there, set up on it, watch him, catch him and just immediate response to anything the family violence community wants," Spain said.
The pilot program will go through September 4. At that point the department will determine whether it can continue full time.
During the first six weeks of operation officers executed 29 family violence warrants and conducted 39 victim safety checks. They've also answered 47 requests for assistance from either the district or county attorney's office.