CrimeWatch: Austin Police Department's Human Trafficking Unit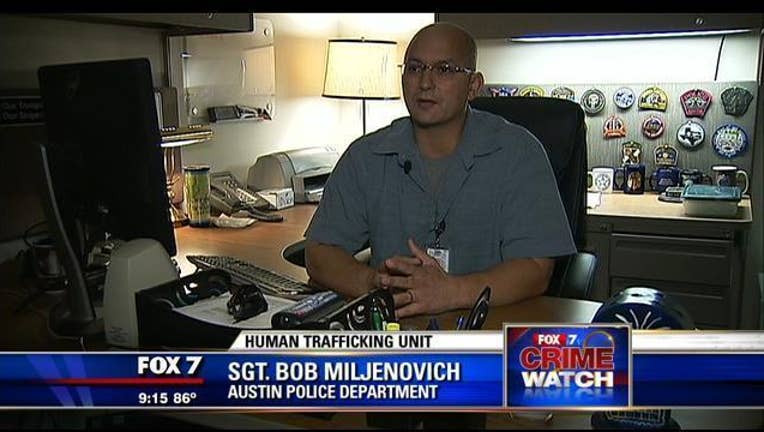 article
AUSTIN, Texas - Austin police say the commercial sex industry in Austin is very active. And it's attracting traffickers who force women and teens to participate in the lifestyle. In this week's Crimewatch, FOX 7's Noelle Newton shows what the human trafficking unit is doing to save the victims.
In January, detectives in the APD Human Trafficking Unit were lead to a Super 8 Motel off I-35. They found an ad on the website Backpage.com that seemed to feature a 15-year-old runaway who was possibly the victim of human trafficking.
It was her.
While talking with detectives, she said Don Earl Person picked her up from Dallas and took her to Lubbock, then to Austin where she provided sexual services for money.
Person was arrested for prostitution.
"It happens a lot more than people would realize," said Sgt. Bob Miljenovich.
Sgt. Bob Miljenovich is talking about people who profit from the sexual exploitation of minors or adult women through force or what's called human trafficking.
"A lot of time people picture human trafficking being those things that are happening overseas with people that are being kidnapped and taken from country to country, which is without a doubt, that is a problem, but locally, we see a lot of juvenile runaways that are being exploited for commercial sex posted online taken from city to city," said Miljenovich.
Human trafficking detectives find victims online with the help of tips or pure instinct.
"Sometimes just some of the ads look out of place. Maybe it's the picture, maybe it's the wording, there's really nothing specific sometimes. Sometimes you just have to sift through a lot of ads and see who shows up," said Miljenovich. "Most of the time we're finding them in just low end hotels around the city or living out of cars. Usually living conditions are not well. They're not eating well, many times they're on drugs of some type."
The unit arrested Ladarin Franklin for compelling prostitution. Detectives say his teen victim told them franklin coerced her into having sex with at least ten people per day.
"It feels good to know that you're taking a child out of that type of environment, out of that type of lifestyle."
Victims are adults too.
Officers say on June 24, a 24-year-old woman called 9-1-1 stating her pimp punched her in the face and was threatening to kill her. Police identified the pimp as Demarcus Herod. He is charged with compelling prostitution.
The unit recently joined the Internet Crimes Against Children Taskforce. They will now have access to tips from across the nation giving the unit even more fuel to make a difference.